Building granular towers drop by drop and how to see out from under an invisibility cloak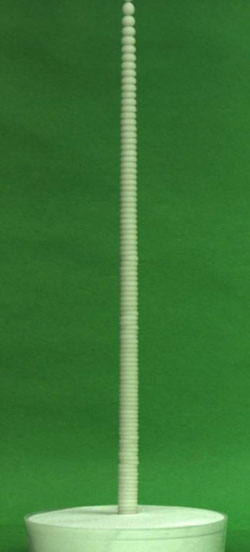 The various shapes are in contrast with the liquid drops which can splash, spread or bounce upon hitting a surface. Successive drops freeze rapidly upon impact due to the drainage of a small fraction of liquid, literally stacking on top of each other into surprisingly slender structures know as granular towers.
In addition, twisted pagoda dome-like structures result upon increasing the flow rate of the damp granular mixture. Experiments show that the towers are held together because of capillary and friction forces, and the shape of the towers depends on a subtle balance between dripping frequency, density of grains, and impact speed. Besides applications in surface patterning, this tower building technique may be a new and easy way to probe the flow properties of dense granular suspensions by observing the shapes of the towers they produce.
Peering Out from Under an Invisibility Cloak
Jin-Zhu Zhao, De-Lin Wang, Ru-Wen Peng, Qing Hu, and Mu Wang National Laboratory of Solid State Microstructures and Department of Physics, Nanjing University, Physical Review E 84, 046607 (2011)
Most invisibility cloak designs have one serious drawback – they make it impossible for anyone hiding under the cloak to see what's going on in the outside world. Researchers have now come up with an approach that, in theory, should allow us to make cloaks that allow you to peek out while remaining entirely hidden. In effect, they propose making a tiny tear in the cloak, and then stitching the hole with a two types of materials chosen to effectively cancel each other out when seen from the outside, while still allowing light to enter. Although the cloak design currently exists only on paper, it theoretically ensures that aspiring Harry Potters remain entirely undetectable while keeping an eye on the Voldemorts and Snapes all around them.
Media Contact
James Riordon
EurekAlert!
All news from this category: Physics and Astronomy
This area deals with the fundamental laws and building blocks of nature and how they interact, the properties and the behavior of matter, and research into space and time and their structures.
innovations-report provides in-depth reports and articles on subjects such as astrophysics, laser technologies, nuclear, quantum, particle and solid-state physics, nanotechnologies, planetary research and findings (Mars, Venus) and developments related to the Hubble Telescope.
Back to the Homepage
Latest posts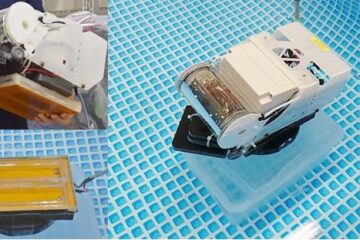 Seawater as an electrical cable !?
Wireless power transfers in the ocean For drones that can be stationed underwater for the adoption of ICT in mariculture. Associate professor Masaya Tamura, Kousuke Murai (who has completed the…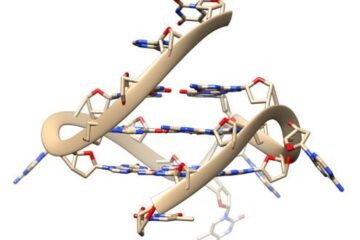 Rare quadruple-helix DNA found in living human cells with glowing probes
New probes allow scientists to see four-stranded DNA interacting with molecules inside living human cells, unravelling its role in cellular processes. DNA usually forms the classic double helix shape of…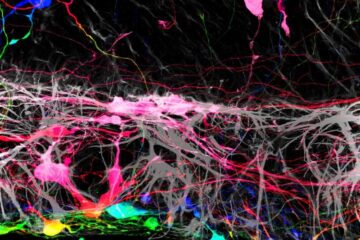 A rift in the retina may help repair the optic nerve
In experiments in mouse tissues and human cells, Johns Hopkins Medicine researchers say they have found that removing a membrane that lines the back of the eye may improve the…