Black Hole Research Lands NASA EPSCoR Grant
Dr. Marc Seigar, a UALR astrophysics professor and three colleagues from the University of Arkansas at Fayetteville, have received a $1.4 million grant from the Arkansas NASA EPSCoR Office to further their study of mysterious super- massive black holes thought to reside at the centers of nearly all galaxies.
Seigar and his co-researchers – Professors Daniel Kennefick, Julia Kennefick, and Claud Lacy, all of the University of Arkansas at Fayetteville – formed a new collaboration in late 2007 to study these black holes and the role they play in galactic evolution. In June of this year, Seigar presented the groups' conclusions at the American Astronomical Society meeting in St. Louis that created a worldwide buzz among science journalists.
Operating as the Arkansas Galaxy Evolution Survey – AGES, the scientific collaborative has received a total of $1.4 million, with the Arkansas NASA EPSCoR Office funding half of that amount and the two universities providing the remainder of the funds.
Seigar at UALR will receive approximately $400,000 and the three other Fayetteville scientists will receive the remainder of the funds. Daniel Kennefick will be the grant's principal investigator.
The grant will allow the Arkansas scientists to develop a census of black holes throughout the universe as a means of understanding how galaxies and the universe itself evolved with time.
In June of this year, Seigar presented a paper to the American Astronomical Society in St. Louis outlining AGES' method of estimating the masses of super-massive black holes in galaxies that are far distant. The team's work attracted the interest of science journalists as well as National Geographic, USA Today, Science News, and BBC's Sky at Night among others.
Seigar and his research team have concluded that the larger the black hole at the center of a spiral galaxy, the tighter the galaxy's arms wrap around itself. If correct, the simple relationship would give researchers an easy way to learn about black holes.
The research team will employ new techniques to estimate the masses of the super-massive black holes residing in large numbers of galaxies by exploiting a relation that they discovered between a spiral arm structure and the mass of the super-massive black hole in the center of spiral galaxies.
The technique will permit them to make use of the extensive archive of deep images provided by large telescopes, such as NASA's Hubble Space Telescope, in estimating the masses of super-massive black holes in distant galaxies.
In addition, the team will use spectroscopic techniques to estimate the mass of super-massive black holes in quasars, and other "active" galaxies, in which the super-massive black hole is surrounded by matter swirling into it.
They will also use infrared and X-ray techniques to look for evidence of binary super-massive black holes in galaxies where the birth of large numbers of hot bright stars indicates a fairly recent galactic merger.
"Such a merger seems likely to give birth to a binary super-massive black hole system at the heart of the merged galaxy, and such systems could ultimately be very strong sources of gravitational waves detectable by the proposed NASA mission to fly a gravitational wave detector in space, known as LISA," Kennefick said.
The AGES collaboration has discovered four candidate galaxies that may contain super-massive black holes binaries.
The grant they have been awarded will pay for graduate and undergraduate students at both Universities to participate in this research. In addition it will bring two postdoctoral researchers to Arkansas to work on this survey, one to UALR and the other to UA Fayetteville.
Media Contact
Joan I. Duffy
Newswise Science News
Alle Nachrichten aus der Kategorie: Physics and Astronomy
This area deals with the fundamental laws and building blocks of nature and how they interact, the properties and the behavior of matter, and research into space and time and their structures.
innovations-report provides in-depth reports and articles on subjects such as astrophysics, laser technologies, nuclear, quantum, particle and solid-state physics, nanotechnologies, planetary research and findings (Mars, Venus) and developments related to the Hubble Telescope.
Zurück zur Startseite
Neueste Beiträge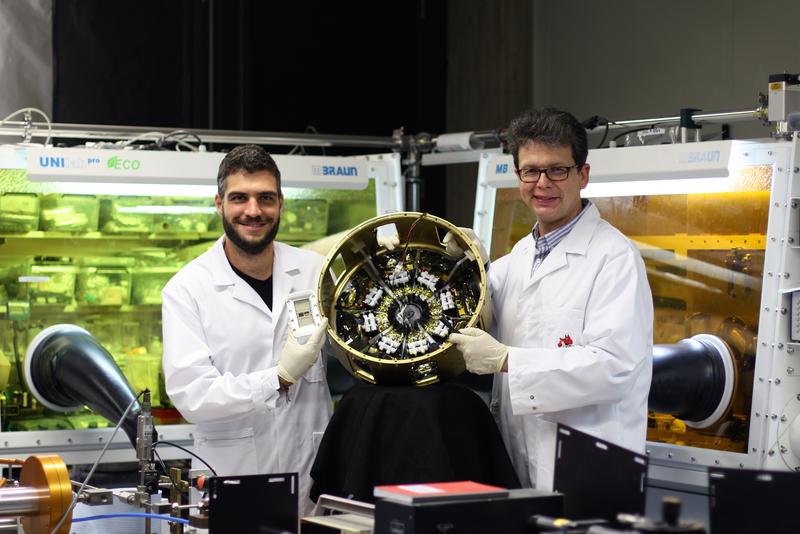 New solar cells for space
Almost all satellites are powered by solar cells – but solar cells are heavy. While conventional high-performance cells reach up to three watts of electricity per gram, perovskite and organic…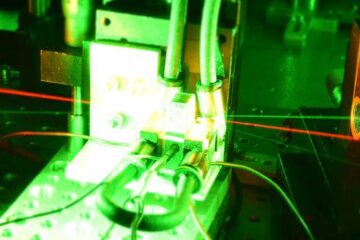 Development of a novel membrane laser module for spectral measurement methods
The Fraunhofer Institute for Applied Solid State Physics IAF has partnered up with the start-up "Twenty-One Semiconductors" (21s) from Stuttgart to bring their unique laser concept from lab to practice….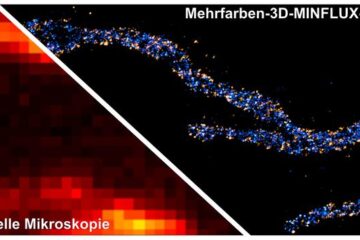 Dissecting protein assemblies
Super-resolution MINFLUX nanoscopy, developed by Nobel laureate Stefan Hell and his team, is able to discern fluorescent molecules that are only a few nanometers apart. In an initial application of…