Telemetry monitoring – Dräger announces first implementation of new wireless Infinity® M300 patient-worn monitor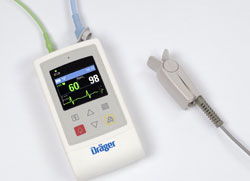 Dräger today announced the first implementations of its new Infinity® M300 patient-worn monitor. The new telemetry system has been installed at major hospitals in the United States and in Germany.
Infinity M300 provides the performance of a full-size patient monitor, packaged in a compact patient-worn telemetry device for adult and pediatric patients. This new design supports hospitals in their initiatives to mobilize patients as early as possible in order to accelerate the healing process.
In addition to monitoring ECG and SpO2, the device has built-in algorithms to enhance ECG processing and reduce false alarms – such as pacer detection software and ACE® (Arrhythmia Classification Expert), an arrhythmia analysis tool.
Infinity M300 can run on a hospital's existing 802.11 b/g network – saving the expense of requiring a separate wireless network for the telemetry system. Infinity M300 addresses the three major challenges of telemetry monitoring. The first is viewing patient information at the patient's side. Unlike traditional telemetry devices which have no screen, Infinity M300 has a color display that shows the patient's ECG for all monitored leads, heart rate, SpO2, and electrode status – enabling the clinical staff to access monitored data and react promptly without having to go to the central monitoring station. The display also shows patient demographics to help confirm the patient's identification before giving medication, taking blood samples, or performing treatments.
The second telemetry challenge is hearing and responding to alarms. Infinity M300 has built-in alarming and alarm controls, which provide alarm alerts both at the patient's side and the Infinity CentralStation, Dräger's central monitoring workstation. The built-in display helps the clinician assess alarms and respond accordingly.
The third challenge of telemetry monitoring is the cost and effort associated with disposable batteries. Infinity M300 has a built-in battery, which can be recharged via a bedside charger while the patient is wearing the device, or at a multi-device charger at the central monitoring station.
"Infinity M300 represents a major innovation in telemetry monitoring. We're very excited about the system's potential to help address the challenges of today's busy ambulatory environments," said Dina LaTulippe, Director of Product Management, Central Monitoring Solutions at Monitoring, Systems & IT in Andover, Massachusetts, USA. "Because Infinity M300 has a built-in display and alarms, it enables the clinical staff to be alerted to patient conditions without having to use additional devices."
About Dräger
Founded in 1889, Drägerwerk AG & Co. KGaA is an international leader in the fields of medical and safety technology. Dräger products protect, support and save human life. In 2007, the Group achieved sales of €1,819.5 million worldwide and an EBIT of €151.9 million. Today, Dräger employs around 10,000 people in more than 70 subsidiaries worldwide and has representation in around 190 countries. The Dräger Medical subsidiary offers products, services and integrated system solutions which accompany the patient throughout the care process – Emergency Care, Perioperative Care, Critical Care or Perinatal care and Home Mechanical Ventilation.
Contact for Trade Press
Malte Blombach
Tel.: +49 451 882-1976
E-Mail: malte.blombach@draeger.com
Media Contact
Burkard Dillig
Drägerwerk AG & Co. KGaA
Alle Nachrichten aus der Kategorie: Medical Engineering
The development of medical equipment, products and technical procedures is characterized by high research and development costs in a variety of fields related to the study of human medicine.
innovations-report provides informative and stimulating reports and articles on topics ranging from imaging processes, cell and tissue techniques, optical techniques, implants, orthopedic aids, clinical and medical office equipment, dialysis systems and x-ray/radiation monitoring devices to endoscopy, ultrasound, surgical techniques, and dental materials.
Zurück zur Startseite
Neueste Beiträge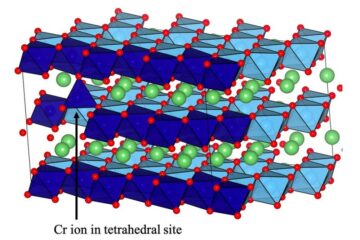 Argonne targets lithium-rich materials as key to more sustainable cost-effective batteries
Next-generation batteries using lithium-rich materials could be more sustainable and cost-effective, according to a team of researchers with the U.S. Department of Energy's (DOE) Argonne National Laboratory. The pivotal discovery,…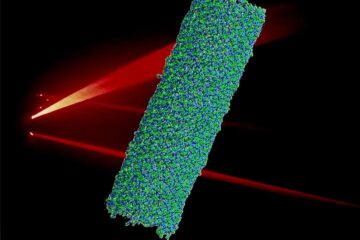 Why disordered light-harvesting systems produce ordered outcomes
Scientists typically prefer to work with ordered systems. However, a diverse team of physicists and biophysicists from the University of Groningen found that individual light-harvesting nanotubes with disordered molecular structures…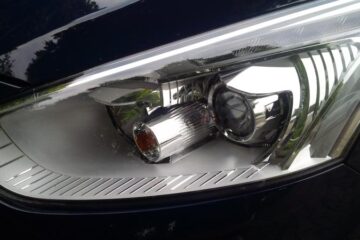 RadarGlass – from vehicle headlight to radar transceiver
As a result of modern Advanced Driver Assistance Systems, the use of radar technology has become indispensable for the automotive sector. With the installation of a large and growing number…