Early countermeasures against ineffective therapies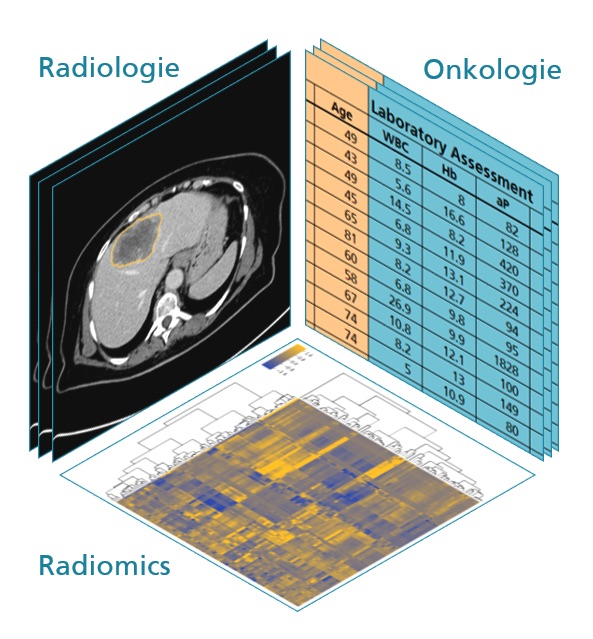 What effect does a particular cancer medicine or radiation therapy have on patients? To find out, physicians use CT images to determine whether a tumor's size changes during the course of treatment. In the PANTHER project, a joint team of experts aims at gaining further valuable information from these images.
In the future, doctors will be able to find out at an early stage whether a cancer treatment is effective or should be changed. The Fraunhofer Institute for Medical Image Computing MEVIS, with its branches in Bremen and Lübeck, is an essential project partner. This spring, the project team will present the interim results from the first project period.
Physicians monitor the course of tumor therapy by observing the general condition of their patients, analyzing lab values from blood tests, and taking regular CT images of the affected organs. Until now, doctors have only used the images to monitor tumor size development. Has the tumor shrunk as a result of radiation or chemotherapy or has it grown further, making a change in therapy, such as choosing an alternative medication, seem reasonable?
This is where the joint PANTHER project comes into play. "So far, size development of a tumor is the most important criterion in evaluating CT images," says Fraunhofer MEVIS computer scientist Jan Hendrik Moltz.
"Yet, there is so much more information hidden in these images that has barely been used." In addition to size progression, the images also show how and to which degree the shape of the ulcer has changed. They can give details about the texture and nature of the tumor, whether it consists of different types of tissues, and whether its composition changes during the course of therapy.
Much of this information is invisible to the naked eye, which causes difficulties. "To be able to recognize and in particular quantify these features, physicians need computer assistance," says Moltz. "This is precisely the goal of PANTHER."
Since October 2016, the Federal Ministry of Education and Research has sponsored the joint "Patient-oriented oncological therapy assistance" project with an overall funding around 2.8 million euro. In addition to Fraunhofer MEVIS, further participants include the Medical Center of the University of Munich, MeVis BreastCare GmbH & Co.KG, as well as project coordinator Siemens Healthcare GmbH.
In the first phase, radiologists of the Medical Center of the University of Munich compiled large amounts of CT image data of colon cancer and lymphoma patients. The clinicians segmented relevant structures in the images using a web tool, making the size and shape of the tumors and organs in the images recognizable and measurable. At a later stage, an automatic algorithm will perform the segmentation instead.
The oncologists in Munich provided extensive data material on patients' response to a therapy and how their blood values changed during the course of treatment. Experts want to align particular features of the CT images with the data, such as changes in the shape and texture of the tumor during therapy. Comprehensive statistical analyses will reveal possible reliable correlations between image and therapy data. "Ideally, the CT images would help assess at an early stage whether or not a particular therapy is successful," says Julian Holch, an oncologist at the Medical Center of the University of Munich.
Soon, the PANTHER team will be preparing for a mid-term review. "We have already collected a large share of the data and developed essential parts of the software, for example, for the automatic segmentation of the spleen," explains Moltz. "We have also identified features in the CT images that we wish to evaluate with statistical analyses." For patients with colon cancer, change in liver metastases could be a possible indicator of therapy success. For lymphoma patients, changes in spleen shape could deliver clues concerning the effect of therapy.
"By the end of the project in 2019, the potential benefit of our approach for medicine should be clear," says Jan Hendrik Moltz. "The next step would be the development of a computer-based expert system that supports doctors in choosing the best therapy."
The joint project is an example of a new approach in medicine called radiomics, a mix of radiology and genomics. Elaborate algorithms could help extract additional information from radiological images and correlate them with data from clinics and labs. The goal is to develop therapies that target specific patients or cancer types. "Radiomics has the potential of making medicine more efficient and thus produce benefits for the patients," says Horst Hahn, one of Fraunhofer MEVIS' directors. "This way, we can gain profound analysis of diseases that can help figure out which patients will respond to what therapy methods."
https://www.mevis.fraunhofer.de/en/press-and-scicom/press-release/2018/early-cou…
Media Contact
Bianka Hofmann
Fraunhofer MEVIS - Institut für Bildgestützte Medizin
All news from this category: Medical Engineering
The development of medical equipment, products and technical procedures is characterized by high research and development costs in a variety of fields related to the study of human medicine.
innovations-report provides informative and stimulating reports and articles on topics ranging from imaging processes, cell and tissue techniques, optical techniques, implants, orthopedic aids, clinical and medical office equipment, dialysis systems and x-ray/radiation monitoring devices to endoscopy, ultrasound, surgical techniques, and dental materials.
Back to the Homepage
Latest posts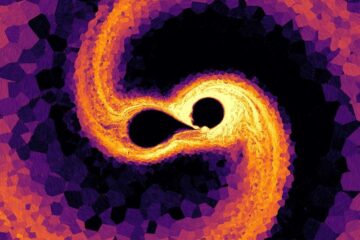 Exploring the evolution of stars
Fabian Schneider leads the new research group "Stellar Evolution Theory" (SET) at the Heidelberg Institute for Theoretical Studies (HITS). The astrophysicist explores the turbulent life of massive binary stars and…
Sustainable insulating material for shipping temperature-sensitive products
Researchers at the Institute of Natural Products Engineering at TU Dresden have developed an insulating material made from recycled paper for shipping temperature-sensitive foods and medicines. As part of a…
Helium nuclei at the surface of heavy nuclei discovered
Research team confirms a new nuclear property predicted by theory Scientists are able to selectively knockout nucleons and preformed nuclear clusters from atomic nuclei using high-energy proton beams. In an…