Rusting iron can be its own worst enemy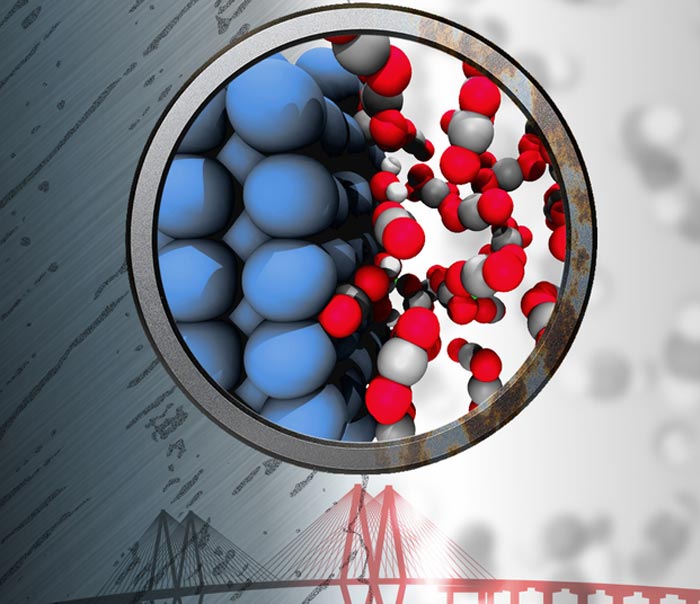 Rice team's simulations show iron catalyzes corrosion in 'inert' carbon dioxide.
Iron that rusts in water theoretically shouldn't corrode in contact with an "inert" supercritical fluid of carbon dioxide. But it does.
The reason has eluded materials scientists to now, but a team at Rice University has a theory that could contribute to new strategies to protect iron from the environment.
Materials theorist Boris Yakobson and his colleagues at Rice's George R. Brown School of Engineering found through atom-level simulations that iron itself plays a role in its own corrosion when exposed to supercritical CO2 (sCO2) and trace amounts of water by promoting the formation of reactive species in the fluid that come back to attack it.
In their research, published in the Cell Press journal Matter, they conclude that thin hydrophobic layers of 2D materials like graphene or hexagonal boron nitride could be employed as a barrier between iron atoms and the reactive elements of sCO2.
Rice graduate student Qin-Kun Li and research scientist Alex Kutana are co-lead authors of the paper. Rice assistant research professor Evgeni Penev is a co-author.
Supercritical fluids are materials at a temperature and pressure that keeps them roughly between phases — say, not all liquid, but not yet all gas. The properties of sCO2 make it an ideal working fluid because, according to the researchers, it is "essentially inert," noncorrosive and low-cost.
"Eliminating corrosion is a constant challenge, and it's on a lot of people's minds right now as the government prepares to invest heavily in infrastructure," said Yakobson, the Karl F. Hasselmann Professor of Materials Science and NanoEngineering and a professor of chemistry. "Iron is a pillar of infrastructure from ancient times, but only now are we able to get an atomistic understanding of how it corrodes."
The Rice lab's simulations reveal the devil's in the details. Previous studies have attributed corrosion to the presence of bulk water and other contaminants in the superfluid, but that isn't necessarily the case, Yakobson said.
"Water, as the primary impurity in sCO2, provides a hydrogen bond network to trigger interfacial reactions with CO2 and other impurities like nitrous oxide and to form corrosive acid detrimental to iron," Li said.
The simulations also showed that the iron itself acts as a catalyst, lowering the reaction energy barriers at the interface between iron and sCO2, ultimately leading to the formation of a host of corrosive species: oxygen, hydroxide, carboxylic acid and nitrous acid.
To the researchers, the study illustrates the power of theoretical modeling to solve complicated chemistry problems, in this case predicting thermodynamic reactions and estimates of corrosion rates at the interface between iron and sCO2. They also showed all bets are off if there's more than a trace of water in the superfluid, accelerating corrosion.
The research was supported by the U.S. Department of Energy's Fossil Energy Program, Division of Crosscutting R&D and Systems Integration (DE-AC05-00OR22725), through UT-Battelle LLC (4000174979).
Read the abstract at https://www.sciencedirect.com/science/article/abs/pii/S2590238521006779.
This news release can be found online at https://news.rice.edu/news/2022/rusting-iron-can-be-its-own-worst-enemy.
Follow Rice News and Media Relations via Twitter @RiceUNews.
Related materials:
Yakobson Research Group: http://biygroup.blogs.rice.edu
Department of Materials Science and NanoEngineering: https://msne.rice.edu
George R. Brown School of Engineering: https://engineering.rice.edu
Images for download:
https://news-network.rice.edu/news/files/2022/01/0124_IRON-1-WEB.jpg
Iron (blue) can react with trace amounts of water to produce corrosive chemicals despite being bathed in "inert" supercritical fluids of carbon dioxide. Atomistic simulations carried out at Rice University show how this reaction happens. (Credit: Evgeni Penev/Rice University)
Located on a 300-acre forested campus in Houston, Rice University is consistently ranked among the nation's top 20 universities by U.S. News & World Report. Rice has highly respected schools of Architecture, Business, Continuing Studies, Engineering, Humanities, Music, Natural Sciences and Social Sciences and is home to the Baker Institute for Public Policy. With 4,052 undergraduates and 3,484 graduate students, Rice's undergraduate student-to-faculty ratio is just under 6-to-1. Its residential college system builds close-knit communities and lifelong friendships, just one reason why Rice is ranked No. 1 for lots of race/class interaction and No. 1 for quality of life by the Princeton Review. Rice is also rated as a best value among private universities by Kiplinger's Personal Finance.
Journal: Matter
DOI: 10.1016/j.matt.2021.12.019
Method of Research: Computational simulation/modeling
Subject of Research: Not applicable
Article Title: Iron corrosion in the "inert" supercritical CO2, ab initio dynamics insights: How impurities matter
Article Publication Date: 20-Jan-2022
Media Contacts
Mike Williams
Rice University
mikewilliams@rice.edu
Office: 713-348-6728
Jeff Falk
Rice University
jfalk@rice.edu
Office: 713-348-6775
All latest news from the category: Materials Sciences
Materials management deals with the research, development, manufacturing and processing of raw and industrial materials. Key aspects here are biological and medical issues, which play an increasingly important role in this field.
innovations-report offers in-depth articles related to the development and application of materials and the structure and properties of new materials.
Back to home
Newest articles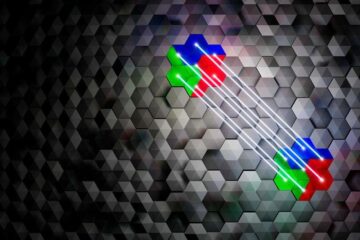 Error-Free Quantum Computing Gets Real
For quantum computers to be useful in practice, errors must be detected and corrected. At the University of Innsbruck, Austria, a team of experimental physicists has now implemented a universal…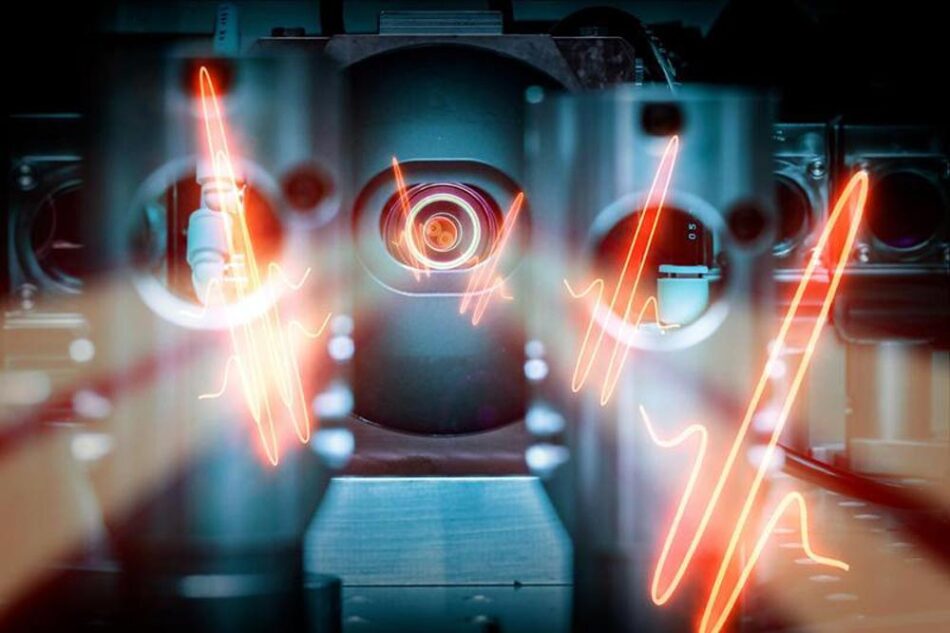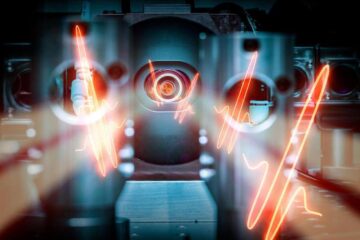 Most powerful dual-comb spectrometer developed
Scientists from Hamburg and Munich developed the world's most powerful dual-comb spectrometer that paves the way for many applications in atmospheric science and biomedical diagnostics, such as early cancer detection….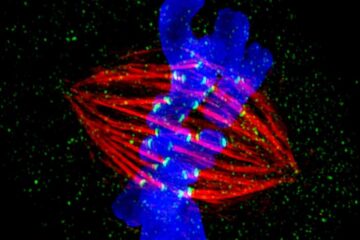 Role of cohesins in embryonic stem cell division
Study shows how meiotic cohesin complexes affect chromosome structure and genomic integrity – and the long-term implications of their effects on the stem cell genome. Chromosomes undergo precise structural changes…