Philips adopts DuPont™ Zytel® CDV for manufacture of lighting components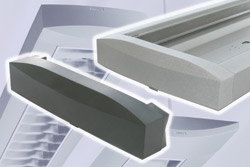 The switch to a conductive grade of DuPont™ Zytel® nylon for the manufacture of lighting fixtures has helped Philips Lighting B.V. of Winterswijk (the Netherlands) achieve its aesthetic, production and sustainability requirements and has resulted in the approval of Zytel® CDV for future Philips lighting applications.
Due to the nylon's inherent conductivity, the injection-moulded end caps for the X-tendolight range of luminaires from Philips lend themselves to the same powder coating process as used for the light's steel housing. This facilitates a closer colour match between components, eliminates the need for wet painting that contains hazardous solvents and greatly simplifies the manufacturing process.
The X-tendolight range of luminaries from Philips is mainly used in offices. The lights are up to two metres long and feature a steel plate body that can be powder coated in a range of colours and finishes depending on customer requirements. End caps previously fitted to the housing had been moulded in a standard white polycarbonate-ABS blend, and then wet-painted for a best-matching finish in cases where the customer requested a colour other than standard white. The use of solvent-based paints necessitated the conversion of the production line to meet European emission regulations, particularly with regard to air filtration and product handling.
Seeking a more cost-effective and sustainable alternative, Philips trialled Zytel® CDV, a conductive nylon resin from DuPont, on the recommendation of Roger Moons, DuPont Engineering Polymer's development manager for the Benelux region. "Zytel® CDV offers an economical way to produce powder-coated parts due to its inherent conductivity. As a result, Philips could use the same powder coating process that it uses to paint the steel housing, involving temperatures of 185°C during the curing process, without compromising the performance of the Zytel® part. Moreover, the Zytel® CDV resin can be injection moulded using the same tools as those used for the PC-ABS, so there is no need for additional investment in processing equipment," explains Moons. Due to their dimensional stability and low warpage behaviour, Zytel® CDV resins are well suited for use in the production of lighting end caps. Two snap fits, incorporated in the moulding's design, create a reliably tight fitting to the luminaire's housing.
The gains attributed to the change in polymer for production of the end-caps are confirmed by Erik Kremer, QHSE (Quality, Health, Safety & Environmental) manager at Philips Lighting. "They are threefold: Firstly we achieve a vastly superior colour match to the light housing, due to the fact that both parts are treated in the same process. The same applies to their surface finish. Secondly, our manufacturing process is simplified, more flexible and far more cost-effective. We now only require a single coating line for both parts, parts can be coated as and when required. Thirdly, by eliminating the use of solvents, we go further to meeting our company's own sustainability objectives and prevent additional expenditure on redundant air-filtering and handling systems.
Martijn van der Pol, purchasing manager at Philips Lighting is just as enthusiastic: "This specific Zytel® CDV grade has the same shrinkage properties as PC-ABS, which we thought would be impossible. By adding this conductive grade to the manufacturing process for our existing luminaire range, we gained the flexibility to use both materials in the same tool. Thus we can continue to produce off-the-shelf white luminaires with pre-coloured PC-ABS, and choose to make any other colour with Zytel® CDV with no extra tool investment and minimal variable cost."
Following the adoption of Zytel® CDV for the end-caps of the X-tendolight range during 2007, and its associated benefits, the material has received qualification from Philips for the manufacture of future lighting fixtures.
Royal Philips Electronics of the Netherlands is a global leader in healthcare, lighting and consumer lifestyle, delivering people-centric, innovative products, services and solutions through the brand promise of "sense and simplicity". Headquartered in the Netherlands, Philips employs approximately 123,800 employees in more than 60 countries worldwide. With sales of EUR 27 billion in 2007, the company is a market leader in medical diagnostic imaging and patient monitoring systems, energy efficient lighting solutions, as well as lifestyle solutions for personal wellbeing. News from Philips is located at www.philips.com/newscenter.
The DuPont Engineering Polymers business manufactures and sells Crastin® PBT and Rynite® PET thermoplastic polyester resins, Delrin® acetal resins, Hytrel® thermoplastic polyester elastomers, DuPont™ ETPV engineering thermoplastic vulcanizates, Minlon® mineral-reinforced nylon resins, Thermx® PCT polycyclohexylene dimethylterephthalate, Tynex® nylon filaments, Vespel® parts and shapes, Zenite® liquid crystal polymers, Zytel® nylon resins and Zytel® HTN high-performance nylons. These products serve global markets in the aerospace, appliance, automotive, consumer, electrical, electronic, health-care, industrial, sporting goods and many other diversified industries.
DuPont is a science company. Founded in 1802, DuPont puts science to work by creating sustainable solutions essential to a better, safer, healthier life for people everywhere. Operating in more than 70 countries, DuPont offers a wide range of innovative products and services for markets including agriculture, nutrition, electronics, communications, safety and protection, home and construction, transportation and apparel
The DuPont Oval Logo, DuPont™, The miracles of science™ and Zytel® are registered trademarks or trademarks of E.I. du Pont de Nemours and Company or its affiliates.
Note for the editor
This press release is based on information from
Philips Lighting
Martijn van der Pol
Rondweg-Zuid 85
7102 JD Winterswijk
The Netherlands
Direct phone: +31 (0)543 542 345
E mail: martijn.van.der.pol@philips.com
Media Contact
Horst Ulrich Reimer
Du Pont
Alle Nachrichten aus der Kategorie: Materials Sciences
Materials management deals with the research, development, manufacturing and processing of raw and industrial materials. Key aspects here are biological and medical issues, which play an increasingly important role in this field.
innovations-report offers in-depth articles related to the development and application of materials and the structure and properties of new materials.
Zurück zur Startseite
Neueste Beiträge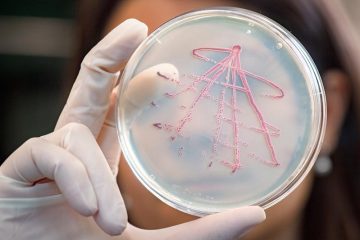 Grow faster, die sooner: How growth rates influence the fitness of bacteria
"The fitness of bacteria is more complex than expected," explains Ulrich Gerland, professor for the theory of complex biosystems at the Technical University of…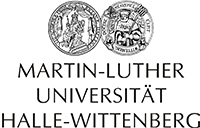 Spintronics: Researchers show how to make non-magnetic materials magnetic
In solid-state physics, oxide layers only a few nanometres thick are known to form a so-called two-dimensional electron gas. These thin layers, separated from…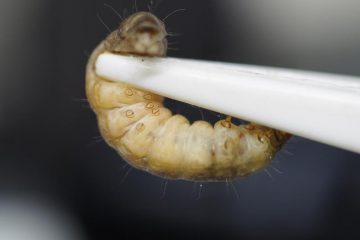 Caterpillars of the wax moth love eating plastic: Fraunhofer LBF investigates degradation process
Within the Framework of a research project on the chemical imaging analysis of plastic digestion in caterpillars (RauPE), a team from Fraunhofer LBF used…