DuPont™ Hytrel® and DuPont™ Zytel® contribute to durable and lightweight all-plastic safety shoes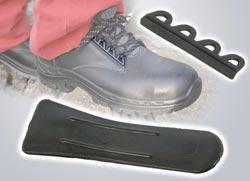 Hytrel® was selected for the shoe's eyelets due to its flexibility, even at low temperatures, and its suitability for stitching to the leather upper. Zytel® was chosen for the shoe's midsole support due to its high flexural modulus, helping to stiffen the polyurethane sole and provide more protection and comfort for the wearer. By changing to polymer components, Yakupoglu is able to save weight and manufacturing cost, while prolonging the lifetime of its shoes.
The adoption of Hytrel® for the shoes' eyelets and Zytel® for their midsole supports represented the final stage in Yakupoglu's drive to replace metal in its safety shoes. "The availability of an all-polymer safety shoe can be of crucial significance to workers in industries where passing through metal detectors may be part and parcel of their jobs, for example luggage handlers at airports," explains Ismail Harmandar, production manager at Yakupoglu. A reduction in the overall weight of the shoes, without impairing safety performance, and the elimination of potential corrosion sources are further benefits to the user. The manufacturing benefits of an all-polymer shoe include fewer material stocks and the deployment of cost-efficient manufacturing processes, according to Yakupoglu.
"The greatest challenge to date was finding a material to replace the steel commonly used for eyelets, where the right combination of flexibility and toughness over a wide temperature range was imperative in providing a durable component that could also be easily integrated into our overall production process. DuPont, and more specifically Hytrel®, provided that solution," says Ismail Harmandar. Rows of four eyelets, measuring approximately eight centimetres in length and two centimetres high, are moulded in-house by Yakupoglu before being stitched to the leather upper by industrial sewing machines. "If the material is too stiff it will break during stitching, too soft and it may tear during use," explains Ismail Harmandar further.
A 30% glass-reinforced grade of Zytel® nylon is used to produce the midsole support for the shoes, which runs under the arch of the foot above the polyurethane sole, and provides more protection and comfort for the wearer. The material was chosen for its high stiffness when flexed over multiple cycles, and processing ease. "The support provided by DuPont when determining which materials we could use for these applications was second to none. Whether material performance and analysis, processing advice or general design guidance, DuPont provided us with the best answers," concludes Ismail Harmandar.
Part of Yakupoglu's non-metallic range of safety footwear, the DuPont engineering thermoplastics currently feature in its UL 100 lightweight safety training shoe and the UL 110 lightweight safety boot. Both shoes are true non-metal constructions throughout, with the soles produced from a combination of polyurethane (PU) for the midsole and thermo-polyurethane (TPU) for the outsole. The non-metal toe caps of the shoes are made from thermoplastic and are resistant to 200 joules. Both models are S1 safety classified according to European Standard EN345, and have antistatic properties as well as being oil and slip resistant. They are available under Yakupoglu's own brand of 'YDS' in Turkey or under national brands throughout Europe and the Middle East.
Yakupoglu is a company manufacturing various military and police footwear, garments and accesories, worker safety shoes and firemen boots. Founded in 1927, its product spectrum consists of safety footwear, uniform and tactical footwear, sport shoes, Goodyear welted and unit soled shoes, Gore-Tex breathable and water resistant boots, summer boots, winter boots and snow boots. Its 'YDS' branded safety footwear and equipment are produced according to norms EN ISO 20345 and EN ISO 20345.
The DuPont Engineering Polymers business manufactures and sells Crastin® PBT and Rynite® PET thermoplastic polyester resins, Delrin® acetal resins, Hytrel® thermoplastic polyester elastomers, DuPont™ ETPV engineering thermoplastic vulcanizates, Minlon® mineral reinforced nylon resins, Thermx® PCT polycyclohexylene dimethyl terephthalate, Tynex® filaments, Vespel® parts and shapes, Zenite® LCP liquid crystal polymers, Zytel® nylon resins and Zytel® HTN high-performance polyamides. These products serve global markets in the aerospace, appliance, automotive, consumer, electrical, electronic, healthcare, industrial, sporting goods and many other diversified industries.
DuPont is a science-based products and services company. Founded in 1802, DuPont puts science to work by creating sustainable solutions essential to a better, safer, healthier life for people everywhere. Operating in more than 70 countries, DuPont offers a wide range of innovative products and services for markets including agriculture and food; building and construction; communications; and transportation.
The DuPont Oval, DuPont™, The miracles of science™, Hytrel®, Zytel® and all other product names denoted with ® are registered trademarks or trademarks of E.I. du Pont de Nemours and Company or its affiliates.
This press release is based on information provided by:
Yakupoglu A.Þ.
Havalimaný Yolu 20. Km.
06750 Akyurt-Ankara
Turkey
Tel. +90 312 398 12 13
Fax: +90 312 398 08 78
E-mail: info@yakupoglu.com.tr
Media Contact
Horst Ulrich Reimer
Du Pont
Alle Nachrichten aus der Kategorie: Materials Sciences
Materials management deals with the research, development, manufacturing and processing of raw and industrial materials. Key aspects here are biological and medical issues, which play an increasingly important role in this field.
innovations-report offers in-depth articles related to the development and application of materials and the structure and properties of new materials.
Zurück zur Startseite
Neueste Beiträge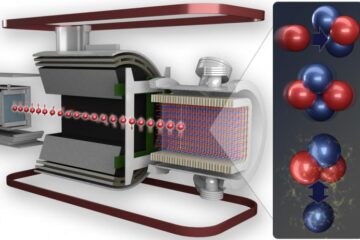 Scientists achieve higher precision weak force measurement between protons, neutrons
Through a one-of-a-kind experiment at the Department of Energy's Oak Ridge National Laboratory, nuclear physicists have precisely measured the weak interaction between protons and neutrons. The result quantifies the weak…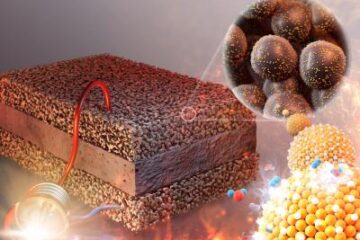 High-performance single-atom catalysts for high-temperature fuel cells
Individual Pt atoms participate in catalytic reaction to faciitate the electrode process by up to 10 times. Single-atom Pt catalysts are stable at 700 degrees Celsius and expected to stimulate…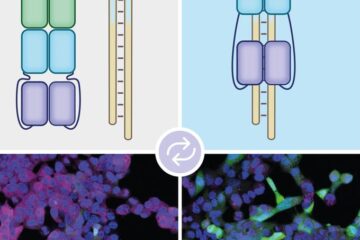 New method allows precise gene control by light
A novel optical switch makes it possible to precisely control the lifespan of genetic "copies". These are used by the cell as building instructions for the production of proteins. The…