Metamaterials Shine Bright as New Terahertz Source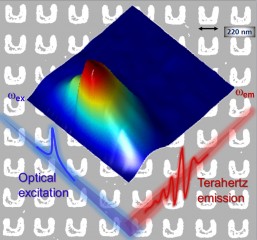 The Science
Newswise — Metamaterials allow design and use of light-matter interactions at a fundamental level. An efficient terahertz emission from two-dimensional arrays of gold split-ring resonator metamaterials was discovered as a result of excitation by a near-infrared pulsed laser.
The Impact
Terahertz waves are used in non-invasive imaging and sensing technology, in addition to information, communication, processing, and data storage technologies. Despite their widely recognized importance, however, there are few terahertz sources presently available due to the limitations of natural materials. This discovery opens new ways to use metamaterials for these important applications.
Summary
Broadband terahertz sources offer exciting possibilities to study fundamental physics principles, to develop non-invasive material imaging and sensing, and make possible terahertz information, communication, processing, and storage. The terahertz spectral range sits between infrared and typical radar frequencies, and the challenges of efficiently generating and detecting terahertz radiation has limited its use. To solve these challenges consider metamaterials; materials that allow control of the properties of light-matter interactions at the fundamental level.
The building blocks of metamaterials, known as split-ring resonators, can be designed to exhibit strong electric and magnetic response to electromagnetic fields over a wide frequency range, from terahertz to infrared. Scientists at Ames Laboratory, Iowa State University, and Karlsruhe Institute of Technology in Germany have discovered that when a two-dimensional array of nanometer-sized gold metamaterial resonators is illuminated by a tunable near-infrared femtosecond laser, with wavelengths matching the magnetic resonance of the metamaterial, a strong broadband of terahertz electromagnetic waves is emitted.
The efficiency of this conversion to terahertz waves was significantly better than conventional materials that are presently used for these applications. Detailed analysis of the directionality and polarization of the emitted radiation reveals the fundamental nature of this efficient wavelength conversion. Further, these new metamaterials could allow integration of terahertz optoelectronics with high-speed telecommunications.
Funding
DOE Office of Science, Basic Energy Sciences (experiments). Theory research was supported by the US Office of Naval Research and the National Science Foundation. The Karlsruhe team had support from the Deutsche Forschungsgemeinschaft (DFG, German Research Foundation), the State of Baden-Wurttemberg, and the Karlsruhe Institute of Technology (KIT) through the DFG-Center for Functional Nanostructures (CFN).
Publication
L. Luo, I. Chatzakis, J. Wang, F.B. P. Niesler, M. Wegener, T. Koschny, C.M. Soukoulis, "Broadband terahertz generation from metamaterials." Nature Communications 5, 3055 (2014). [DOI: 10.1038/ncomms4055]
Contact Information
Kristin Manke
kristin.manke@science.doe.gov
All latest news from the category: Materials Sciences
Materials management deals with the research, development, manufacturing and processing of raw and industrial materials. Key aspects here are biological and medical issues, which play an increasingly important role in this field.
innovations-report offers in-depth articles related to the development and application of materials and the structure and properties of new materials.
Back to home
Newest articles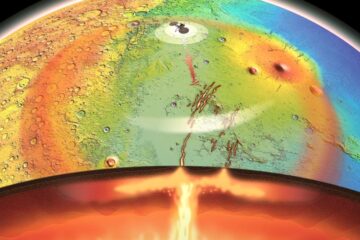 Giant mantle plume reveals Mars is more active than previously thought
Orbital observations unveil the presence of an enormous mantle plume pushing the surface of Mars upward and driving intense volcanic and seismic activity. On Earth, shifting tectonic plates reshuffle the…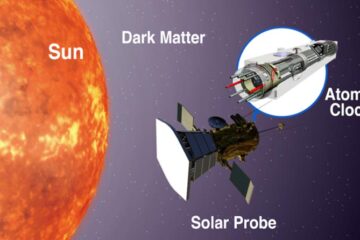 Space atomic clocks could help uncover the nature of dark matter
Studying an atomic clock on-board a spacecraft inside the orbit of Mercury and very near to the Sun might be the trick to uncovering the nature of dark matter, suggests…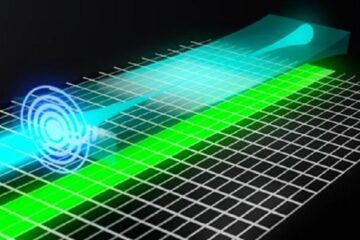 Photon-efficient volumetric imaging with light-sheet scanning fluorescence microscopy
New method harnesses image scanning superresolution for enhanced photon efficiency in light-sheet microscopy. In biological imaging, researchers aim to achieve 3D, high-speed, and high-resolution, with low photobleaching and phototoxicity. The…