Ionic thermal up-diffusion boosts energy harvesting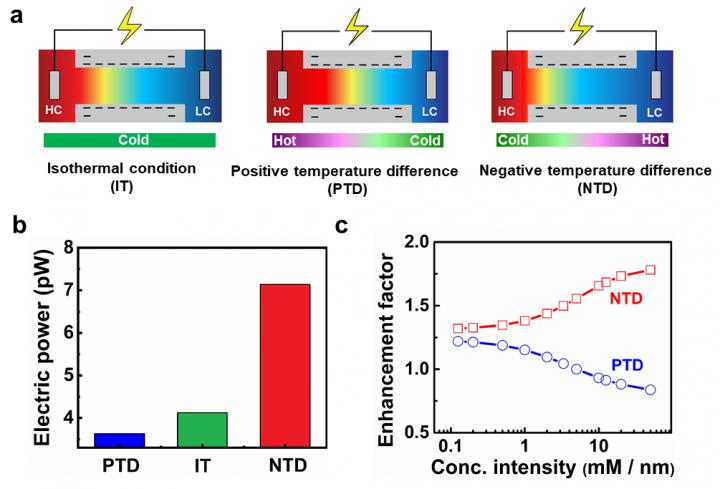 Previous efforts focusing on the nanofluidic energy conversion system mainly deal with the isothermal conditions. Conventional viewpoint suggests that improving the membrane potential requires a larger temperature and a long channel length to guarantee a large selectivity and a high effective concentration difference.
This intuitive judgement accounts for increasing temperature to achieve better performance. However, the transmembrane temperature difference is a very important, yet long-overlooked element that impacts the performance of the nanofuidic devices.
In a new research article published in the Beijing-based National Science Review, scientists at Huazhong University of Science and Technology, China present an anomalous temperature dependence in nanofluidic power generation.
A negative temperature difference can significantly improve the membrane potential due to the impact of ionic thermal up-diffusion that promotes the selectivity and suppresses the ion concentration polarization, especially at the low concentration side, which results in dramatically enhanced electric power. Simple and efficient ways are also proposed to fabricate tunable ionic voltage sources and enhance salinity gradient energy conversion based on small nanoscale biochannels and mimetic nanochannels.
"Scientifically, we reveal the importance of a long-overlooked element, transmembrane temperature difference, in nanofluidic salinity gradient energy harvesting." Prof. Wei Liu said, "For applications and guidance, we can fabricate tunable ionic voltage sources, where the voltage is tuned by the temperature at the low concentration side and the internal resistance adjusted by the temperature at the high concentration side. And waste heat can be employed to enhance the power output and ionic flux by establishing transmembrane temperature difference to match the optimal transmembrane concentration intensity under the nanoscale biochannels and mimetic nanochannels."
###
This research received funding from the National Natural Science Foundation of China.
See the article:
Rui Long, Zhengfei Kuang, Zhichun Liu, and Wei Liu
Ionic thermal up-diffusion in nanofluidic salinity gradient energy harvesting
Natl Sci Rev 2019; doi: 10.1093/nsr/nwz106 https://doi.org/10.1093/nsr/nwz106
The National Science Review is the first comprehensive scholarly journal released in English in China that is aimed at linking the country's rapidly advancing community of scientists with the global frontiers of science and technology. The journal also aims to shine a worldwide spotlight on scientific research advances across China.
Alle Nachrichten aus der Kategorie: Materials Sciences
Materials management deals with the research, development, manufacturing and processing of raw and industrial materials. Key aspects here are biological and medical issues, which play an increasingly important role in this field.
innovations-report offers in-depth articles related to the development and application of materials and the structure and properties of new materials.
Zurück zur Startseite
Neueste Beiträge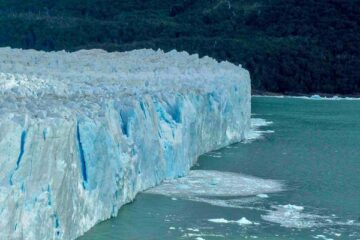 How Stable is the Antarctic Ice Sheet?
Scientists from Heidelberg University investigate which factors determine the stability of ice masses in East Antarctica. As temperatures rise due to climate change, the melting of polar ice sheets is…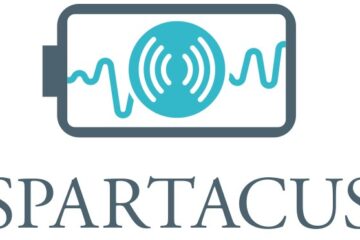 Smart sensors for future fast charging batteries
European project "Spartacus" launched Faster charging, longer stability of performance not only for electric vehicles but also for smartphones and other battery powered products. What still sounds like science fiction…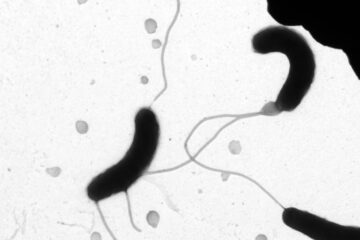 Small molecules control bacterial resistance to antibiotics
Antibiotics have revolutionized medicine by providing effective treatments for infectious diseases such as cholera. But the pathogens that cause disease are increasingly developing resistance to the antibiotics that are most…