Subcutaneous Administration of Multispecific Antibody Makes Tumor Treatment Faster & More Tolerable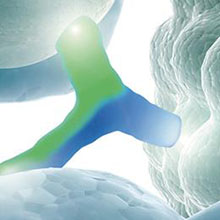 As a rule, anti-tumor antibodies are administered to the patients intravenously. This usually takes several hours because otherwise a too rapid activation of the immune system can lead to significant adverse side effects.
The research group led by Prof. Dr. Ralph Mocikat of the Institute of Molecular Immunology (IMI), Helmholtz Zentrum München, therefore tested the subcutaneous delivery of the antibodies. For this purpose, the scientists used a special class of multispecific, so-called trifunctional*, antibodies. Specifically, they tested an antibody that was developed by Trion Research GmbH to combat melanoma cells.
Evenly released into the body
"Overall, our results from the mouse model show that the subcutaneous administration of trifunctional antibodies has significant advantages in comparison to the standard intravenous therapy," said lead author Nina Deppisch. "Although the bioavailability is lower – that is, the quantity of active agents in the bloodstream is less – the antibodies are better tolerated, with undiminished effectiveness against the tumor."
The researchers hypothesize that this good tolerability is due to the subcutaneous method of administering the antibodies because these are slowly and evenly released into the body from under the skin, like from a depot. "Inflammation markers such as the levels of certain cytokines confirm this," Deppisch said.
Treatment in the future: subcutaneous rather than intravenous?
The researchers view two aspects as particularly promising: "First, the study once again demonstrates the effectiveness of trifunctional antibodies," said Mocikat. "Their advantage is that they generally bring about long-lasting immunity against the tumor instead of fighting it only for a brief period. Second, our results show that tumor treatment can be put on a broader basis with regards to its availability for patients. Perhaps, due to this better tolerability, a hospitalization of the patient will no longer be necessary, since the subcutaneous administration can take place in a matter of minutes instead of hours." The researchers want to explore this issue in further studies.
Further Information
Background
*Multispecific antibodies: Typically, antibodies have two kinds of binding sites: The two identical antigen binding domains in the variable regions of the branches of the Y structure and another binding site for cells of the innate immune response in the area of the antibody stem (Fc region). The trick with multispecific antibodies is that these simultaneously combine multiple different cell types. One example for multispecific antibodies are the trifunctional antibodies mentioned in this text (see also below).
*Trifunctional antibodies form a subclass of multispecific antibodies. The two binding sites in the variable regions are different here: One binds to a surface antigen on cancer cells, the second on the body's own T cells and the constant part to scavenger cells of the innate immune system (macrophages, monocytes, and dendritic cells). The destruction of the cancer cells is then carried out by two different mechanisms: The T cells initiate the lysis of the tumor cells (apoptosis), and the cells of the innate immune system destroy the cancer cells by phagocytosis and necrosis. The resulting cellular debris is presented to the immune system, thus resulting in long-term immunity.
Original Publication:
Deppisch, N. et al. (2015). Efficacy and Tolerability of a GD2-Directed Trifunctional Bispecific Antibody in a Preclinical Model: Subcutaneous administration is superior to intravenous delivery, Molecular Cancer Therapeutics, DOI: pii: molcanther.0156.2015
As German Research Center for Environmental Health, Helmholtz Zentrum München pursues the goal of developing personalized medical approaches for the prevention and therapy of major common diseases such as diabetes mellitus and lung diseases. To achieve this, it investigates the interaction of genetics, environmental factors and lifestyle. The Helmholtz Zentrum München has about 2,300 staff members and is headquartered in Neuherberg in the north of Munich. Helmholtz Zentrum München is a member of the Helmholtz Association, a community of 18 scientific-technical and medical-biological research centers with a total of about 37,000 staff members.
The Institute of Molecular Immunology (IMI) performs application-oriented basic research at the interface of immunology, oncology and molecular biology. The objectives of the Institute are to elucidate the basic mechanisms of the immune system, to understand the pathogenesis of immunologically mediated diseases and to directly transfer insights gained in basic research into clinical applications. The Institute focuses on developing new personalized treatment strategies for the targeted modulation of the immune system.
The independent Trion Research GmbH was founded in 1998 by Horst Lindhofer as a Spin-off company of the Helmholtz Zentrum München. TRION Research is an independent research organization offering specialized preclinical and clinical services to the biopharmaceutical industry, from initial drug design through to clinical studies.
Contact for the media:
Department of Communication, Helmholtz Zentrum München – German Research Center for Environmental Health (GmbH), Ingolstädter Landstr. 1, 85764 Neuherberg – Phone: +49-(0)89-3187-2238 – Fax: +49 89 3187 3324 – E-mail: presse@helmholtz-muenchen.de
Scientific contact at Helmholtz Zentrum München:
Prof. Dr. med. Ralph Mocikat, Helmholtz Zentrum München – Deutsches Forschungszentrum für Gesundheit und Umwelt (GmbH), Institute of Molecular Immunology, Marchioninistr. 25, 81377 München – Phone: +49 89 3187 1302 – E-mail: Mocikat@helmholtz-muenchen.de
Contact at Trion Research GmbH
Dr. Horst Lindhofer, Trion Research (GmbH), Am Klopferspitz 19, 82152 Martinsried – Phone: +49 89 70076624 – E-mail: horst.lindhofer@trionresearch.de
http://www.helmholtz-muenchen.de/en/news/press-releases/2015/index.html – Press Releases of Helmholtz Zentrum München
http://www.helmholtz-muenchen.de/en/imi/index.html – Institute of Molecular Immunology
http://www.trionresearch.com – Trion Research
Media Contact
Kommunikation
Helmholtz Zentrum München - Deutsches Forschungszentrum für Gesundheit und Umwelt
Alle Nachrichten aus der Kategorie: Life Sciences
Articles and reports from the Life Sciences area deal with applied and basic research into modern biology, chemistry and human medicine.
Valuable information can be found on a range of life sciences fields including bacteriology, biochemistry, bionics, bioinformatics, biophysics, biotechnology, genetics, geobotany, human biology, marine biology, microbiology, molecular biology, cellular biology, zoology, bioinorganic chemistry, microchemistry and environmental chemistry.
Zurück zur Startseite
Neueste Beiträge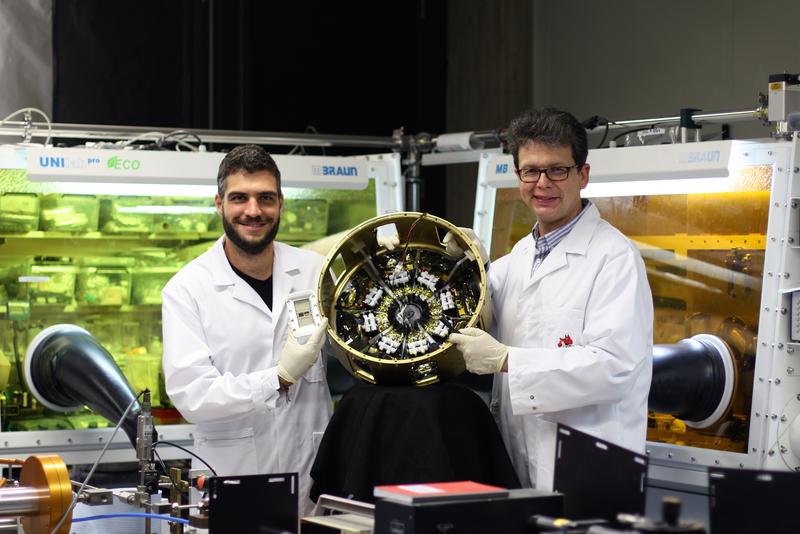 New solar cells for space
Almost all satellites are powered by solar cells – but solar cells are heavy. While conventional high-performance cells reach up to three watts of electricity per gram, perovskite and organic…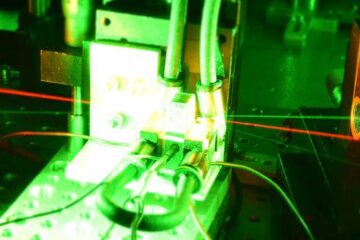 Development of a novel membrane laser module for spectral measurement methods
The Fraunhofer Institute for Applied Solid State Physics IAF has partnered up with the start-up "Twenty-One Semiconductors" (21s) from Stuttgart to bring their unique laser concept from lab to practice….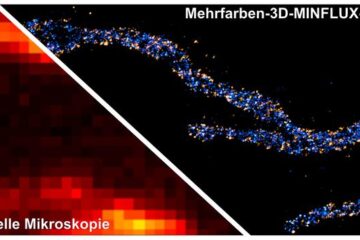 Dissecting protein assemblies
Super-resolution MINFLUX nanoscopy, developed by Nobel laureate Stefan Hell and his team, is able to discern fluorescent molecules that are only a few nanometers apart. In an initial application of…