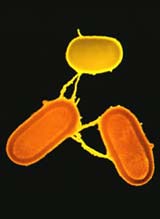 Bacteria caught mating with mammalian cells.
Cross-species coupling is generally frowned upon. But in the liberal labs of California it is actively being encouraged. Bugs that are persuaded to get down and dirty with hamster cells are rewriting sex manuals in the act.
Like humans, bacteria mate using a timely protruding phallus. It suckers a nearby bacterium and drags it close enough to shoot in DNA – a process called conjugation.
Although bacteria have been persuaded in the past to share DNA with plants and yeast, they had never been caught at it with mammalian cells before. For Virginia Waters of the University of California, San Diego, persistence paid off. She laid Escherichia coli on top of hamster cells and allowed them to get intimate: "You leave them overnight," she says.
Waters showed the bacteria had transferred DNA by tracking a gene that makes green fluorescent protein. Post-coital hamster cells literally light up1.
Free and easy
For years bacteria were assumed to be picky about their partners, says George Sprague of the University of Oregon in Eugene. Their surfaces were thought to be too dissimilar to get close to other cells. "People had a mindset that this was something bacteria enjoyed with each other," he says.
The soil bacterium Agrobacterium tumefaciens regularly indulges with plants cells, it later emerged. And in 1989, Sprague showed bacteria's willingness to try it on with yeast2. "It was a surprise to the scientific community," he says. Pairing up bacteria with mammalian cells "seemed like the ultimate sexy experiment".
The secret to a fertile union lies in carefully detecting the rare deviants, thinks Waters – only around 1 in 10,000 mammalian cells. She also engineered the promiscuous bacteria to contain circular DNA (a plasmid) that could survive and replicate in the recipient hamster cell.
Waters's results suggest that bacteria try their luck with mammalian cells all the time. But there is little evidence that such matings are fruitful – reports of bacterial genes transferred directly into the human genome are disputed3,4.
Bacteria commonly conjugate to exchange survival genes, such as those that confer antibiotic resistance. But for a gene to jump permanently into a mammalian genome it would have to be transferred from bacteria into a sperm or egg, integrated into its genome and passed on to the next generation.
Although this is possible, it is probably very rare, suggests Jean-Marc Ghigo, who studies conjugation at the Pasteur Institute in Paris. And unlike the engineered DNA used in Waters's experiment, wild bacterial DNA may be degraded by the recipient cell – an innate prophylactic.
Sex therapy
Waters hopes to exploit bacteria's wanton ways for gene therapy – the transfer of healthy genes into human cells to compensate for defective ones causing disease. In the lungs, for example, resident bacteria could be modified to carry and transfer genes such as the one that is faulty in the lung disease cystic fibrosis.
"It could be a powerful way to deliver DNA," agrees Ghigo. Large populations of bacteria constantly attempting sex might have more success than a single dose of another gene-delivery drug.
Gene-therapy researcher Stephen Hyde at the University of Oxford, UK, is more doubtful. Thick protective mucous might stop the bacteria getting close to lung cells, he points out. Introducing bacteria into the body and transferring unwanted bacterial genes might also be risks.
In the lab, conjugation could be a way to transfer large pieces of DNA into mammalian cells. Such transfers are currently difficult, says Hyde, as the DNA tends to break easily.
Fertility aside
Conjugation was first reported in 1946, winning its voyeur, Joshua Lederberg, a Nobel prize. The plasmid that carries the genes responsible was named the fertility factor.
The transfer of circular DNA always starts at a defined point. By interrupting mating bugs at regular intervals, geneticists were able to work out which genes had been passed over. Hence the first map of the E.coli chromosome was measured in minutes rather than megabases.
References
Waters, V. L.Conjugation between bacterial and mammalian cells. Nature Genetics, DOI: 10.1038/ng779 (2001).
Heinemann, J. A. & Sprague, G. F. Bacterial conjugative plasmids mobilize DNA transfer between bacteria and yeast. Nature, 340, 205 – 209, (1989).
Salzberg, S. L., White, O., Peterson, A. J. & Eisen, J. A.. Micorobial genes in the human genome: lateral transfer or gene loss? Science, 292, 1903 – 1906, (2001).
Stanhope, M. J. et al. Phylogenetic analyses do not support horizontal gene transfers from bacteria to vertebrates. Nature, 411, 940 – 944, (2001).
Media Contact
HELEN PEARSON
Nature News Service
All latest news from the category: Life Sciences and Chemistry
Articles and reports from the Life Sciences and chemistry area deal with applied and basic research into modern biology, chemistry and human medicine.
Valuable information can be found on a range of life sciences fields including bacteriology, biochemistry, bionics, bioinformatics, biophysics, biotechnology, genetics, geobotany, human biology, marine biology, microbiology, molecular biology, cellular biology, zoology, bioinorganic chemistry, microchemistry and environmental chemistry.
Back to home
Newest articles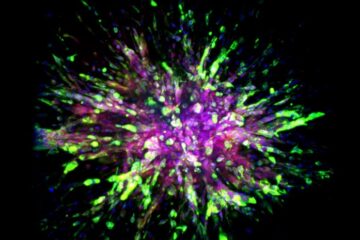 Scientists identify novel molecular biomarkers in cells
Studying a deadly type of breast cancer called triple negative, Johns Hopkins Medicine scientists say they have identified key molecular differences between cancer cells that cling to an initial tumor…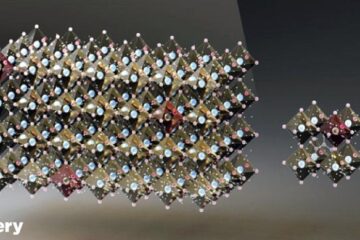 Getting more out of light
Tiny crystals, known as quantum dots, have enabled an international team to achieve a quantum efficiency exceeding 100 percent in the photocurrent generated in a hybrid inorganic-organic semiconductor. Perovskites are…
Antibiotics from natural substances
A new biosynthesis method has been developed. A research team with members from Goethe University Frankfurt and the University of Michigan in the USA is using bacterial biosynthesis to produce…