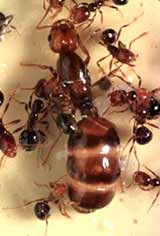 One gene controls whether a persistent pest serves one or many queens.
A protein that spots smell controls the power structure of fire ant colonies, Michael Krieger and Kenneth Ross of the University of Georgia, Athens, have discovered1. One form of the protein leads to nests with several queens living in harmony. The other leaves only one ruler.
Fire ants' social life is of more than academic interest. The species (Solenopsis invicta) has spread from its South American homeland to become a serious pest in the Southern United States.
The ants drive out native insects and inflict painful bites on humans and livestock, doing damage worth hundreds of millions of dollars each year. Earlier this year fire ants appeared in Australia.
Multiple-queen colonies are a particular menace: nests can reach ten times the density of single-queen colonies in a given area.
Worker ants in multi-monarch colonies execute queens bearing the wrong genetic badge. Tapping into the signals that control this – with synthetic scents, for example – might allow us to trigger self-destructive infighting among the ants, speculates Laurent Keller, an evolutionary biologist at the University of Lausanne, Switzerland.
"Interfering with the process by which fire ants regulate queen number could wreak havoc in colonies," agrees Gene Robinson, who studies honey-bee genetics at the University of Illinois at Urbana-Champaign.
Causing a stink
Krieger and Ross have identified Gp-9, the gene that encodes the odour-detecting protein. Each ant has two copies of Gp-9, which can take one of two forms, known as B and b. Nests of BB ants contain one queen, those of Bb ants several; the bb form is lethal. Workers with Bb genes kill BB queens and workers in BB nests execute all queens except their sole ruler.
The identification of the protein is "a very important finding", says Keller. "We knew that a single gene was responsible for the two social forms, but we didn't know if the protein that Gp-9 makes was important. This shows that it really does underlie the two forms – and it's exactly the type of gene that you'd predict it to be."
Gp-9 controls queen number in three other ant species closely related to fire ants, Krieger and Ross have also found. This suggests that the genetic control originated several million years ago, and has persisted as a single ancestral species evolved and split into several. Krieger suspects that Gp-9 may be at work in many more species.
The leaders of multi-queen nests are less regal than queens that rule alone. They are smaller, and cannot establish new colonies unaided. Krieger thinks that workers tolerate the diminutive despots because they do not recognize them as royals.
References
Krieger, M. J. B. & Ross, K. G. Identification of a major gene regulating complex social behaviour. Science in the press (2001).
Media Contact
JOHN WHITFIELD
© Nature News Service
All latest news from the category: Life Sciences and Chemistry
Articles and reports from the Life Sciences and chemistry area deal with applied and basic research into modern biology, chemistry and human medicine.
Valuable information can be found on a range of life sciences fields including bacteriology, biochemistry, bionics, bioinformatics, biophysics, biotechnology, genetics, geobotany, human biology, marine biology, microbiology, molecular biology, cellular biology, zoology, bioinorganic chemistry, microchemistry and environmental chemistry.
Back to home
Newest articles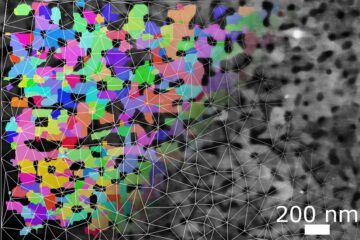 Thermal insulation for quantum technologies
Thermal insulation is not only important for buildings, but also in quantum technologies. While insulation panels around a house keep the heat inside, quantum devices require insulation against heat from…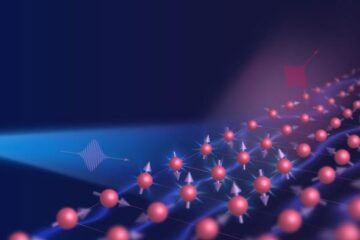 Spin keeps electrons in line in iron-based superconductor
Electronic nematicity, thought to be an ingredient in high temperature superconductivity, is primarily spin driven in FeSe finds a study in Nature Physics. Researchers from PSI's Spectroscopy of Quantum Materials…
Scientists devise method to prevent deadly hospital infections without antibiotics
Novel surface treatment developed at UCLA stops microbes from adhering to medical devices like catheters and stents. A hospital or medical clinic might be the last place you'd expect to…