Gene with key role in replicating pox viruses also halts inflammation
Scientists at the University of Illinois at Urbana-Champaign studying vaccinia virus, a close relative of smallpox, have determined that a gene necessary for virus replication also has a key role in turning off inflammation, a crucial anti-viral immune response of host cells.
The discovery, reported this month in the Journal of Virology, potentially broadens the knowledge base of how all poxviruses cause disease and how they may be outwitted by improvements in vaccines against them, said Joanna L. Shisler, a professor of microbiology in the College of Medicine at Urbana-Champaign.
"If we can find out how the virus evades immune responses and learn more about the signals the virus sees as necessary for replicating within the host cell, then we can figure out how to inhibit them and halt the viral replication," she said.
Post 9-11 fears of bioterrorism by means of the deliberate introduction of smallpox have spawned renewed interest in new, safer vaccines against the deadly disease, which was eradicated as a naturally occurring danger in 1977. Some U.S. medical workers and military personnel have received vaccinations made of the live vaccinia virus, but while this tamer relative of smallpox normally doesn't cause disease, complications, including death, are possible especially among immune-compromised individuals.
The vaccinia virus genome is 97 percent genetically identical to the smallpox genome, making it an ideal model virus to use in the laboratory to understand how smallpox and other dangerous poxviruses function, Shisler said.
In their research, Shisler and Xiao-Lu Jin, a research specialist in microbiology, found that a 5.2 kb segment of vaccinia virus DNA containing six genes was responsible for inhibiting a key cellular transcription factor called NF kappa B (NF-kB).
NF-kB serves to turn on other host cell genes involved in anti-viral immune responses and inflammation.
The researchers then sought to determine what specific genes in the segment inhibit NF-kB activation. To carry out the study, they introduced individual genes from the 5.2kb segment into a mutant poxvirus vector that activates NF-kB.
They infected human and rabbit cell lines with the new recombinant viruses and detected NF-kB activity levels. They found that the recombinant virus containing the introduced K1L gene prevented degradation of the cellular inhibitor of NF-kB, therefore inhibiting NF-kB's ability to ignite immune responses.
Since the 1980s it was known that K1L was necessary for vaccinia virus replication. The additional function of K1L, as determined in the new study, suggests that poxviruses may need to turn NF-kB on and off at crucial times to regulate replication.
Understanding the molecular machinery involved may make it possible to eventually manufacture safer vaccines for smallpox and vaccinia-based vaccines for HIV by specifically manipulating genes, Shisler said.
Because the K1L gene inhibited NF-kB activation in numerous cell lines tested, it suggests that its activity is global. Since this study was completed, the researchers subsequently have found a second protein that inhibits NF-kB, suggesting there may be multiple genes at work, Shisler said.
"These viral proteins are present in smallpox, monkey pox and many other poxes, and they are very homologous," she said. "If we know how these proteins function, we can start figuring out why smallpox and monkey pox cause disease."
The Roy J. Carver Charitable Trust of Muscatine, Iowa, funded the research.
All latest news from the category: Life Sciences and Chemistry
Articles and reports from the Life Sciences and chemistry area deal with applied and basic research into modern biology, chemistry and human medicine.
Valuable information can be found on a range of life sciences fields including bacteriology, biochemistry, bionics, bioinformatics, biophysics, biotechnology, genetics, geobotany, human biology, marine biology, microbiology, molecular biology, cellular biology, zoology, bioinorganic chemistry, microchemistry and environmental chemistry.
Back to home
Newest articles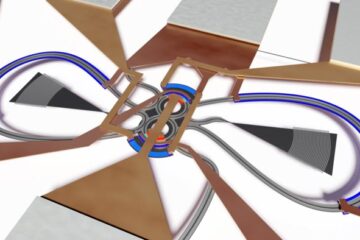 Frequency translating add/drop filters designed for on-chip light manipulation
New filters could benefit data communication, quantum information processing and optical neural networks. Researchers report the development of frequency translating add/drop filters based on electro-optically modulated photonic molecules. The new…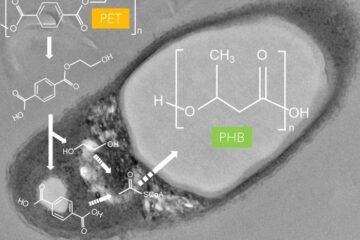 How a bacterium may help solve the plastic pollution crisis
Researchers from Nara Institute of Science and Technology find that the bacterium Ideonella sakaiensis can not only degrade petroleum-based plastics but can also sustainably produce biodegradable plastics. Plastic pollution is…
New technique paves the way for perfect perovskites
Next-gen solar material could outshine other solar cells. An exciting new solar material called organic-inorganic halide perovskites could one day help the U.S. achieve its solar ambitions and decarbonize the…