Study in worms shows how genes linked to complexity in animals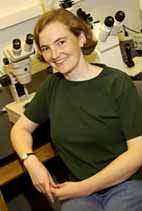 The evolution of a particular gene could be the reason why a certain worm might better tolerate a salty environment than its relatives, new research suggests.
The findings show that the excretory cells of the worm Caenorhabditis elegans – a widely studied nematode used in genetics research — express a specific gene that seems to help the species tolerate a high-salt environment. The findings are reported in the current online edition of Nature Genetics.
Related Caenorhabditis species also have this gene – lin-48 – but these worms don't express it like C. elegans does. As a result, the other worms died when exposed to the same levels of salt.
Somewhere along the evolutionary pathway, C. elegans developed the ability to survive in salty environments, said Helen Chamberlin, a study co-author and an assistant professor of molecular genetics at Ohio State. Lin-48 expression gives C. elegans some key advantages over its relatives; for one, there's less competition for living space.
"But no one has collected C. elegans strictly from a salty environment to see if indeed these worms thrive there to the exclusion of other Caenorhabditis species," Chamberlin said. "Quite frankly, the ecology of these worms' isn't well studied."
Learning how C. elegans differs genetically from its relatives could give researchers insight into how organ systems in more complex animals evolved. One example could be the human kidney.
"Changes in gene function are at the heart of evolutionary complexity," Chamberlin said. "The expression of lin-48 in its excretory cells adds a layer of complexity to C. elegans."
Chamberlin conducted the study with Xiaodong Wang, a postdoctoral researcher in molecular genetics at Ohio State.
They compared how several species of Caenorhabditis worms regulated salt intake. C. elegans and its relatives are tiny, non-parasitic worms that grow to be about 1 millimeter long and thrive in rotting vegetation and other detritus.
While all of the worms studied had the lin-48 gene, C. elegans was the only species to express the gene in its excretory cells. The researchers looked at the excretory cells because that's where they could easily see the differences in lin-48 expression.
In laboratory petri dishes, the worms were exposed to high levels of sodium chloride – regular table salt.
The expression of lin-48 in the excretory cells appeared to give C. elegans a survival advantage over its relatives, as the other species were unable to process the excess salt, and more than three-quarters died as a result.
"Having lin-48 in the excretory cell changes the cell, but we're not sure how," Chamberlin said. "Lin-48 itself is a transcription factor – it turns on other genes that theoretically help C. elegans handle excessive levels of salt. But we don't know what other genes it affects.
"Differences in gene expression contribute to structural and functional differences between species," she said. "In this case, C. elegans' excretory system can handle excessive levels of salt, which may give the worms an additional benefit of living in naturally salty environments where other worms can't survive."
The researchers concluded that C. elegans is more highly evolved than similar worm species because it developed a change in gene expression over time.
"This change made C. elegans more complex," Chamberlin said. "If we can understand how gene regulation becomes more complicated, it might tell us how organisms became increasingly complex."
A grant from the National Science Foundation supported this work.
Contact: Helen Chamberlin, (614) 688-0043; Chamberlin.27@osu.edu
Written by Holly Wagner, (614) 292-8310; Wagner.235@osu.edu
Media Contact
Holly Wagner
Ohio State University
Alle Nachrichten aus der Kategorie: Life Sciences
Articles and reports from the Life Sciences area deal with applied and basic research into modern biology, chemistry and human medicine.
Valuable information can be found on a range of life sciences fields including bacteriology, biochemistry, bionics, bioinformatics, biophysics, biotechnology, genetics, geobotany, human biology, marine biology, microbiology, molecular biology, cellular biology, zoology, bioinorganic chemistry, microchemistry and environmental chemistry.
Zurück zur Startseite
Neueste Beiträge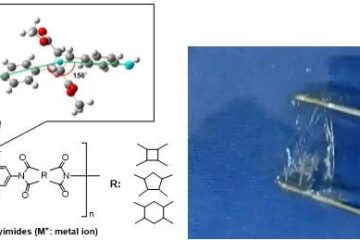 High-thermoresistant biopolyimides become water-soluble like starch
This is the first report for the syntheses of water-soluble polyimides which are Interestingly derived from bio-based resources, showing high transparency, tunable mechanical strength and the highest thermoresistance in water-soluble…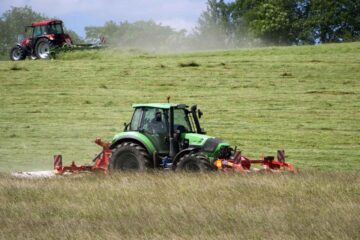 Land management in forest and grasslands
How much can we intensify? A first assessment of the effects of land management on the links between biodiversity, ecosystem functions and ecosystem services. Ecosystem services are crucial for human…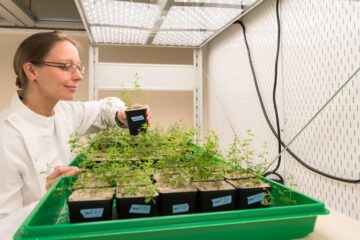 A molecular break for root growth
The dynamic change in root growth of plants plays an important role in their adjustment to soil conditions. Depending on the location, nutrients or moisture can be found in higher…