Mayo Clinic researchers discover how key cancer protein works
Understanding cancer
Mayo Clinic researchers are the first to describe what goes wrong during the growth cycle of certain cells that can lead to inherited forms of breast cancer. Knowing the nature of this biochemical modification is a first step to designing drugs that can correct it to stop cancer.
The Mayo Clinic research finding appears in today's issue of the journal Science. It is important because it solves an aspect of a mystery that cancer researchers worldwide have been intensely investigating. Their question is: How do the regulating mechanisms of the "cell-cycle" work?
The cell cycle is the complex, natural — and normally orderly — process by which cells reproduce. The Mayo Clinic research reveals the details of a molecular mechanism involved in cell cycle regulation of a gene known as the "BRCA1 tumor suppressor gene." They focused on this gene because an estimated 50 percent of inherited breast cancers are linked to growth errors — also called mutations — in this gene. They hypothesized that a specific kind of biochemical modification was involved in disrupting the cell cycle to cause BRCA1 mutations. And they were right.
"With this breast cancer gene, the understanding is that if this gene is mutated it may trigger additional mutations throughout your lifetime and that contributes to a lifetime risk of developing breast cancer. We wanted to understand the molecular mechanism behind this," says Junjie Chen, Ph.D., of the Mayo Clinic Department of Oncology, and lead author of the Science report. "Now that we understand one aspect of it, this allows us to go to the next level, such as how to use our understanding to target cells so we can gain control of the cell cycle to stop cancers."
In the language of science, their principal finding is this: That a specific biochemical modification known as "phosphorylation" (fos-for-a-LAY-shun) is required at certain cell-cycle stages to activate proteins associated with the BRCA1 gene. These proteins are essential to the effective tumor-suppression function that BRCA1 genes perform.
Biology Backgrounder
Genes are strings of DNA molecules. They are found on chromosomes within cell nuclei. DNA is like a storage bin for vital information — like the hard drive of a computer. To be useful, a computer hard drives needs to run a program that performs work. It's the same with DNA. To be useful, it runs programs (RNAs) that make desired products. The products are proteins. Proteins are the substances that carry out all life functions, which is why advanced cancer research focuses on them.
To do their jobs, proteins need to be activated. They become activated by binding to other protein partners. The Mayo Clinic team investigated a specific kind of protein the BRCA1 gene codes for, known as a BRCT-domain protein. The BRCT-domain influences how the protein binds and with what protein partners it binds — which in turn, affects the role the protein plays in the cycle of cell growth. BRCT domains are found in many proteins involved in cell-cycle regulation, and have for some years been thought to be key players in cell-cycle regulation. But just how they did so was not known.
The Mayo Clinic Research Solves The Mystery
The Mayo team showed that phosphorylation of a binding partner is necessary to activate the BRCT-domain protein. Once activated, the BRCT-domain protein then helps regulate vital tasks in the cell cycle. These tasks include repairing DNA or signaling DNA damage. When these tasks are accomplished, the BRCA1 gene can function correctly to suppress tumors. Without phosphorylation of BRCA1 binding partners, BRCA1 cannot function to suppress tumors. This leaves cells vulnerable to the cumulative mutations that can eventually produce breast cancer.
Implications for Patient Care
This finding is an important early step in research to devise new anti-cancer treatments. Understanding the interactions between BRCT domains and their targets will help researchers make the next move: to devise drug interventions that exploit phosphorylation bonds between key proteins. In this way, they could therapeutically regulate the cell cycle.
Media Contact
Robert Nellis
EurekAlert!
All latest news from the category: Life Sciences and Chemistry
Articles and reports from the Life Sciences and chemistry area deal with applied and basic research into modern biology, chemistry and human medicine.
Valuable information can be found on a range of life sciences fields including bacteriology, biochemistry, bionics, bioinformatics, biophysics, biotechnology, genetics, geobotany, human biology, marine biology, microbiology, molecular biology, cellular biology, zoology, bioinorganic chemistry, microchemistry and environmental chemistry.
Back to home
Newest articles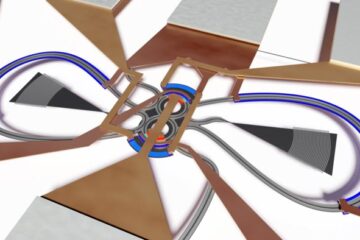 Frequency translating add/drop filters designed for on-chip light manipulation
New filters could benefit data communication, quantum information processing and optical neural networks. Researchers report the development of frequency translating add/drop filters based on electro-optically modulated photonic molecules. The new…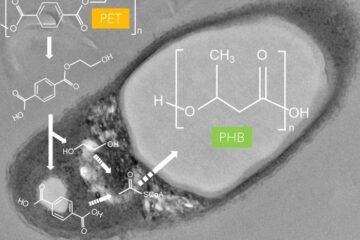 How a bacterium may help solve the plastic pollution crisis
Researchers from Nara Institute of Science and Technology find that the bacterium Ideonella sakaiensis can not only degrade petroleum-based plastics but can also sustainably produce biodegradable plastics. Plastic pollution is…
New technique paves the way for perfect perovskites
Next-gen solar material could outshine other solar cells. An exciting new solar material called organic-inorganic halide perovskites could one day help the U.S. achieve its solar ambitions and decarbonize the…