Body clocks keep migrating monarchs on course, Science study shows
Butterfly flight simulator sheds light on epic migration
During their winter migration to Mexico, monarch butterflies depend on an internal clock to help them navigate in relation to the sun, scientists have found.
By studying monarchs inside a specially designed flight simulator, the researchers have gathered what they believe is the first direct evidence of the essential role of the circadian clock in celestial navigation. The study appears in the journal Science, published by the American Association for the Advancement of Science (AAAS).
In the fall, monarch butterflies journey from central and eastern North America to a small region in central Mexico. Only every fourth or fifth generation makes the trip, indicating that the urge to migrate is instinctive, rather than learned.
"Monarchs have a genetic program to undergo this marvelous long term flight in the fall…. They are essentially hell-bent on making it to their over-wintering grounds," said Science author Steven Reppert of the University of Massachusetts Medical School.
While scientists are fairly certain that monarchs use the sun to navigate, they know less about how the butterflies adjust their direction each day, as the sun's position in the sky changes. It has long been suspected that monarchs use their internal, "circadian" clock as part of their sun compass.
"We have shown the requirement of the circadian clock for monarch butterfly migration," said Reppert. "When the clock is disrupted, monarchs are unable to orient toward Mexico. Without proper navigation, their migration to the south wouldn't occur, and that generation of butterflies would not survive."
Reppert chose monarchs for the study in part because they don't learn their route, as honeybees foraging for nectar do, for example.
"Monarch butterfly navigation seems to involve the interaction between a clock and a compass. This makes monarch navigation a bit simpler than navigation in foraging insects where each new route has to be learned," Reppert said.
Understanding how the circadian clock assists the sun compass in the relatively simple navigation by monarchs could provide a model for studying navigation by other animals, Reppert said, citing both foragers such as honeybees and desert ants, as well as long distance migrators such as songbirds.
"We would like to know how the circadian clock functions in four dimensions – not only how the clock functions to keep time, but also how time regulates spatial information," he said. "Increasing knowledge of the genetic makeup of the monarch circadian clock will help tease apart the entire migratory process, a process that remains one of the great mysteries of biology."
Research in other animals has been turning up a number of genes that make up the circadian clock, as their expression oscillates in a daily cycle. The clock is "entrained" to the daily light cycle via specialized by special light-sensitive cells, called photoreceptors.
The researchers found that a common clock gene, known as per, is also part of the monarch circadian clock. Constant light disrupted the cycling of this gene's expression. It also affected the time of day butterflies emerged from their chrysalises, known to be a marker of circadian time-keeping in other insects.
Reppert and his colleagues then studied the effects of manipulating the daily light and dark cycles on monarchs inside a specially designed flight simulator, with a video camera and computer that record the flight direction.
After being housed under a light/dark cycle in the laboratory that was close to the fall outdoor lighting cycle (light from 7:00 a.m. to 7:00 p.m.) migrant butterflies exposed to outdoor sun oriented to the southwest, toward Mexico. Butterflies housed under an earlier cycle (light from 1:00 a.m. to 1:00 p.m.) flew to the southeast.
When the butterflies were exposed to constant light, they flew directly toward the sun, presumably having lost their sense of time.
Reppert's team also found that, while UV light is required for sun compass navigation, some other wavelength of light was required for entraining the butterflies' clocks. This difference may provide a means for untangling the two biological processes.
"The light input pathways are quite distinct, so tracking those pathways in may eventually lead us to the cellular level where this clock-compass interaction is occurring," Reppert said.
Alle Nachrichten aus der Kategorie: Life Sciences
Articles and reports from the Life Sciences area deal with applied and basic research into modern biology, chemistry and human medicine.
Valuable information can be found on a range of life sciences fields including bacteriology, biochemistry, bionics, bioinformatics, biophysics, biotechnology, genetics, geobotany, human biology, marine biology, microbiology, molecular biology, cellular biology, zoology, bioinorganic chemistry, microchemistry and environmental chemistry.
Zurück zur Startseite
Neueste Beiträge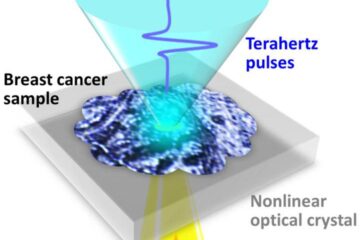 Key breakthrough towards on-site cancer diagnosis
No stain? No sweat: Terahertz waves can image early-stage breast cancer without staining. A team of researchers at Osaka University, in collaboration with the University of Bordeaux and the Bergonié…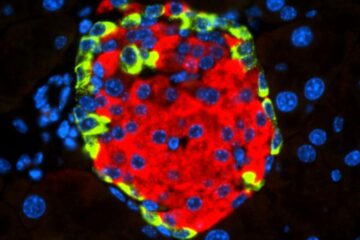 A CNIO team describes how a virus can cause diabetes
It has recently been described that infection by some enteroviruses – a genus of viruses that commonly cause diseases of varying severity – could potentially trigger diabetes, although its direct…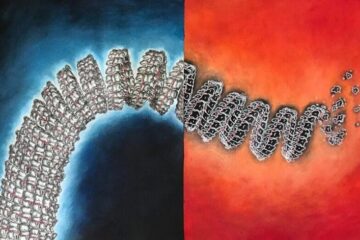 Targeting the shell of the Ebola virus
UD research team looking at ways to destabilize virus, knock it out with antivirals. As the world grapples with the coronavirus (COVID-19) pandemic, another virus has been raging again in…