Ingenium publishes groundbreaking research on genetic basis for motor neuron degeneration
Results from Model-based functional genomics research provides new insight on the pathogenetic mechanism which causes diseases such as ALS
Ingenium Pharmaceuticals AG and a coalition of international research organizations announced today the publication in Science of research describing a fundamental discovery about the genetic and molecular basis for Motor Neuron Disease (MND), which includes Amyotrophic Lateral Sclerosis (ALS). The research explains a key pathogenetic mechanism of motor neuron degeneration, potentially opening new therapeutic avenues for treating motor neuron diseases including ALS, also known as Lou Gehrig's Disease, the third most common neurodegenerative disease after Alzheimer's and Parkinson's. The research was conducted by Ingenium; University College London; the Queen Mary, University of London; UK Cancer Research; Munich Technical University; and the German National Research Center for Environment and Health. The UK work to find the gene mutation in the mouse was funded by the Motor Neurone Disease Association.
Today's Science publication explains the mechanism for how widely-expressed genes can cause selective death of motor neurons, resulting in MND. By identifying two specific mutations in the same gene, the combined research group has produced a precise mammalian model of MND and described the pathogenetic link between specific gene mutations and selective, progressive degeneration of motor neurons. The research groups initially began their research with two distinct mouse models of late-onset MND and traced the genetic cause of the symptoms to specific point mutations in one gene, Dnchc1. Based on that discovery, the combined research team defined that the mutations in the Dnchc1 gene impaired axonal transport in the nerve cell, which specifically caused cell-death in motor neurons without affecting other cell types. This type of selective motor neuron degeneration is clinically similar on a cellular and organismal level to the human disease state seen in ALS and other motor neuron diseases.
"This publication is exciting as it provides a fundamental step toward explaining the pathobiology that results in MND, but it also, although at an early stage, could significantly impact our understanding of neurodegeneration in general," commented Dr. Gabriele Stumm, study co-author and Director of the Neurobiology Program at Ingenium. "The key discovery is that an inherited moderate impairment of nerve cell transport functions indeed can result in age dependent distinct motor neurodegeneration. This finding was enabled by Ingenium's research approach and our valuable collaboration with the UCL and detected in the neuropathology laboratories of Prof. Joanne E. Martin, Queen Mary, University of London, and Prof. Juergen Schlegel, TU Munich."
"The pathogenetic link between specific gene mutations and selective, progressive degeneration of motor neurons has been the fundamental question in MND research," stated Professor Elizabeth Fisher of the Department of Neurodegenerative Disease at the National Hospital for Neurology & Neurosurgery at UCL. "Using similar technology, both research groups identified a mutated gene which provides an answer to this question."
The research teams used ethylnitrosourea (ENU) as a chemical mutagen to produce random point mutations in the mouse genome. The researchers identified a mouse phenotype that displayed progressive loss of muscle tone and locomotor ability, in a similar fashion to the ALS disease progression in humans, and the research groups performed positional cloning to locate the mutated gene responsible. The collaborative research began with the further biological analysis of the two models and the respective similarities produced by two different missense mutations. The findings reported are also important in demonstrating the value of random point mutation research in a model system since prior studies of the particular gene in knock-out animal models produced embryonic lethalities, with no discernable link to MND research.
"The ability to correlate a biological phenotype similar to a human disease state with a specific gene mutation is a powerful approach to discovering biological mechanisms that will have real importance in developing new therapeutics," said Dr. Michael C. Nehls, Chief Executive and Chief Scientific Officer of Ingenium. "The next step for Ingenium's research is to demonstrate the application of this knowledge to the human disease and we are moving forward with this in collaboration with the University of Ulm and Professor Ludolph, a noted specialist in treating ALS patients."
###
The paper published in the May 2, 2003 issue, Vol. 300, Nr. 5620, pages 808-812 is entitled "Mutations in dynein link motor neuron degeneration to defects in retrograde transport". Contributing authors include M. Hafezparast, R. Klocke, C. Ruhrberg, A. Marquardt, A. Ahmad-Annuar, S. Bowen, G. Lalli, A. S. Witherden, H. Hummerich, S. Nicholson, P.J. Morgan, R. Oozageer, J. V. Priestley, S. Averill, V. R. King, S. Ball, J. Peters, T. Toda, A. Yamamoto, M. Augustin, D. Korthaus, S. Wattler, P. Wabnitz, C. Dickneite, S. Lampel, F. Boehme, G. Peraus, A. Popp, M. Rudelius, J. Schlegel, H. Fuchs, M. Hrabe de Angelis, G. Schiavo, D. T. Shima, A. P. Russ, G. Stumm, J. E. Martin and E. M.C. Fisher.
The basis of Ingenium's business is its knowledge and expertise in generating the biological information critical to the discovery, validation and development of therapeutics. Ingenium's biology-based target discovery technology, Deductive GenomicsTM, involves a functional genomics analysis of an entire mammalian genome to locate novel therapeutic entry points to treat disease. From the breadth of knowledge generated by Deductive GenomicsTM, Ingenium is currently advancing a pipeline of novel models and biologically validated drug targets in the areas of obesity, lipid metabolism, neurodegeneration and autoimmune disease. Ingenium has research partnership agreements with Elan Corporation, F. Hoffmann-La Roche Ltd., Sequenom Inc. and Lynkeus BioTech GmbH, in addition to numerous international academic collaborations. The company benefits from funding from premier investors, an experienced management team, top industry advisors and a growing patent portfolio.
Media Contact
Gretchen Schweitzer
EurekAlert!
Alle Nachrichten aus der Kategorie: Life Sciences
Articles and reports from the Life Sciences area deal with applied and basic research into modern biology, chemistry and human medicine.
Valuable information can be found on a range of life sciences fields including bacteriology, biochemistry, bionics, bioinformatics, biophysics, biotechnology, genetics, geobotany, human biology, marine biology, microbiology, molecular biology, cellular biology, zoology, bioinorganic chemistry, microchemistry and environmental chemistry.
Zurück zur Startseite
Neueste Beiträge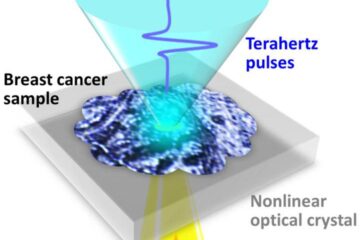 Key breakthrough towards on-site cancer diagnosis
No stain? No sweat: Terahertz waves can image early-stage breast cancer without staining. A team of researchers at Osaka University, in collaboration with the University of Bordeaux and the Bergonié…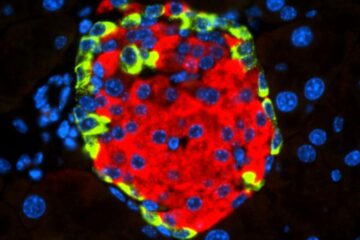 A CNIO team describes how a virus can cause diabetes
It has recently been described that infection by some enteroviruses – a genus of viruses that commonly cause diseases of varying severity – could potentially trigger diabetes, although its direct…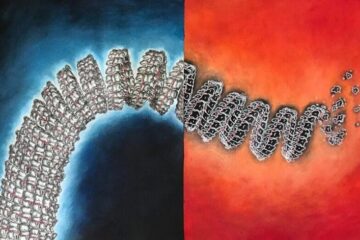 Targeting the shell of the Ebola virus
UD research team looking at ways to destabilize virus, knock it out with antivirals. As the world grapples with the coronavirus (COVID-19) pandemic, another virus has been raging again in…