A new "2 in 1" anticoagulant is isolated from a tick
Boophilin – as it was named – is particularly interesting due to a capability to block thrombin – probably the most important (and difficult to inhibit) protein in blood clotting – as well as a second pro-coagulant molecule making it the first bivalent thrombin-inhibitor ever described. This specific bivalence suggests that boophilin can be a very effective anti-coagulant even at small quantities, opening the door to the development of new more specific and effective, and so also safer, blood thinning therapies.
When a blood vessel is damaged, bleeding is stopped through a series of chemical reactions that result in the injured wall being "tamponed" by platelets and a fibrillar protein called fibrin, allowing the tissues time to heal. And it is thrombin that, not only mediates the formation of fibrin from blood fibrinogen, but also activates the platelets, making it one of the most crucial enzymes (enzymes are proteins that facilitate specific chemical reactions) in coagulation.
Blood-feeding animals such as cattle ticks – which for proper feeding need to block clotting in their "feeding grounds" – produce anticoagulants, many of which target thrombin. Identification and study of these molecules has been an important area of research in the development of better anti-coagulant therapies for the millions of people at risk of blood clots, which, when untreated, can lead to life-threatening situations, such as heart attacks and strokes. Cardiovascular diseases are, after all, still the major non-accidental cause of death in the developing world
It is in this context that Sandra Macedo-Ribeiro, Pablo Fuentes-Prior, Pedro José Barbosa Pereira and colleagues, working in Portugal, Spain and Germany, looked into the salivary glands of one of the most widespread – and economically damaging – cattle tick, called Boophilus microplus. The fact that Boophilus is so successful suggested that it could be a promising source of new effective anti-coagulants.
And in fact, the researchers found boophilin, which, not only strongly inhibited thrombin but– and this was new among thrombin inhibitors – also a second pro-coagulant.
In order to understand boophilin's inhibitory mechanism, the next step saw Macedo-Ribeiro, Fuentes-Prior, Pereira and colleagues analysing the three-dimensional crystal structure of the boophilin-thrombin complex. To their surprise, boophilin was found to be composed of two Kunitz domains, which are structural and functional elements that, although frequently found in enzyme inhibitors are, nevertheless, considered poor thrombin inhibitors.
In fact, Kunitz structures normal inhibitory mechanism consists of inserting into the enzyme's binding centre (also called catalytic centre) a protruding loop structure that blocks its capacity to attach (and consequently affect) other molecules. But thrombin has its catalytic site located within a crevice too narrow for a Kunitz loop to enter and, as result, the only thrombin-inhibitor with a Kunitz architecture so far described – ornithodorin – needed an alternative inhibitory mechanism. Ornithodorin – which has a distorted Kunitz architecture and no loop – binds across thrombin's catalytic site, blocking its access to any protein. In the analysis of the three-dimensional structure of the boophilin-thrombin complex it was seen that also boophilin – like ornithodorin – blocked thrombin by binding parallel across its active site. In this case, however, this left boophilin's intact Kunitz's loop, free to inhibit a second pro-coagulant. It is this "2 in 1" capability that makes boophilin remarkable according to Sandra Ribeiro, the paper's first author.
The discovery of a common inhibitory mechanism between boophilin and ornithodorin is particularly interesting as the two proteins have very different sequences and the function of a protein is linked to its three-dimensional structure, which, in turn, is determined by its sequence (working as an instruction leaflet for the right protein folding).
This means that, frequently, the three-dimensional structure of a new protein, as well as its function, is deduced from looking into other proteins with similar sequences but with known 3D structure and function. What makes Macedo-Ribeiro, Fuentes-Prior, Pereira and colleagues' results so interesting is that they clearly show that different sequences on boophilin and ornithodorin result, nevertheless, in the same mechanism of inhibition, and, as such, are an alert for the dangers of predicting a protein function from its sequence.
On the other hand, the details of the interactions between thrombin and boophilin are markedly distinct from those of thrombin-ornithodorin, this time warning against the use of known complex structures to deduce the interaction within other complexes no matter how similar their components appear to be.
But Macedo-Ribeiro, Fuentes-Prior, Pereira and colleagues' boophilin discovery and structural characterization is also important because it can help in the development of better anti-thrombotic therapies.
Every year millions of people die from clots blocking crucial organs, despite the fact that about two percent of the world (aging) population is already on blood thinning drugs and these numbers show the importance of developing better anti-coagulant therapies. At the moment anti-coagulation drugs still have too many side effects and – because they can interact with other chemicals, including some found on food – are difficult to dosage. Too much anti-coagulant can induce haemorrhages while too little can lead to blood clots that result in thrombosis or strokes. More specific and consequently more effective, and so also safer drugs are necessary and boophilin appears to be a promising start.
Finally, to understand better the mechanisms behind molecules used by parasites such as Boophilus microplus can lead to a better comprehension on how they contribute to disease transmission (in this and other blood feeding organisms) and the discovery of pharmacologically interesting molecules, as well as possible important vaccine targets.
* GPEARI / MCTES – Gabinete de Planeamento, Estratégia, Avaliação e Relações Internacionais / Ministério da Ciência, Tecnologia e Ensino Superior
Alle Nachrichten aus der Kategorie: Life Sciences
Articles and reports from the Life Sciences area deal with applied and basic research into modern biology, chemistry and human medicine.
Valuable information can be found on a range of life sciences fields including bacteriology, biochemistry, bionics, bioinformatics, biophysics, biotechnology, genetics, geobotany, human biology, marine biology, microbiology, molecular biology, cellular biology, zoology, bioinorganic chemistry, microchemistry and environmental chemistry.
Zurück zur Startseite
Neueste Beiträge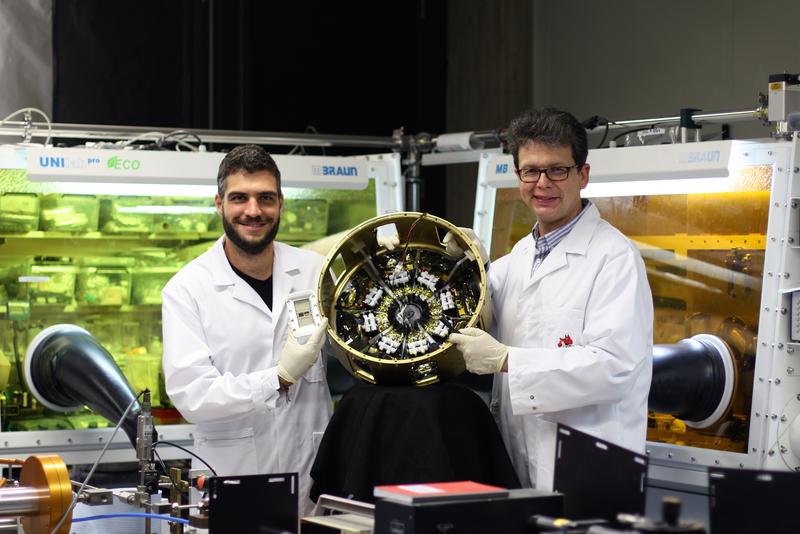 New solar cells for space
Almost all satellites are powered by solar cells – but solar cells are heavy. While conventional high-performance cells reach up to three watts of electricity per gram, perovskite and organic…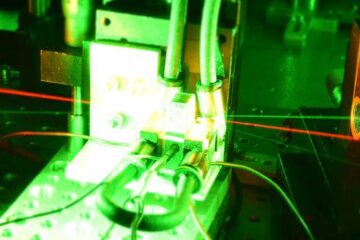 Development of a novel membrane laser module for spectral measurement methods
The Fraunhofer Institute for Applied Solid State Physics IAF has partnered up with the start-up "Twenty-One Semiconductors" (21s) from Stuttgart to bring their unique laser concept from lab to practice….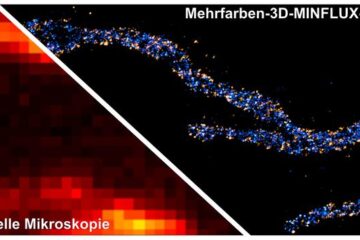 Dissecting protein assemblies
Super-resolution MINFLUX nanoscopy, developed by Nobel laureate Stefan Hell and his team, is able to discern fluorescent molecules that are only a few nanometers apart. In an initial application of…