Nanodiamonds in the brain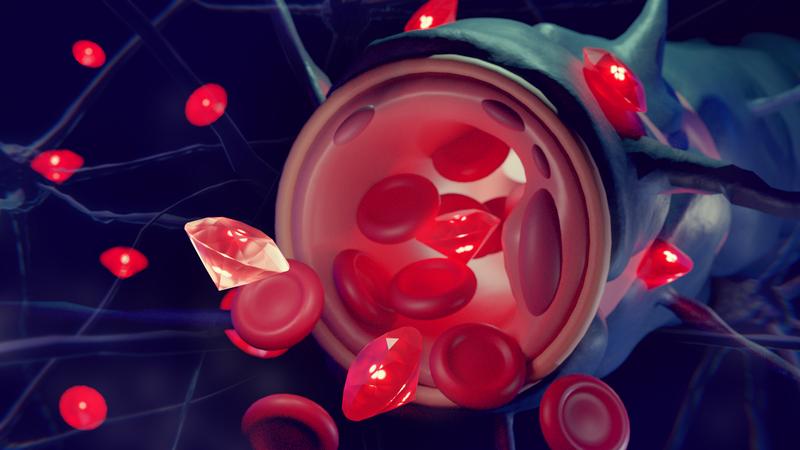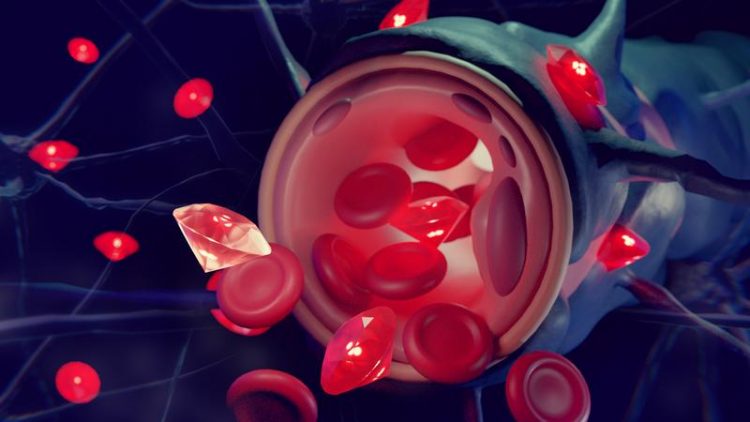 The blood-brain barrier is a physiological boundary layer that works highly selectively and thus protects the brain: On the one hand, pathogens or toxins are effectively prevented from penetrating the brain, on the other hand, however, necessary messengers and nutrients can pass through them unhindered.
This selectivity makes it difficult for physicians to examine or treat the brain because drugs or contrast agents for imaging procedures cannot overcome the barrier.
Scientists led by Dr. Jana Hedrich, Prof. Dr. Heiko Luhmann and Prof. Dr. Tanja Weil, in cooperation with the University of Ulm and the University Medical Center of the Johannes Gutenberg University in Mainz have now investigated the suitability of a system based on nanodiamonds as diagnostic and therapeutic method.
Nano-diamonds with a size in the range of a millionth of a meter have the advantage of high biocompatibility: they are not degradable for the body, should be well tolerated and are therefore potentially suitable for both diagnostic and therapeutic purposes.
For their research, the scientists have modified the diamonds in two ways: A coating with a biopolymer based on the most abundant protein in human blood, "serum albumin", enables the diamonds to be absorbed into the brain and later to be combined with drugs. "Diamonds are chemically non-reactive, which means that it is difficult to bind drug molecules," says Jana Hedrich and Tanja Weil. "The albumin coating enables us to create a stable coating and bind almost any medication to it."
As a further modification, a defect was specifically introduced into the diamond by replacing an atom in the diamond, which consisting of carbon, with a nitrogen atom. Furthermore, there is an empty space in the crystal directly next to this nitrogen atom. "A diamond is normally very clear and, ideally, flawless – light can therefore easily pass through it," explains Hedrich.
"By making targeted changes to the lattice structure, we create defects that allow us to detect the diamond using laser beams or magnetic resonance tomographs: It 'shines' so to speak". In this way, researchers can also use the diamond for diagnostic purposes.
In their latest publication, the scientists have now tested the extent to which the diamond-albumin-system can cross the blood-brain barrier both in the test tube and on mice. They were able to prove that the diamonds were effectively transported into the brain without attacking the blood-brain barrier itself.
The newly developed system has the advantage that it can be adapted to the person to be treated and could thus permit highly individual diagnosis and therapy. A modification of the surface of the diamonds, for example, could ensure that only certain cell types in the brain are supplied with drugs and that tumors, for example, could be treated specifically.
The scientists see their system as an important step in the diagnosis and treatment of brain diseases such as neurodegenerative diseases and brain tumors. By combining luminous diamonds with compatible biopolymers, they have for the first time developed a system that combines the advantages of high biocompatibility, long stability, a simple combination with various drugs and detection by medical methods.
Their results have now been published in the renowned journal "SMALL".
Dr. Jana Hedrich
Mail: hedrich@mpip-mainz.mpg.de
Phone: 06131 379-317
Unraveling In Vivo Brain Transport of Protein‐Coated Fluorescent Nanodiamonds
https://doi.org/10.1002/smll.201902992
Media Contact
Dr. Christian Schneider
Max-Planck-Institut für Polymerforschung
Alle Nachrichten aus der Kategorie: Life Sciences
Articles and reports from the Life Sciences area deal with applied and basic research into modern biology, chemistry and human medicine.
Valuable information can be found on a range of life sciences fields including bacteriology, biochemistry, bionics, bioinformatics, biophysics, biotechnology, genetics, geobotany, human biology, marine biology, microbiology, molecular biology, cellular biology, zoology, bioinorganic chemistry, microchemistry and environmental chemistry.
Zurück zur Startseite
Neueste Beiträge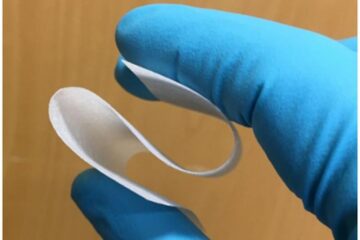 Safe high-tech batteries for electric cars and laptops
New joint project at the University of Bayreuth Lithium-ion batteries are currently the most important category of electrical energy storage device. Their operational safety depends crucially on separators that ensure…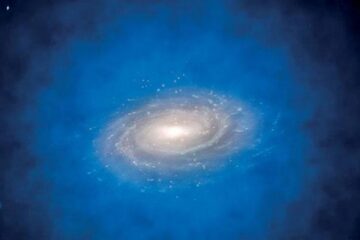 New study suggests supermassive black holes could form from dark matter
A new theoretical study has proposed a novel mechanism for the creation of supermassive black holes from dark matter. The international team find that rather than the conventional formation scenarios…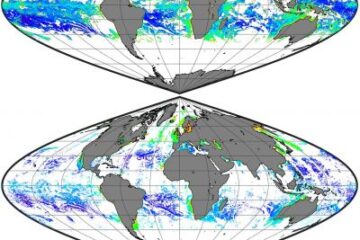 Tool that more efficiently analyzes ocean color data will become part of NASA program
Stevens uses machine learning-driven techniques to develop a long-awaited tool that better reveals the health of Earth's oceans and the impacts of climate change. Researchers at Stevens Institute of Technology…