Imaging: A brighter future for cell tracking
A research team in Asia has developed a method for tracking, or etracingf, cells that overcomes the limitations of existing methods. The teamfs fluorescent organic tracers will provide researchers with a non-invasive tool to continually track biological processes for long periods. Applications for the tracers include following carcinogenesis or the progress of interventions such as stem cell therapies.
Bin Liu and Ben Zhong Tang of the A*STAR Institute of Materials Research and Engineering in Singapore and their co-workers developed probes composed of a small number of molecules that aggregate. The aggregation means that the probes have more detectable fluorescence and less leakage than that provided by single-molecule probes. Importantly, rather than eblinkf, the teamfs tracers show steady fluorescence, and do not contain heavy metal ions that can be toxic for living systems.
Compared with their existing inorganic counterparts, the teamfs carbon-based tracers show greater chemical stability and improved biocompatibility with cell biochemistry. They are also more resistant to bleaching by light and do not interfere with normal biochemical processes. Furthermore, the fluorescent signals emitted by the probes do not overlap with the signal naturally emitted by cells.
The tracers developed by Liu, Tang and their colleagues are examples of fquantum dotsf, as they are composed of a small number of molecules with optical characteristics that rely on quantum-mechanical effects. Technically, they are referred to as aggregation-induced emission dots (AIE dots) as they become photostable and highly efficient fluorescent emitters when their component molecules aggregate.
The assembly of the AIE dots began with the synthesis of organic molecules, specifically 2,3-bis(4-(phenyl(4-(1,2,2-triphenylvinyl)phenyl)amino)phenyl)fumaronitrile (TPETPAFN), which the researchers then encapsulated in an insoluble lipid-based matrix. Next, the researchers attached small peptide molecules derived from the human immunodeficiency virus (HIV) to exploit the ability of these peptides to promote efficient uptake of AIE dots into living cells.
gOur AIE dots could track isolated human breast cancer cells in vitro for 10 to 12 generations and glioma tumor cells in vivo in mice for 21 days,h says Liu. gThey outperform existing commercial inorganic quantum dots, and open a new avenue in the development of advanced fluorescent probes for following biological processes such as carcinogenesis, stem cell transplantation and other cell-based therapies.h
Future work by Liu, Tang and co-workers will aim to broaden the application of the organic tracers for their use in conjunction with magnetic resonance and nuclear imaging techniques.
The A*STAR]affiliated researchers contributing to this research are from the Institute of Materials Research and Engineering
Journal information
Li, K., Qin, W., Ding, D., Tomczak, N., Geng, J. et al. Photostable fluorescent organic dots with aggregation-induced emission (AIE dots) for noninvasive long-term cell tracing. Scientific Reports 3, 1150 (2013)
Media Contact
ResearchSEA Account for A*STAR
Research asia research news
All latest news from the category: Life Sciences and Chemistry
Articles and reports from the Life Sciences and chemistry area deal with applied and basic research into modern biology, chemistry and human medicine.
Valuable information can be found on a range of life sciences fields including bacteriology, biochemistry, bionics, bioinformatics, biophysics, biotechnology, genetics, geobotany, human biology, marine biology, microbiology, molecular biology, cellular biology, zoology, bioinorganic chemistry, microchemistry and environmental chemistry.
Back to home
Newest articles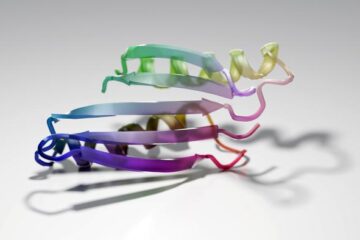 Deep learning dreams up new protein structures
A neural network trained exclusively to predict protein shapes can also generate new ones. Just as convincing images of cats can be created using artificial intelligence, new proteins can now…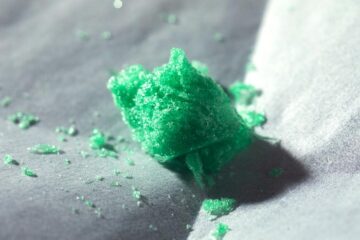 How to freeze-dry a potential COVID-19 vaccine
In Science Advances, scientists report successfully freeze-drying specialized liposomes that could be developed for use in future vaccines. Things that are freeze-dried: Astronaut food. Emergency rations. And, just maybe, some…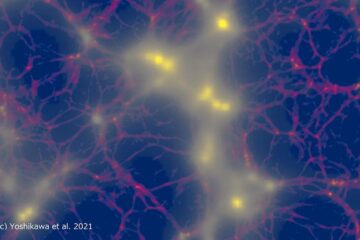 Record-breaking simulations of large-scale structure formation in the universe
Researchers led by the University of Tsukuba present computer simulations that capture the complex dynamics of elusive neutrinos left over from the Big Bang. Current simulations of cosmic structure formation…