First line of defence against influenza further decoded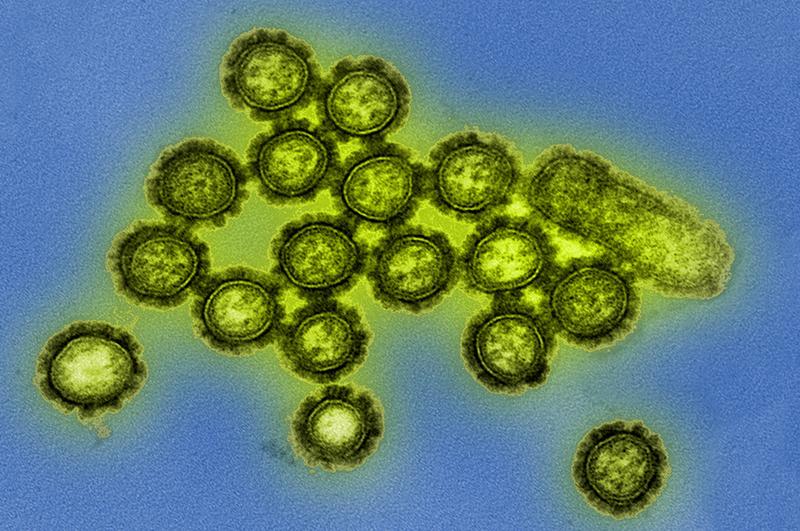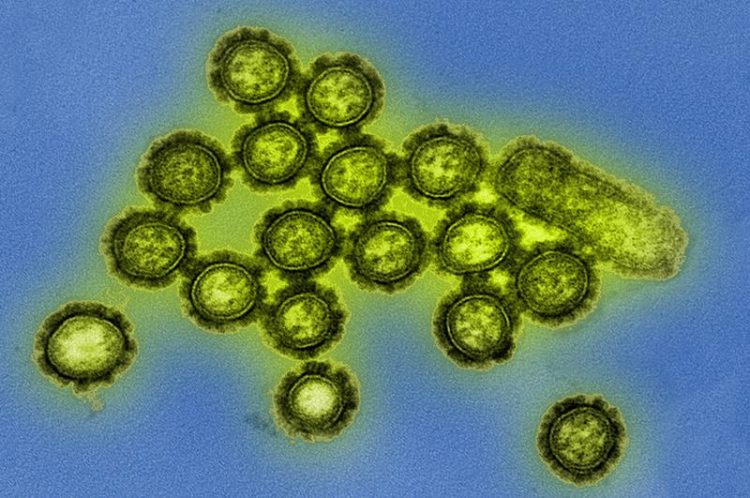 Time and again – the flu is coming to Germany. The number of cases of the current wave of influenza is still rising. When influenza viruses – the cause of the flu – enter our body, the immune system recognises them as being foreign by means of various receptors and starts a defence programme. Scientists of the Helmholtz Centre for Infection Research (HZI) in Braunschweig and of the Otto von Guericke University Magdeburg recently studied the detailed role of a certain receptor in this first line of defence.
They discovered that the receptor activates natural killer cells, which use messenger substances to activate other immune cells and then eliminate body cells that are infected by viruses. Deciphering these relationships can reveal new pathways for improvements in the prevention and therapy of influenza infections. The scientists published their results in Frontiers in Immunology.
Influenza challenges our immune system time and again: Once it learns to recognise and eliminate a current influenza virus, the next wave of infections features yet another unknown viral strain, as the influenza pathogen modifies itself permanently.
The immune system is prepared for this scenario through a number of receptors that recognise pathogens as being foreign and activate the defence of the body. This first line of defence of the immune system is innate and includes receptors called TLR (for "toll-like receptor") and natural killer cells that release messenger substances and kill infected body cells. In the early phase of an infection, the killer cells call in reinforcements from the immune system: They produce the messenger substance called interferon-gamma and use it to activate other defence cells for a joint attack on the viruses.
"The innate immune system includes multiple receptors that can recognise influenza viruses, but their exact functions in the chain of defence are not known yet," says Dr Sabine Stegemann-Koniszewski, who did these studies in Prof Dunja Bruder's "Immune Regulation" research group of the HZI and meanwhile joined the research group of Prof Jens Schreiber at the University Clinic for Pneumology in Magdeburg.
"The various receptors can direct the immune response in case of an infection and are therefore also candidates for novel approaches aimed at new therapies. This is why we wanted to clarify the relationships of the first defence reaction in detail."
One of these receptors is the so-called toll-like receptor 7, or TLR7, that was switched off specifically in mice. In order to characterise its function in the immune defence, the scientists infected these mice with small amounts of influenza A viruses that elicit only a mild disease. Although the mice were lacking the TLR7 receptor molecule, they managed to eliminate the infection fairly well.
"This was quite surprising to us since there were only marginal differences in the course of disease between mice with and without TLR7," says Sabine Stegemann-Koniszewski. But the researchers found an essential difference when they looked at the production of messenger substances: In the absence of TLR7, up to 75 percent less interferon-gamma was detected in the early phase of the lung infection, and other messenger substances were reduced as well. This was based on a clearly reduced activation of the natural killer cells, which usually release the interferon-gamma.
"The delayed production of interferon-gamma suggested that TLR7 is responsible for activating the natural killer cells rapidly after it recognises influenza A viruses," says Stegemann-Koniszewski. "The delayed activation of the killer cells in the absence of TLR7 is related to other receptors that make up for this defect." Moreover, during a local infection – i.e. in the lung in the present case – killer cells in other organs are activated as well and the entire immune system is put on alert. But in mice lacking TLR7, this was limited to the lung only.
"Even if the mice lacking TLR7 managed to successfully eliminate the influenza viruses, the receptor plays an important role in the immune defence due to its rapid response to the killer cells. We infected the mice only mildly, but in real life the rate of the response is a decisive factor," says Dunja Bruder, who is the head of the "Immune Regulation" research group at the HZI and a professor of Infection Immunology at the Otto von Guericke University Magdeburg.
In earlier studies, Bruder's research group showed that influenza-infected mice lacking TLR7 are better protected from the extremely rapid spread of a secondary infection by pneumococci, which are the pathogens causing pneumonia. "Interferon-gamma can inhibit the elimination of bacterial pathogens by the scavenger cells of the immune system. However, because the production of this substance is reduced in an influenza infection when there is no TLR7, the scavenger cells presumably can control invading bacteria more effectively early on," Bruder says.
In addition to detecting pathogens, toll-like receptors also play a role in the battle against tumours, since the killer cells they activate can also eliminate tumour cells. Meanwhile, there is even a medical ointment available ("Aldara") that activates toll-like receptors and is used against warts caused by viruses and mild forms of skin cancer.
Original publication:
Sabine Stegemann-Koniszewski, Sarah Behrens, Julia D. Boehme, Inga Hochnadel, Peggy Riese, Carlos A. Guzmán, Andrea Kröger, Jens Schreiber, Matthias Gunzer and Dunja Bruder: Respiratory Influenza A Virus Infection Triggers Local and Systemic Natural Killer Cell Activation via Toll-Like Receptor 7. Frontiers in Immunology, 2018, DOI: 10.3389/fimmu.2018.00245
The press release and a picture are also available on our website: https://www.helmholtz-hzi.de/en/news_events/news/view/article/complete/first_lin…
Helmholtz Centre for Infection Research:
Scientists at the Helmholtz Centre for Infection Research (HZI) in Braunschweig, Germany, are engaged in the study of different mechanisms of infection and of the body's response to infection. Helping to improve the scientific community's understanding of a given bacterium's or virus' pathogenicity is key to developing effective new treatments and vaccines. The HZI is a member of the German Center for Infection Research (DZIF). http://www.helmholtz-hzi.de/en
Contact:
Susanne Thiele, Press Officer
susanne.thiele@helmholtz-hzi.de
Dr Andreas Fischer, Editor
andreas.fischer@helmholtz-hzi.de
Helmholtz Centre for Infection Research
Press and Communications
Inhoffenstr. 7
D-38124 Braunschweig
Germany
Phone: +49 531 6181-1404
Media Contact
Susanne Thiele
Helmholtz-Zentrum für Infektionsforschung
Alle Nachrichten aus der Kategorie: Life Sciences
Articles and reports from the Life Sciences area deal with applied and basic research into modern biology, chemistry and human medicine.
Valuable information can be found on a range of life sciences fields including bacteriology, biochemistry, bionics, bioinformatics, biophysics, biotechnology, genetics, geobotany, human biology, marine biology, microbiology, molecular biology, cellular biology, zoology, bioinorganic chemistry, microchemistry and environmental chemistry.
Zurück zur Startseite
Neueste Beiträge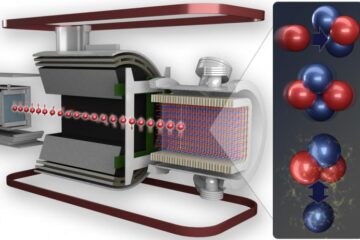 Scientists achieve higher precision weak force measurement between protons, neutrons
Through a one-of-a-kind experiment at the Department of Energy's Oak Ridge National Laboratory, nuclear physicists have precisely measured the weak interaction between protons and neutrons. The result quantifies the weak…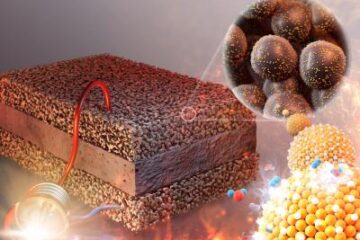 High-performance single-atom catalysts for high-temperature fuel cells
Individual Pt atoms participate in catalytic reaction to faciitate the electrode process by up to 10 times. Single-atom Pt catalysts are stable at 700 degrees Celsius and expected to stimulate…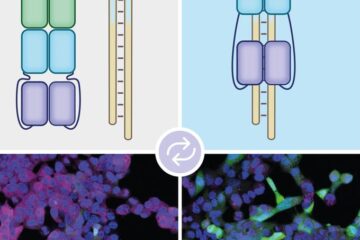 New method allows precise gene control by light
A novel optical switch makes it possible to precisely control the lifespan of genetic "copies". These are used by the cell as building instructions for the production of proteins. The…