Using existing cellular networks for drones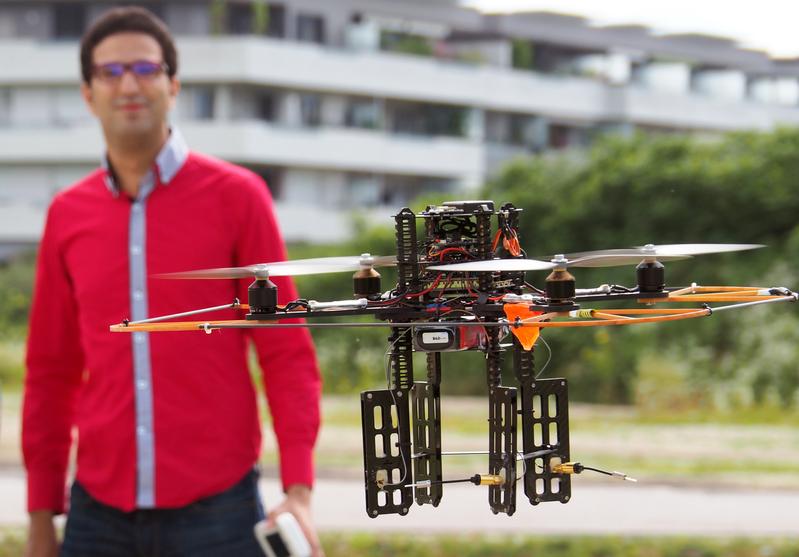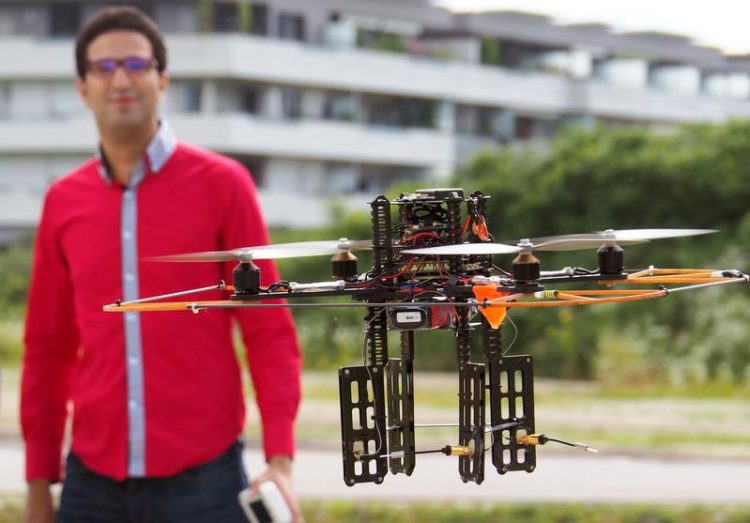 The communicative challenges facing drones are manifold: They need to communicate with a base station on the ground, but they must also be able to swap information with each other. This requires a pervasive wireless communication infrastructure, which traditional cellular networks are equipped to provide.
Aymen Fakhreddine, a senior researcher in the research group established by Christian Bettstetter at the Department of Networked and Embedded Systems, recently presented results from his research into how this utilisation might be realised at the ACM Workshop on Micro Aerial Vehicle Networks, Systems, and Applications in Seoul.
In order to address this question, the study focused on the use of drones in the LTE advanced network. The outcome: The transmission rates (20 Mbit/sec from the base station to the drone) are already adequate for numerous applications.
Nonetheless, it will be necessary to continuously improve the performance in order to broaden the set of functionalities. Researchers believe that the 5G network, currently still under construction or at the initial operating phase, carries great promise.
"At the moment, researchers have insufficient knowledge about the drone communication in real cellular networks", Aymen Fakhreddine explains. Originally from Casablanca (Morocco), he studied in Madrid and Paris and has worked as a researcher in Singapore and Madrid.
The research currently being conducted at the University of Klagenfurt and the Lakeside Labs GmbH is realised in cooperation with MAGENTA (formerly: T-Mobile) and allows for experimental studies in real cellular networks. The mobile telephony operator supports the researchers by providing infrastructure and data from the mobile network.
In answer to the question whether a separate communication network could be built specifically for drones in the near future, Fakhreddine responds as follows:
"A brand new network represents significant costs. I believe that mobile operators will integrate drones into their existing infrastructure during the next five to ten years, before we can talk about the need/feasibility of a dedicated infrastructure."
For now, the focus is on preparing the drones for integration in a 5G network, which also includes dealing with the issue of standardisation.
Aymen Fakhreddine, PhD.
+43 463 2700 3659
Aymen.Fakhreddine@aau.at
Aymen Fakhreddine, Christian Bettstetter, Samira Hayat, Raheeb Muzaffar, and Driton Emini. Handover Challenges for Cellular-Connected Drones. In Proc. ACM Workshop on Micro Aerial Vehicle Networks, Systems, and Applications (DroNet), Seoul, Korea, June 21, 2019, https://doi.org/10.1145/3325421.3329770.
Media Contact
Dr. Romy Müller
idw - Informationsdienst Wissenschaft
All news from this category: Information Technology
Here you can find a summary of innovations in the fields of information and data processing and up-to-date developments on IT equipment and hardware.
This area covers topics such as IT services, IT architectures, IT management and telecommunications.
Back to the Homepage
Latest posts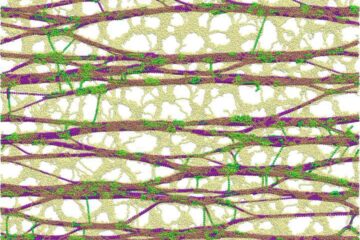 What makes plant cell walls both strong and extensible?
New model reveals that a network of cellulose is key to this unique combination. A plant cell wall's unique ability to expand without weakening or breaking–a quality required for plant…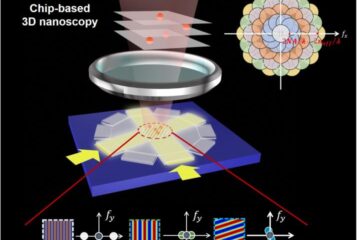 Can the diffraction limit overcome in the linear imaging system?
A chip-compatible 3D nanoscopy answers. Compared with the superresolution microscopy that bases on squeezing the point spread function in the spatial domain, the superresolution microscopy that broadens the detection range…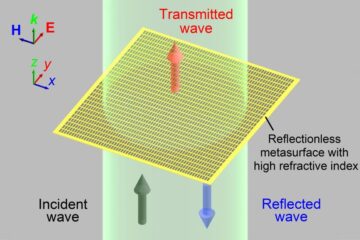 Using micro-sized cut metal wires …
Japanese team forges path to new uses for terahertz waves … Japanese researchers successfully tested reflectionless, highly refractive index metasurface that may eventually be used in practical applications to send,…