Simulation and Virtual Reality: Virtual Trade Fair Tour on the Smartphone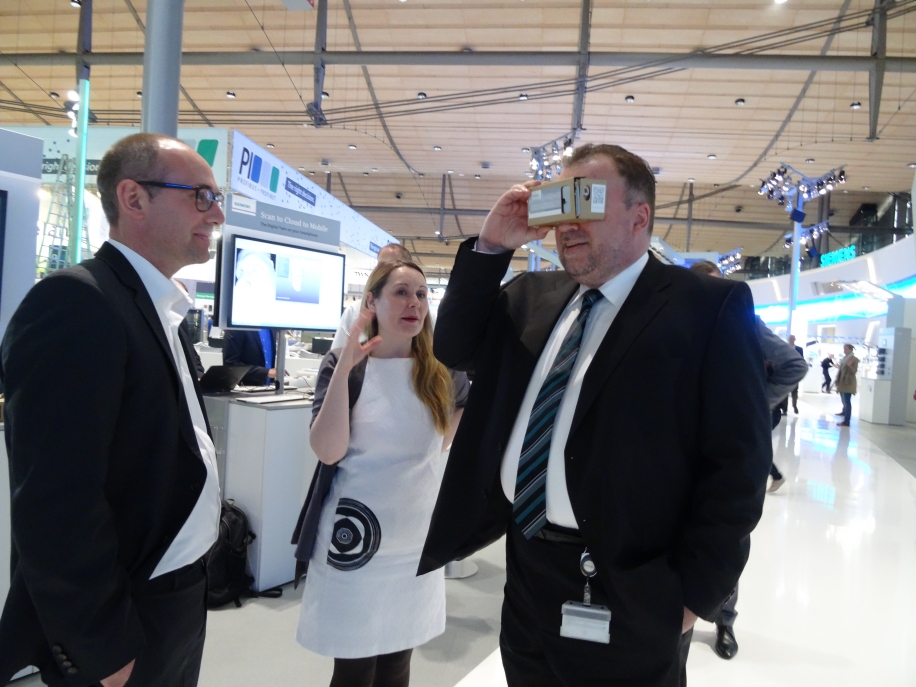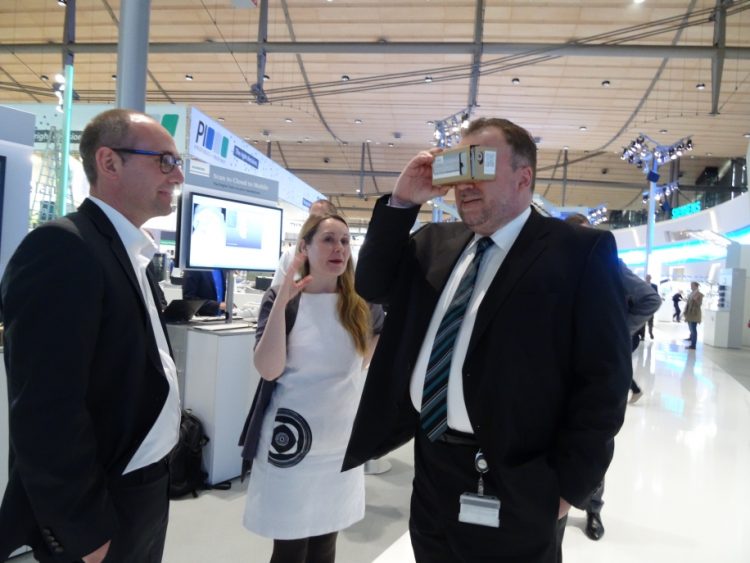 "With this, you can walk through the Siemens Digitalization Forum virtually," said Rebecca Johnson, pointing to a small cardboard case in which she had just placed her smartphone. The smartphone display is divided into two parts, and when viewed through the two lenses in the case the two images combine to create a 3D impression.
Johnson, a mobile computing expert at the Siemens global research unit Corporate Technology (CT), created this app for the Hannover Messe, but it can be used to produce a three-dimensional visualization of any environment. Thanks to this innovative app, anyone can literally see digitalization in action.
Originally the idea was to develop a smartphone app to guide people through buildings. "However, there weren't any maps available for such indoor navigation," Johnson recounted. "And so I got the idea of using a laser scanner. We simply made our own maps." Among other things, they produced a three-dimensional map of a Siemens factory hall in Trondheim.
Colleagues at CT have already developed several laser-scanning applications for Siemens, including one that measures the exact dimensions of a chassis or turbine part, for example. To scan a room, a laser scanner is placed at several positions in the room; at each position it takes a 360-degree scan of the surrounding area. However, the raw data produced by the scanner requires extensive processing to make it useful. "We use Siemens PLM (Product Lifecycle Management) software to process these point clouds," Johnson explained.
Improved 3-D Visualizatzion
The application delivers concrete benefits for Siemens PLM. For example, to facilitate the process of designing or redesigning a production facility, as Siemens customers regularly need to do, the colleagues at CT have developed a handy tool that can immediately show whether the robots in a new production line will truly work together without friction. To demonstrate how quickly the technology can be implemented, a miniature scanner was set up at the trade fair stand.
However, every hour of scan time requires about ten hours of computing time. That is because the point clouds contain numerous duplicate shots, and the models may be distorted by reflections or the presence of people close to the camera.
"All these artifacts need to be computed out," Johnson explained. "And because that takes so long, we plan to process this data in the cloud in the future." That should shorten the computing time considerably.
Johnson has managed to reproduce the 3-D models with small enough data quantities that they can fit comfortably in a smartphone's memory. The result was exhibited at this year's Hannover Messe and can be downloaded by everyone (see link to the right). Besides taking a virtual tour of the Digitalization Forum after the fair, users can use the app to tour a virtual model of a packaging machine, an exhibit which was shown to German chancellor Angela Merkel. It produced a personalized perfume flask for her.
Norbert Aschenbrenner
Media Contact
Dr. Norbert Aschenbrenner
Siemens - Pictures of the Future
All latest news from the category: Information Technology
Here you can find a summary of innovations in the fields of information and data processing and up-to-date developments on IT equipment and hardware.
This area covers topics such as IT services, IT architectures, IT management and telecommunications.
Back to home
Newest articles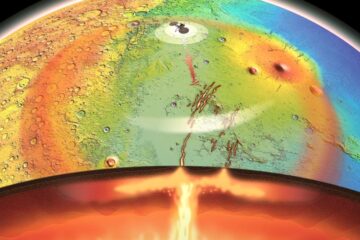 Giant mantle plume reveals Mars is more active than previously thought
Orbital observations unveil the presence of an enormous mantle plume pushing the surface of Mars upward and driving intense volcanic and seismic activity. On Earth, shifting tectonic plates reshuffle the…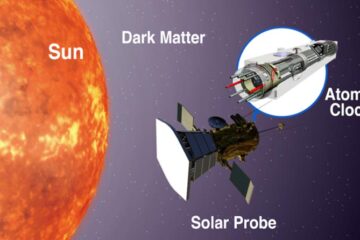 Space atomic clocks could help uncover the nature of dark matter
Studying an atomic clock on-board a spacecraft inside the orbit of Mercury and very near to the Sun might be the trick to uncovering the nature of dark matter, suggests…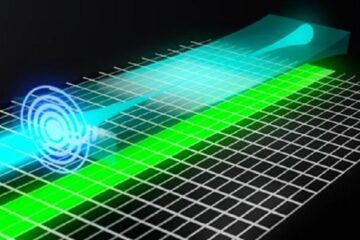 Photon-efficient volumetric imaging with light-sheet scanning fluorescence microscopy
New method harnesses image scanning superresolution for enhanced photon efficiency in light-sheet microscopy. In biological imaging, researchers aim to achieve 3D, high-speed, and high-resolution, with low photobleaching and phototoxicity. The…