Autonomous operation of commercial vehicles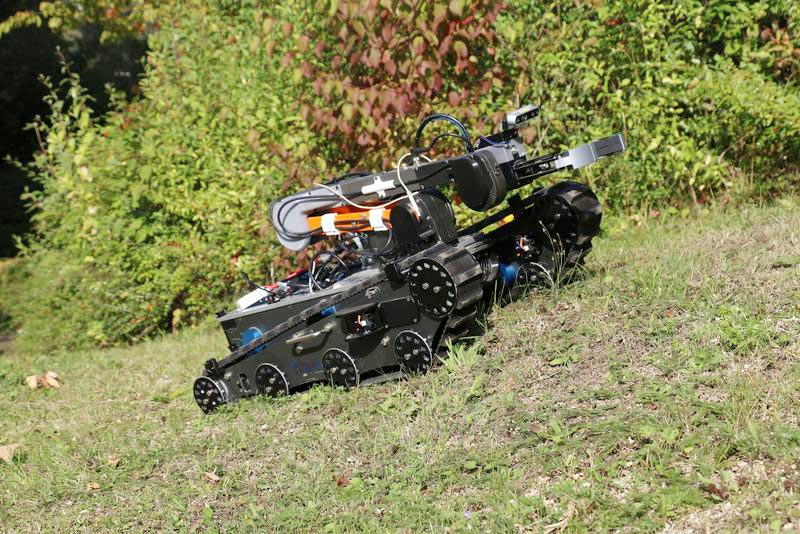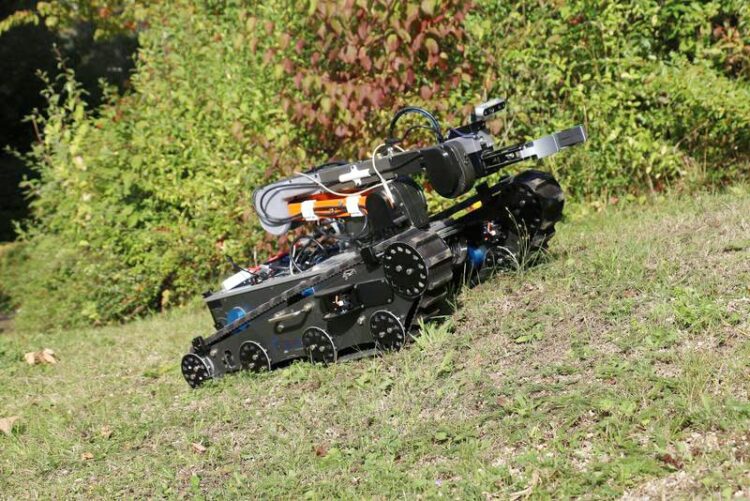 … in the field, on construction sites and in vineyards.
Autonomous driving plays an important role in the commercial vehicle sector. Tractors driving autonomously across fields or excavators digging a hole on their own. The range of applications is wide. Researchers at the Robotics Research Lab at Technische Universität Kaiserslautern (TUK) are working on how such vehicles can be adapted to the respective field of application. The team will be presenting their work at the Hannover Messe from 30 May to 2 June at the Rhineland-Palatinate research stand (Hall 2, Stand B40). In addition to videos, a small robotic vehicle will be on display, which the researchers will use as an example to demonstrate their system.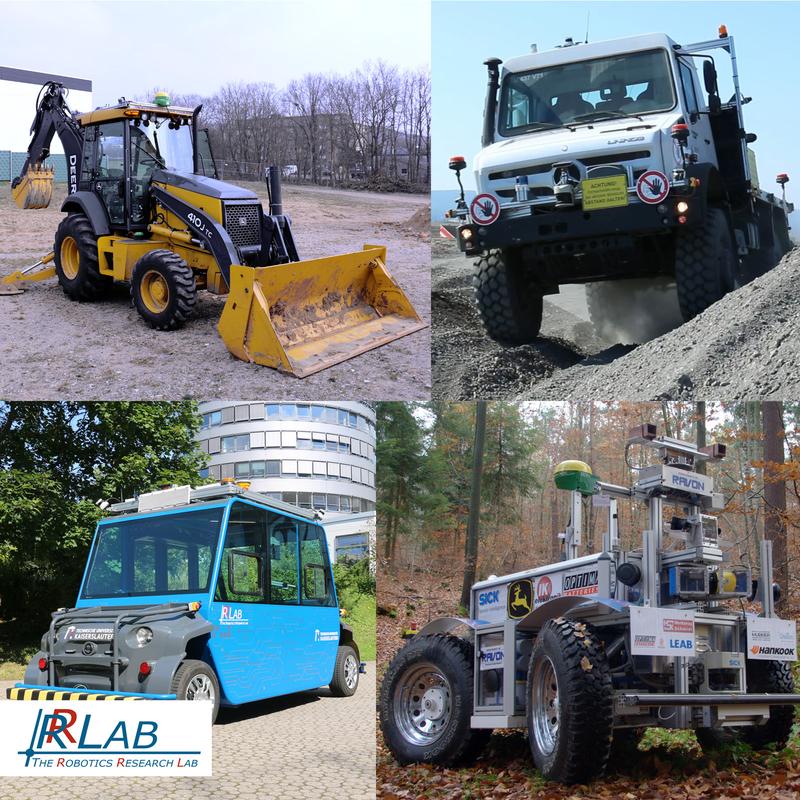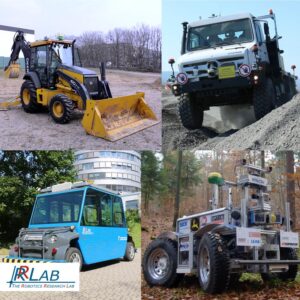 Tandem rollers driving autonomously in a convoy and compacting a new road surface, and cranes moving their loads themselves while keeping a close eye on their surroundings. Or excavators autonomously loading trucks with sand, and combine harvesters autonomously driving in tandem across the fields during harvesting. For commercial vehicles to act autonomously in this way, the requirements are quite different from those for autonomous passenger cars on the road. "For example, there is no road boundary for the vehicles to orientate themselves by," explains research assistant Alexander Köpper. "Often they are operating in rough terrain and have to recognise trees or rocks, for example. We have different conditions to consider for each area of operation."
At Professor Dr. Karsten Berns' Robotics Research Lab, the team is looking into the automation of various vehicles, especially in the field of construction sites and agricultural machinery. Among other things, the researchers are studying various sensors and algorithms used in the machines to help recognise the environment. "We are also working on new control systems to be used in the vehicles for this purpose," adds Alexander Köpper. These procedures allow the vehicles to adapt to their environment. "In doing so, we try to break down the main task into many subtasks. Next, we use special methods to merge their solutions, resulting in an overall behaviour for the vehicle. For example, one subtask may be to drive on uneven terrain, another to prevent the vehicle from tipping over. By merging the two, the result is a safe driving route through the terrain."
The researchers are also working with alternative computer systems. "We are looking to get away from the classic personal computer in this regard," says Alexander Köpper. Among other things, the team relies on so-called SoPC boards. "This is a mixture of a classic processor and programmable hardware," he explains. The advantage: This technology can be flexibly adapted to the individual requirements. By tailoring the computer architecture to a specific task, it can be processed much more efficiently.
Many different projects are applying the approaches developed by Robotics Research Lab, such as autonomous excavators to straighten terrain or to dig high-precision trenches. But also in agricultural machines that can detect where to harvest next based on the cutting edge.
At the Hannover Messe, the team will be presenting its research results using videos and a small experimental robot. The exhibit will also present the work in the scope of Offene Digitalisierungsallianz Pfalz (Open Digitalisation Alliance Palatinate), with which the team from the Robotics Research Lab is involved in transfer.
For videos of the Robotics Research Lab, visit https://www.youtube.com/RRLabTUKaiserslautern
Questions can be directed to:
Dipl.-Ing. Alexander Köpper
Robotics Research Lab
Phone: +49 631 205-3338
E-mail: koepper@cs.uni-kl.de
Klaus Dosch, Department of Technology and Innovation, is organizing the presentation of the researchers of the TU Kaiserslautern at the fair. He is the contact partner for companies and, among other things, establishes contacts to science.
Contact: Klaus Dosch, Email: dosch[at]rti.uni-kl.de, Phone: +49 631 205-3001
Offene Digitalisierungsallianz Pfalz
Offene Digitalisierungsallianz Pfalz is a joint project of Kaiserslautern University of Applied Sciences, Technische Universität Kaiserslautern and the Fraunhofer Institute for Industrial Mathematics (ITWM). The project enhances the transfer of ideas, knowledge and technology with industry and society and is based on a cooperation strategy of the two universities. Offene Digitalisierungsallianz Pfalz is funded by the Federal Ministry of Education and Research within the framework of the federal-state initiative "Innovative Hochschule".
Wissenschaftliche Ansprechpartner:
Dipl.-Ing. Alexander Köpper
Robotics Research Lab
Phone: +49 631 205-3338
E-mail: koepper@cs.uni-kl.de
Media Contact
Melanie Löw Universitätskommunikation
Technische Universität Kaiserslautern
All latest news from the category: Information Technology
Here you can find a summary of innovations in the fields of information and data processing and up-to-date developments on IT equipment and hardware.
This area covers topics such as IT services, IT architectures, IT management and telecommunications.
Back to home
Newest articles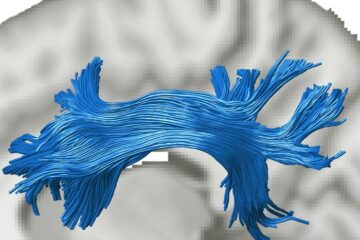 Using GPUs to discover human brain connectivity
A new GPU-based machine learning algorithm developed by researchers at the Indian Institute of Science (IISc) can help scientists better understand and predict connectivity between different regions of the brain….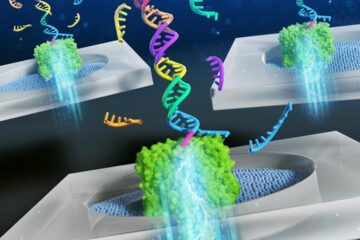 Detection of cancer biomarkers from blood samples
… using nanopore-based DNA computing technology. Cholangiocarcinoma, also known as bile duct cancer, is a cancer type with a characteristically high mortality. At the time of diagnosis, most bile duct…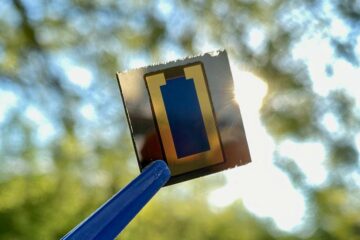 Thin-film photovoltaic technology combines efficiency and versatility
Researchers at KIT develop perovskite/CIS tandem solar cells with an efficiency of nearly 25 percent; combination of materials enables mobile applications. Stacking solar cells increases their efficiency. Working with partners…