UCLA study looks at life after breast cancer
UCLA study looks at quality of life of younger women after breast cancer
Very young women diagnosed with breast cancer may be more likely to have persisting physical and psychological problems years after cancer, according to a new study by researchers at UCLA's Jonsson Cancer Center.
In a survey of nearly 600 women who were all age 50 or younger when they first were diagnosed with breast cancer, researchers found that the majority of women report they have a good quality of life an average of six years after their diagnosis. Yet, the youngest women in the study — those who were between 25 and 34 when they were diagnosed — showed greater changes in energy and poorer emotional functioning than the women in the study who were older at diagnosis.
The study was published in the Nov. 15 issue of the Journal of Clinical Oncology.
"There is a positive message here that overall function is going to be good for the majority of younger women who survive breast cancer. Yet there are subgroups who may be at more risk for problems," said Dr. Patricia Ganz, director of the Division of Cancer Prevention and Control at UCLA's Jonsson Cancer Center and lead author of the study. "The youngest women report persistent energy loss and psychological difficulties. They are a group doctors and others need to target for intervention."
Other problems include early menopause, loss of ability to have children and depression. "It is important for us to acknowledge that many symptoms and problems persist long beyond the acute phase of breast cancer treatment," Ganz said.
This is the first large, multiethnic study to have detailed descriptive information about what younger breast cancer survivors are experiencing.
"You can imagine if you get cancer at 30 years-of-age and no one else in your family has had it, and you have to go through all this treatment with uncertainty about the outcome, that there's going to be a sort of sword of Damocles hanging over your head," Ganz said. "So that's what these findings talk about; for these younger women especially, there are fear and vulnerability, feelings of being 'out of control' and not being able 'to trust the world,' even after they have successfully completed treatment."
"At first it is hard because the only thing you can focus on is getting through the treatments — and hanging on to your life," said Cynthia Lauren, a study participant who was 37 when she was diagnosed with breast cancer. "But once that is over, you begin to realize the more subtle changes and losses that come along with the diagnosis. For me, I lost my fertility, but didn't really get to deal with it until later."
Now, 10 years after treatment, the Santa Monica resident is still learning to cope with those changes. "Sometimes, even though it is behind me now, it is still tough to get up in the morning and deal with the little aggravations of life while trying to remember and hang on to the big picture: I had cancer and I have survived."
More than 200,000 women in the United States will be diagnosed with breast cancer in 2003 and of those, 25 percent will be women under age 50. The National Cancer Institute estimates that there are about 2.5 million breast cancer survivors living in the United States today.
"The other thing that we examined was whether or not there were any other factors that predicted how women assessed their overall health. What we found was that women who were college graduates or had higher education perceived themselves as having better health, while women who had gone through menopause as a result of the cancer thought their health was poorer," Ganz said.
The study also supports some results seen in prior studies conducted by Ganz and her colleagues. "Previous studies suggested that African-American women reported better quality of life after breast cancer than other ethnic groups, and experienced more positive meaning from the cancer experience. The current study confirmed the earlier findings and to see those results in a second independent sample suggests it is an accurate observation," Ganz said.
UCLA's Jonsson Comprehensive Cancer Center is composed of more than 240 cancer researchers and clinicians engaged in cancer research, prevention, detection, control and education. The center, one of the nation's largest comprehensive cancer centers, is dedicated to promoting cancer research and applying the results to clinical situations. In 2003 the center was named the best cancer center in the Western United States by U.S. News & World Report, a ranking it has held for four consecutive years.
For more information about UCLA's Jonsson Cancer Center, visit the center's Web site at www.cancer.mednet.ucla.edu/.
All news from this category: Health and Medicine
This subject area encompasses research and studies in the field of human medicine.
Among the wide-ranging list of topics covered here are anesthesiology, anatomy, surgery, human genetics, hygiene and environmental medicine, internal medicine, neurology, pharmacology, physiology, urology and dental medicine.
Back to the Homepage
Latest posts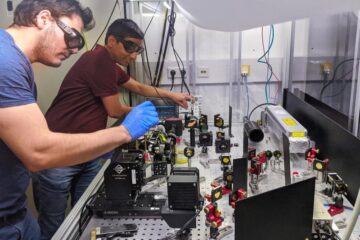 Innovations through hair-thin optical fibres
Scientists at the University of Bonn have built hair-thin optical fibre filters in a very simple way. They are not only extremely compact and stable, but also colour-tunable. This means…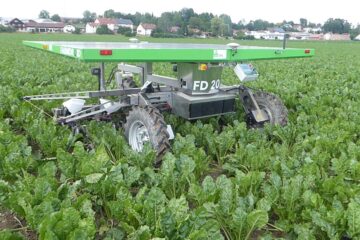 Artificial intelligence for sustainable agriculture
ZIM cooperation network on AI-based agricultural robotics launched The recently approved ZIM cooperation network "DeepFarmbots" met virtually for its official kick-off on November 25. The central goal of the network…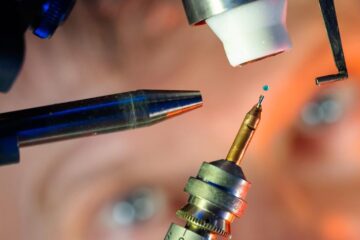 Teamwork in a molecule
Chemists at the University of Jena harness synergy effect of gallium Chemists at Friedrich Schiller University Jena have demonstrated the value of "teamwork" by successfully harnessing the interaction between two…