Jefferson scientists use gene therapy to restore function of damaged heart cells in laboratory
Researchers at Jefferson Medical College and Duke University have used gene therapy to help damaged heart cells regain strength and beat normally again in the laboratory. The work takes the scientists one step closer to eventual clinical trials in humans.
Walter Koch, Ph.D., director of the Center for Translational Medicine of the Department of Medicine at Jefferson Medical College of Thomas Jefferson University in Philadelphia, and his colleagues at Duke used a virus to carry a gene into the heart cells of individuals who had suffered heart failure. The gene blocks the activity of an enzyme that is increased in such heart cells, in turn, enabling the cells to beat at normal strength. Dr. Koch and his co-workers at Duke University Medical Center in Durham, N.C., presented their findings this week at the American Heart Association's Scientific Sessions 2003 in Orlando.
According to Dr. Koch, who is W.W. Smith Professor of Cardiology at Jefferson Medical College of Thomas Jefferson University, researchers have known for some time that the beta-adrenergic receptor system fails to work properly in individuals with end-stage heart failure. Such receptors "drive the heart – both by rate and force of contraction," he says.
The researchers' target has been the beta-adrenergic kinase (ßARK1), an enzyme that is elevated in human heart failure. One of its functions is to turn off beta-adrenergic receptors. "In heart failure, beta adrenergic receptor density is decreased, ßARK is increased and both together cause dysfunctional beta receptor signaling," Dr. Koch says. "A failing heart then has little capacity to respond to exercise or stress because there are fewer receptors and the remaining receptors are more or less turned off.
"We have thought that inhibiting ßARK could increase signaling and increase function," he explains.
In the laboratory dish, the researchers infected heart cells from patients who underwent cardiac transplantation due to end-stage heart failure with an adenovirus that encoded both ßARKct – a peptide that can block ßARK – and a so-called "reporter gene" protein, which glows green. The latter provided a signal to the scientists that the inhibitor was indeed present in the heart cells. They then were able to use a video camera to actually measure how strong the individual heart cells were beating.
"We put the ßARKct into the cells, and failing human hearts become more like normal hearts, based on their ability to contract," Dr. Koch says. "This is the first work in actual human cells to show efficacy of ßARKct and the enzyme ßARK1 as targets for heart failure.
"This study is the last proof of concept," he adds, noting that years of previous work in various animal models enabled the research team to reach this point. "Now we are dealing with human cells from failing human hearts."
Further animal studies are planned, which, he notes, should lead to eventual human clinical trials.
Contact:
Steve Benowitz or Phyllis Fisher
215-955-6300
After Hours: 215-955-6060
E-Mail: steven.benowitz@mail.tju.edu
Media Contact
Steve Benowitz
EurekAlert!
All news from this category: Health and Medicine
This subject area encompasses research and studies in the field of human medicine.
Among the wide-ranging list of topics covered here are anesthesiology, anatomy, surgery, human genetics, hygiene and environmental medicine, internal medicine, neurology, pharmacology, physiology, urology and dental medicine.
Back to the Homepage
Latest posts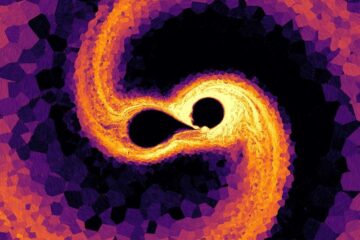 Exploring the evolution of stars
Fabian Schneider leads the new research group "Stellar Evolution Theory" (SET) at the Heidelberg Institute for Theoretical Studies (HITS). The astrophysicist explores the turbulent life of massive binary stars and…
Sustainable insulating material for shipping temperature-sensitive products
Researchers at the Institute of Natural Products Engineering at TU Dresden have developed an insulating material made from recycled paper for shipping temperature-sensitive foods and medicines. As part of a…
Helium nuclei at the surface of heavy nuclei discovered
Research team confirms a new nuclear property predicted by theory Scientists are able to selectively knockout nucleons and preformed nuclear clusters from atomic nuclei using high-energy proton beams. In an…