Role in Type 1 diabetes provides clue for researchers who discovered 'obesity gene'
The discovery of a gene believed to be connected to morbid obesity has international origins and began as an exploration into the causes of Type I diabetes.
The discovery, which will be published in an upcoming issue of the journal Public Library of Science (http://www.plos.org), involves researchers originally from Sweden and France who collaborated at the University of Washington in Seattle.
The gene, on Chromosome 10, was first connected to diabetes in 1991 by Dr. Åke Lernmark, R. H. Williams Professor of Medicine and adjunct professor of immunology at the UW. The GAD2 gene is responsible for the protein GAD65, which plays a role in the healthy use of insulin by the body. Lernmark is a native of Sweden, which has one of the highest rates of Type I diabetes incidence in the world.
Lernmark is a native of Sweden, which has one of the highest rates of Type I diabetes incidence in the world. In 1997, Lernmark was joined in his laboratory at the University of Washington by Professor Philippe Froguel as a Poll Visiting Scholar.*
Froguel, senior author of the research, is based at Imperial College London, and Hammersmith Hospital, London, and carried out the research while at the Institut Pasteur de Lille in France. Froguel and colleagues had previously determined that obese people often had genetic variations in Chromosome 10, with individual variations showing up in the GAD2 gene.
During and since the stay at the Lernmark lab, the researchers have collaborated ever since the GAD2 gene was first considered as a candidate obesity gene. The researchers believe that GAD2 produces the protein GAD65 that catalyzes the production of a neurotransmitter in the hypothalamus that stimulates or suppresses appetite.
Lermark says that several years ago, he and his colleagues in Sweden found that some obese people had antibodies to GAD65. This finding remained unexplained, but sparked Froguel's interest when he was searching chromosome 10 for an obesity gene candidate. Lernmark says that it was a pleasant surprise for both groups when it turned out that GAD2 gene was the candidate. Research may help to untangle the role of GAD65 in obesity, he said.
Froguel and colleagues screened 575 obese people and 646 non-obese people in France and found a connection between variations in the GAD2 gene and obesity.
Obese people with two particular variations in their GAD2 genes had more difficulty controlling food intake as measured by a standard survey of eating behavior.
Lernmark, a co-author, cautions that researchers are very far from any genetic treatment of obesity. He says obesity results from the interaction of a variety of genes and environmental factors, such as nutrient intake and physical activity. Lernmark said he hopes there will be further research on genetic connections to obesity, and further work to pinpoint the underlying biology of body weight control and eating behavior. Meanwhile, research continues in the Lernmark lab and in other labs across the country about the effect of GAD2 on diabetes.
###
* The Poll Visiting Scholar Program
The Harvey and Judy Poll Visiting Scholar Endowment was established at the University of Washington in 1990 through the generous support of Harvey and Judy Poll, who have a long-standing interest in diabetes research. The endowment makes it possible to invite distinguished scholars in the field of diabetes research to the University of Washington, fostering new research collaborations with diabetes investigators throughout the world.
All news from this category: Health and Medicine
This subject area encompasses research and studies in the field of human medicine.
Among the wide-ranging list of topics covered here are anesthesiology, anatomy, surgery, human genetics, hygiene and environmental medicine, internal medicine, neurology, pharmacology, physiology, urology and dental medicine.
Back to the Homepage
Latest posts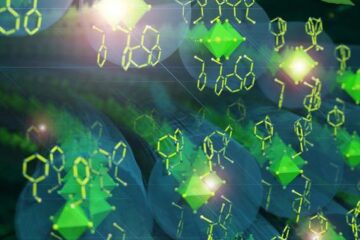 Just a few atoms thick: New functional materials developed
Using the smallest "construction set" in the world, a research team from the universities of Marburg, Giessen and Paderborn is designing new materials for computer chips, light-emitting diodes and solar…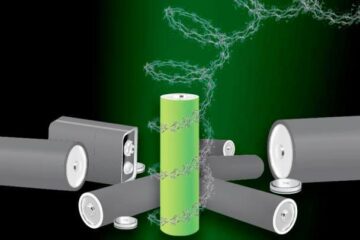 Researchers develop new metal-free, recyclable polypeptide battery
– that degrades on demand … This could result in battery production moving away from strategic elements like cobalt. The introduction of lithium-ion (Li-ion) batteries has revolutionized technology as a…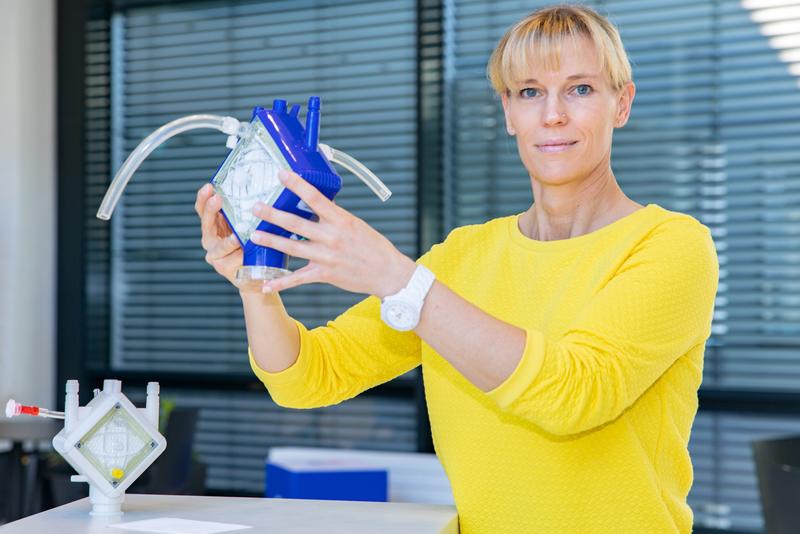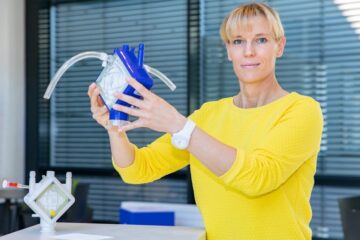 Artificial lungs as organ replacement
DFG priority program funds four MHH projects with 1.6 million euros. For people with severe lung diseases, transplantation of a healthy organ is often the only chance of survival. But…