JAK2 enzyme helps protect brain cells, wreaks havoc on blood vessels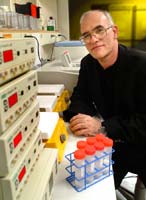 How the same enzyme helps protect brain cells from the destruction of Alzheimer's yet contributes to the blood vessel disease of diabetics is a puzzle Dr. Mario B. Marrero wants to solve.
"I call JAK2 the good, the bad and the ugly because its function depends on the cell type and where it acts," says the biochemist at the Medical College of Georgia who wants to eliminate – or at least control – the "bad" and "ugly."
JAK2, or janus kinase 2, is an enzyme found in all cells that plays an important role in development and growth; mice lacking this enzyme die in utero, Dr. Marrero says. After birth, the enzyme becomes a two-edged sword that activates or deactivates other proteins and plays a role in Alzheimer's, diabetes, hypertension and kidney failure.
When JAK2 is good, it helps protect brain cells from Alzheimer's disease by blocking the action of amyloid-b peptide, the plaque-producing protein fragment implicated in Alzheimer's disease.
Nicotine, long known to have a neuro-protective role despite its other drawbacks, apparently uses JAK2 to enable this protection. "When brain cells are exposed to beta amyloid that makes plaque, nicotine protects them by activating JAK2, which activates a pathway of cell survival and blocks the beta activation of the pathway that leads to cell death," says Dr. Marrero, who discovered nicotine's ability to regulate JAK2 in collaboration with Dr. Merouane Bencherif, vice president of preclinical research at the North Carolina-based pharmaceutical company, Targacept, Inc.
But if angiotensin II – a powerful vasoconstrictor involved in blood pressure regulation and a growth factor as well – is added to the mix, nicotine no longer protects brain cells. "Angiotensin II doesn't allow JAK2 to be activated by nicotine," Dr. Marrero says.
This finding supports his theory that nicotine protects neurons through the JAK2 pathway but also points toward new treatment approaches for Alzheimer's and other age-related dementias. One such treatment may be a drug that activates JAK2 in combination with ACE, or angiotensin converting enzyme, inhibitors which block angiotensin II production. ACE inhibitors are widely used to treat high blood pressure and anecdotal evidence indicates that people who take these drugs are less susceptible to Alzheimer's and other dementias.
"What we are working on is trying to understand these pathways that lead to neuro-protection," says Dr. Marrero. "And how does angiotensin II block that action via JAK2? It may even be that JAK2 plays a role when angiotensin II acts as a growth factor." Dr. Marrero's work on nicotine neuro-protection and JAK2 was published in the Nov. 22, 2002 issue of The Journal of Biological Chemistry.
His lab is also delineating the "bad" and "ugly" pathways that lead to JAK's role in cell death and destructive proliferation. Like nicotine, its partner in neuro-protection, JAK2 is bad for blood vessels. When activated, JAK2 attacks blood vessels from the inside and out, prompting suicide of the endothelial cells that comprise the smooth interior through which blood flows and proliferation of the smooth muscle cells that comprise the exterior. The result is diseased, dysfunctional blood vessels.
JAK2 activation also is stimulated by high glucose levels in the body, a hallmark of diabetes, via the polyol pathway, a finding Dr. Marrero's lab in collaboration with Dr. Carlos Isales, MCG endocrinologist, reported in the Aug. 15, 2003 issue of The Journal of Biological Chemistry. "That is why diabetics have a lot of blood vessel problems, in the aorta and major blood vessels," Dr. Marrero says.
In the face of high glucose, the kidneys are an easy target for JAK2's detrimental effects, prompting glomeruli mesangial cells to grow and proliferate, thereby clogging the kidneys' intricate filtering mechanisms, according to his work published in the December 2002 issue of Diabetes. "That is why diabetes is one of the main causes of kidney failure. If you take away high glucose, it doesn't really happen," the researcher says.
Dr. Marrero is collaborating with Dr. David Pollock, MCG physiologist, to further explore what happens in the kidney in an animal model and with Dr. Patricia Schoenlein, an MCG cancer researcher, to explores JAK2's apparent interference with some cancer therapies. For example, tamoxifen, an anti-estrogen that prompts breast cancer cell suicide, won't work in cells containing insulin because insulin apparently activates JAK2, which intervenes. When the researchers add a known JAK inhibitor, AG4-90, tamoxifen works in those cells.
"We are trying to figure out how various compounds might be able to regulate JAK," says Dr. Marrero. "We know nicotine activates it, which is why we are studying it." He wants to find additional compounds that activate or inhibit JAK2 so he can maximize the protective qualities of the enzyme and eliminate its contributions to diseases such as diabetes.
Dr. Marrero recently co-authored the preface of a textbook scheduled for release later this month, "Diabetes and Cardiovascular Disease: Integrating Science and Clinical Medicine," with Dr. David M. Stern, a renowned diabetes and vascular researcher and dean of the MCG School of Medicine. The book is being published by Lippincott Williams & Wilkins, an international publisher of professional health information for physicians, nurses and students headquartered in Philadelphia.
###
Dr. Marrero's research is funded by the National Institutes of Health, an American Heart Association Established Investigator Award grant and Targacept, Inc.
All news from this category: Health and Medicine
This subject area encompasses research and studies in the field of human medicine.
Among the wide-ranging list of topics covered here are anesthesiology, anatomy, surgery, human genetics, hygiene and environmental medicine, internal medicine, neurology, pharmacology, physiology, urology and dental medicine.
Back to the Homepage
Latest posts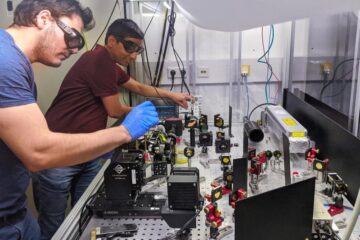 Innovations through hair-thin optical fibres
Scientists at the University of Bonn have built hair-thin optical fibre filters in a very simple way. They are not only extremely compact and stable, but also colour-tunable. This means…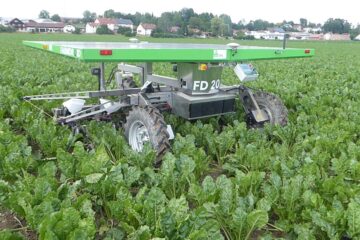 Artificial intelligence for sustainable agriculture
ZIM cooperation network on AI-based agricultural robotics launched The recently approved ZIM cooperation network "DeepFarmbots" met virtually for its official kick-off on November 25. The central goal of the network…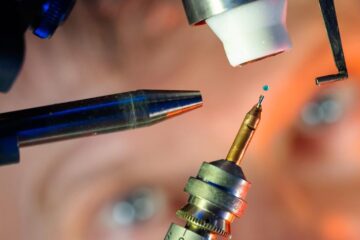 Teamwork in a molecule
Chemists at the University of Jena harness synergy effect of gallium Chemists at Friedrich Schiller University Jena have demonstrated the value of "teamwork" by successfully harnessing the interaction between two…