Studies show new role for protein in cancer development
In two groundbreaking papers published in two prestigious journals over the last two months, University of Southern California researchers have provided evidence of two previously unknown functions for a protein that is central to the transcription of genes. Both papers shed light on the role this protein-called TATA-binding protein, or TBP-may play in promoting the development of cancer.
"What we've found is that changes in the cellular concentrations of this critical transcription factor cause specific changes in gene expression patterns, which then contribute to cellular transformation, and a cancer cell phenotype," says Deborah Johnson, Ph.D., professor of molecular pharmacology and toxicology at the USC School of Pharmacy and biochemistry and molecular biology in the Keck School of Medicine.
The first paper, published in Molecular and Cell Biology in May, showed that TBP levels are increased by oncogenic proteins like Ras, one of the first genes found to be involved in human cancers. And that increase, Johnson says, has implications for the development of cancer at the cellular level.
In the cellular production of proteins, the information encoded in DNA is transcribed different types of RNA-ribonucleic acid. This process occurs with the help of enzymes called RNA polymerases. There are three RNA polymerases found in a typical cell, and TATA-binding protein has been shown-by Johnson's lab and others-to be absolutely critical to the function of all of them.
Because TBP is so central and so basic to the process of transcription, Johnson explains, it was long assumed that its cellular levels remain steady at all times. "It was viewed as a housekeeping protein. Nobody even thought that it could be regulated," she said.
When Johnson questioned that assumption and tried manipulating TBP levels in cells, she found that they could indeed be upregulated-and that the proteins that were especially good at increasing TBP levels were proteins like Ras, which are associated with cancer.
Knowing that oncogenic proteins can raise TBP levels in a laboratory dish was one thing; finding out what happens in a living cell when TBP levels rise was another. "That was the next question we asked," Johnson says. "We wanted to know whether TBP was actually driving Ras to transform normal cells into malignant cells."
In a series of experiments and collaborations with a number of researchers from the Keck School of Medicine, Johnson was able to show that when cells are manipulated so that TBP levels can no longer be increased, Ras is no longer able to transform cells.
And when she increased TBP levels without Ras being present, she found that oncogenesis continued unabated. "In fact," notes Johnson, "we tested it in an animal model, and found that increased TBP alone, without Ras, still leads to tumors in nude mice."
Whether TBP plays a similar role in the development of cancer in humans is something that Johnson is now pursuing in collaboration with USC/Norris Cancer Center pathologist Louis Dubeau, M.D., Ph.D., testing tumor cells for their TBP levels. "If TBP is a true contributor to oncogenesis," Johnson says, "we should see increased TBP levels in a clinically relevant proportion of patients." Preliminary data gathered thus far support this hypothesis.
The second study, published in the June issue of The EMBO Journal (EMBO is the European Molecular Biology Organization), looked at the other side of the oncogenesis coin. "We found in the Molecular and Cellular Biology paper that oncogenes like Ras can increase cellular concentrations of TBP," notes Johnson. "If that's true, then we might expect tumor suppressors to reduce the level of TBP."
To find out if their expectations were correct, Johnson and her colleagues looked at p53, a tumor suppressor that's found to be mutated in about half of all human cancers. "P53 keeps cells from growing and proliferating out of control," Johnson says.
Like TBP, p53 is also a transcription factor, regulating expression of the genes involved in cell cycle control and apoptosis, the cellular version of suicide. And previous studies have shown that p53 can bind to TBP. But what the biological relevance of that was had gone unreported, until now.
To determine the relevance, Johnson manipulated the levels of p53 in cells, watching to see what happened with TBP in those cells. What she found was that p53 seems to suppress an important function of TBP, preventing it from working with one of the RNA polymerases. "It's not changing the cellular concentration of TBP," Johnson explains, "but is instead changing its effective concentration, preventing TBP from forming a complex with other proteins. Forming that complex is essential to TBP's role in transcribing genes."
These two studies, Johnson points out, are really just complementary parts of a larger picture of the role of TBP in oncogenesis. "With these papers," she says, "we now have two very different scenarios that show that increasing the TBP concentration in a cell leads to that cell's ability to transform into a tumor cell. And in the second scenario, we have a tumor suppressor that decreases the effective concentration of TBP by altering its ability to function. Together, they both contribute to the ability of the cell to transform from normal to malignant."
Sandra A. S. Johnson, Louis Dubeau, Michael Kawalek, Andrew Dervan, Axel H. Schonthal, Chi V. Dang, Deborah Johnson, "Increased Expression of TATA-Binding Protein, the Central Transcription Factor, Can Contribute to Oncogenesis." Molecular and Cellular Biology, May 2003.
Diane Crighton, Annette Woiwode, Cheng Zhang, Nihar Mandavia, Jennifer P. Morton, Lorna J. Warnock, Jo Milner, Robert J. White, Deborah L. Johnson, "p53 Represses RNA Polymerase III Transcription by Targeting TBP and Inhibiting Promoter Occupancy by TFIIB." The EMBO Journal, June 2, 2003.
All news from this category: Health and Medicine
This subject area encompasses research and studies in the field of human medicine.
Among the wide-ranging list of topics covered here are anesthesiology, anatomy, surgery, human genetics, hygiene and environmental medicine, internal medicine, neurology, pharmacology, physiology, urology and dental medicine.
Back to the Homepage
Latest posts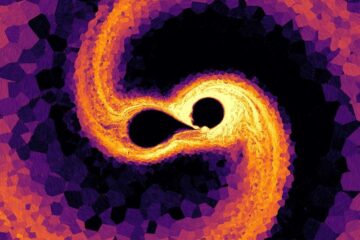 Exploring the evolution of stars
Fabian Schneider leads the new research group "Stellar Evolution Theory" (SET) at the Heidelberg Institute for Theoretical Studies (HITS). The astrophysicist explores the turbulent life of massive binary stars and…
Sustainable insulating material for shipping temperature-sensitive products
Researchers at the Institute of Natural Products Engineering at TU Dresden have developed an insulating material made from recycled paper for shipping temperature-sensitive foods and medicines. As part of a…
Helium nuclei at the surface of heavy nuclei discovered
Research team confirms a new nuclear property predicted by theory Scientists are able to selectively knockout nucleons and preformed nuclear clusters from atomic nuclei using high-energy proton beams. In an…