Violent Shaking Pulps The Infant Brain
Many people who are guilty of this type of abuse go free due to a lack of evidence; others are wrongly suspected of a crime that they did not commit. Researchers in forensic medicine at the University of Oslo are learning more about these brain injuries by shaking a very advanced doll.
Text: Yngve Vogt, Translation: Alan Louis Belardinelli
"Cases involving the concealed killing of infants do come up. Still, it is extremely difficult to get a conviction in a court of law," confirms post-doctoral researcher Arne Stray-Pedersen from the Institute of Forensic Medicine at the University of Oslo, Norway. He is one of Norway's leading forensic experts in cases of possible child abuse. Now, he is focusing on the trauma that occurs when an infant is violently shaken.
Being shaken is enormously traumatic. The head moves so much that the brain can be destroyed. The same types of injuries occur during car accidents or when vehicles are put under hard breaking.
"The syndrome that occurs when a baby cries too much is called, "Be Quiet Now!"
One in three is so injured that he or she dies.
"A third of the babies survive with serious complications such as physical paralysis, blindness, and serious mental handicaps."
The last third seem unharmed at first, but research indicates that these youngsters are overrepresented in the statistics for ADHD (Attention-Deficit Hyperactivity Disorder).
In Norway every year, 15 babies are violently shaken by their parents.
"Norway has fewer cases than other places in the world. In the U.S.A., there are one thousand deaths a year."
That means that an American baby is killed by shaking once every eight hours. In per capita terms, that is three times more than in Norway.
The Brain Swells Up
A baby's head is proportionally larger than the head of an adult. The muscles in the neck are underdeveloped. When the upper body is pulled, the head follows after and begins a pendulum-like movement.
"The brain is floating in brain fluid. Nerve fibres lead from the brain down to the spine. With a hard enough jerk, the brain can move around and the nerve fibres can snap. Doctors call this Diffuse Axonal Injury (DAI)."
After the nerve fibres have snapped, the brain swells up. The infant then dies because blood circulation is cut off to the brain.
Shaking can also lead to bleeding behind the eye and under the membrane around the brain.
When MRI (magnetic resonance imaging) and CAT (computerised axial tomography) scans are taken of an abused baby's brain, nerve damage appears as small white dots.
It is also not uncommon for a shaken baby to have bruises around the temple and injuries on other parts of its body—most likely because the baby struck something during the abuse.
Parents often offer their own explanations for an infant's injuries. They might say that the baby has fallen from its bath or that they have accidentally dropped the baby down a flight of stairs.
"If one were to believe the parent's explanation for the injuries, it would have to be more dangerous to fall from the baby bath than from a height of three meters. Thus, we cannot take all of the parents' explanations at face value," Arne Stray-Pedersen points out.
Legally Difficult
Far from all cases are reported to and investigated by the police. Just a handful of cases are handled by the justice system.
"It is a problematic and difficult task. We unfortunately don't have good enough measurements to differentiate between injuries due to abuse, accidents, and congenital defects. There are no witnesses when an abuser injures an innocent child, and we have neither video nor other evidence that can be used in court," explains Arne Stray-Pedersen.
In the interest of improving forensic evidence, Stray-Pedersen has just acquired a technologically advanced doll. This doll will be used to learn more about the connection between shaking and damage in an infant's brain.
The €19 000 doll is actually designed as an automobile crash test dummy. Although it is already filled with advanced instrumentation, researchers at SINTEF will put in extra equipment so that forensic researchers can measure the stress on the brain from shaking or from the head striking a hard surface or object.
Shaking causes a baby's head to accelerate quickly. The doll's head accelerates in three directions.
Under acceleration, the stress on an infant's head can be compared to the worst stress experienced by the pilot of a fighter jet. While shaking can equal ten times the force of gravity (10 G), a fighter pilot can only stand a force of 9 G for a short time before passing out. In an automobile collision at 70 kilometres per hour, the brain is subjected to the force of only a few G.
American Disagreement
Not everyone is in agreement about the connection between shaking and brain damage.
In 2005, the American researcher Faris A. Bandak published an article about shaking babies in the journal Forensic Science International. He believes that the head of a baby would fall off before the first bleeding occurred. Today, Bandak is the most called witness in American shaken baby cases, in spite of the many dissenting articles published by other American researchers.
Norwegian defence attorneys also cite his research.
"As expert witnesses, we must relate to Bandak as a scientist even if we believe that his conclusions are incorrect. The only way to attack his testimony is to show his errors. From reconstruction and educated guesses, we hope that we can now develop a model with satisfactory data from the laboratory. Abuse cases must not be allowed to fail due to lack of forensic evidence. We hope that our research can increase the likelihood of more correct judgements and fewer dismissals, " says Arne Stray-Pedersen in an interview with the University of Oslo's research magazine Apollon.
"Aggressive Parents"
To investigate injuries caused by shaking and blunt force trauma, ten people will be chosen to play "aggressive parents." When the doll is shaken, researchers will be able to measure what happens when a baby is violently shaken and then compare those injuries with falls from various heights.
Arne Stray-Pedersen works with— among others— the Oslo police department, senior researcher Frode Risland of SINTEF, Professor Per Holck at the University of Oslo's Department of Anatomy, and Professor Torleiv Ole Rognum, who led the forensic team in the Norwegian identification group in Thailand after the Tsunami disaster in December of 2004.
Alle Nachrichten aus der Kategorie: Health and Medicine
This subject area encompasses research and studies in the field of human medicine.
Among the wide-ranging list of topics covered here are anesthesiology, anatomy, surgery, human genetics, hygiene and environmental medicine, internal medicine, neurology, pharmacology, physiology, urology and dental medicine.
Zurück zur Startseite
Neueste Beiträge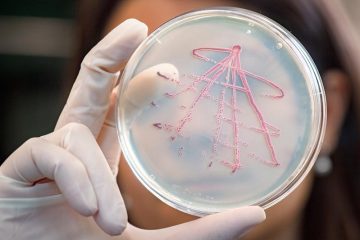 Grow faster, die sooner: How growth rates influence the fitness of bacteria
"The fitness of bacteria is more complex than expected," explains Ulrich Gerland, professor for the theory of complex biosystems at the Technical University of…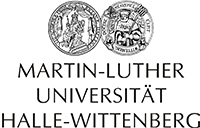 Spintronics: Researchers show how to make non-magnetic materials magnetic
In solid-state physics, oxide layers only a few nanometres thick are known to form a so-called two-dimensional electron gas. These thin layers, separated from…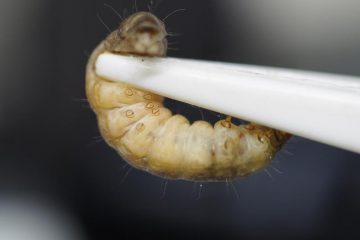 Caterpillars of the wax moth love eating plastic: Fraunhofer LBF investigates degradation process
Within the Framework of a research project on the chemical imaging analysis of plastic digestion in caterpillars (RauPE), a team from Fraunhofer LBF used…