Hormone boost for language development
At just two months old, babies experience a hormonal surge, generated by the sex hormones testosterone and estradiol, which scientists have known about for quite some time. During this time, boys and girls have hormone concentrations that are comparable to children during puberty and sometimes even adults. This "mini-puberty" only lasts a matter of weeks and until now nothing was known about the effects that it might have on early language development.
Scientists from the University of Würzburg and the Humboldt University of Berlin have made a discovery. Kathleen Wermke, a medical anthropologist and Director of the Center for Pre-Speech Development and Developmental Disorders at the University Hospital (Department of Orthodontics), working together with Volker Hesse, an endocrinologist from Charité Berlin, has managed to reveal a direct correlation between a high level of estradiol in infants at two months old and the first vocal utterances that are relevant to language acquisition. The research team is now presenting its work in the Biology Letters journal.
It starts with the melody
"In their first few months of life, infants lay important foundations for subsequent language acquisition," says Kathleen Wermke. Even before they coo their first sounds or try out speech-like "babbling", babies already practice melodic building blocks when they cry, producing melodies that can vary in their complexity. The degree of melody complexity demonstrated is a good predictor of subsequent language capability: The higher the proportion of complex melodies, i.e. melodies with two or more arcs, in a baby's crying, the better the child will later be at producing and understanding words and sentences.
However, this correlation is only valid for a certain age: "We revealed in a previous study that melody complexity was only suitable for predicting language capability at two and a half years old when determined at two months old – not in the first month and not in the third or fourth month either," says Wermke. The scientist could only speculate back then as to the reasons for this temporal limitation.
Study on 18 newborns
Collaborating with the Berlin endocrinologist Professor Volker Hesse, who has spent longer researching the mini-puberty of infants, put her on the right track. For the study, sexual hormones were measured in four and eight weeks old infants at Lindenhof Children's Hospital in Berlin. At the same age, the scientists recorded the spontaneous crying of the babies in the presence of their mothers and analyzed the melody of the single cries in the Würzburg baby laboratory.
The subsequent mathematical and statistical analysis produced a conclusive result: "We were able to prove a close correlation between the level of bioactive estradiol in the circulating blood of the babies and the variability of the melodies in their crying at two months old," concludes Wermke. Estradiol is biologically the most prevalent sex hormone in the estrogen class with far-reaching importance in brain development. The researchers were unable to discover any correlation between the babies' testosterone levels and the "melody repertoire" in their crying.
Girls are not inherently more gifted linguistically
There are, of course, a whole string of studies that show that girls are more gifted linguistically than boys. But this only applies when this statement refers to an average. Considered individually, there are also many linguistically gifted boys, just as there are, conversely, girls who have difficulties with language acquisition. This is consistent with the outcome of the study: "We find estradiol in the blood of male babies, too. In some cases, the level can even be well above the average value for girls. These boys then also show an above-average number of pronounced melodic variations in the second month."
How estradiol affects language development
At present, the scientists can only speculate about the ways in which estradiol influences the development of language capability in humans. "We know that this hormone is hugely important to the structural and functional organization of the brain," says Kathleen Wermke. Therefore, it presumably also plays a crucial role in the development of the specific structures of the brain that are responsible for language acquisition.
Genetics lie at the heart of another possible explanation: It has been known for some time now that the gene Foxp2 is pivotal to speech and language development. As recent studies show, this gene in various organisms is more active in the sex that is deemed to engage more in acoustic communication. Sex hormones seem to have a major role in the regulation of gene activity.
"Taking these results together, we believe that there is strong evidence that a better understanding of the events surrounding mini-puberty could significantly advance our knowledge of the development of language and the differences between the sexes in early language development," says Volker Hesse.
The researchers will therefore conduct a further study now to examine whether the influence of estradiol can still be proven at five months old. At this age, babies take a decisive new step in their linguistic development, moving away from melodic vocalizations to the first syllable-like, speech-like utterances in babbling.
Sex hormone influence on human infants' sound characteristics: melody in spontaneous crying. Kathleen Wermke, Johannes Hain, Klaus Oehler, Peter Wermke, and Volker Hesse. Biol. Lett. 20140095. http://dx.doi.org/10.1098/rsbl.2014.0095
Contact
Prof. Dr. Kathleen Wermke, T: +49 (0)931 201-73 430; Wermke_K@ukw.de
Media Contact
Gunnar Bartsch
idw - Informationsdienst Wissenschaft
All latest news from the category: Health and Medicine
This subject area encompasses research and studies in the field of human medicine.
Among the wide-ranging list of topics covered here are anesthesiology, anatomy, surgery, human genetics, hygiene and environmental medicine, internal medicine, neurology, pharmacology, physiology, urology and dental medicine.
Back to home
Newest articles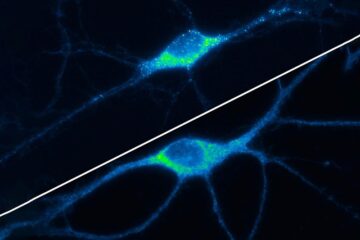 Neurons: How RNA granules grow and shrink
LMU scientists have shown that small aggregates function as temporary RNA repositories, which are regulated by neural activity. Cells constantly have to adapt the level of activity of certain genes…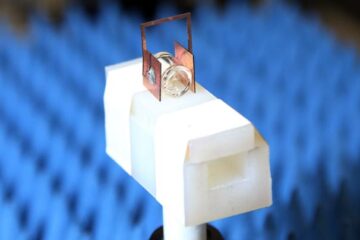 Custom 'headphones' boost atomic radio reception 100-fold
Researchers at the National Institute of Standards and Technology (NIST) have boosted the sensitivity of their atomic radio receiver a hundredfold by enclosing the small glass cylinder of cesium atoms…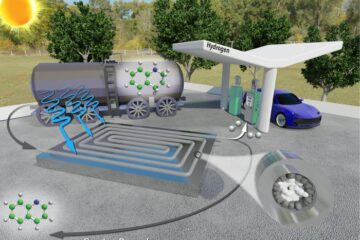 New tech aims to drive down costs of hydrogen fuel
Researchers from North Carolina State University have developed a new technique for extracting hydrogen gas from liquid carriers which is faster, less expensive and more energy efficient than previous approaches….