New approach may allow faster spinal anesthesia for cancer patients at end of life
For patients with uncontrolled pain from terminal cancer, a new approach to calculating initial dosage may allow a quicker start of spinal analgesia—and less time in the hospital, according to a study in the June issue of Anesthesia & Analgesia, official journal of the International Anesthesia Research Society (IARS).
Led by Dr Vivek Tim Malhotra of Memorial Sloan Kettering Cancer Center, New York, the researchers developed a set of equations for estimating the initial dose of intrathecal spinal pain relievers, thus avoiding the need for a trial period of epidural anesthesia in the hospital. The researchers hope their method will shorten the time to satisfactory pain control in patients with pain from advanced cancer, allowing them to spend more of their remaining days at home.
New Equations for Estimating Intrathecal Analgesia Dose
Intrathecal analgesia is an important option for "intractable" cancer pain that no longer responds to oral or injected pain medications. In this technique, a catheter is placed in the intrathecal space around the spinal cord, with individualized doses of strong opioid pain relievers given through a drug pump. The standard approach to determining the initial dose is a trial period of another type of spinal drug injection—epidural analgesia—performed in the hospital.
However, by the time patients are referred to a pain specialist for spinal analgesia, they typically have advanced cancer with limited life expectancy. Dr Malhotra and colleagues were looking for some way of calculating the initial intrathecal analgesia dose without the need for an epidural trial.
The researchers performed an in-depth analysis of 46 patients, treated over a six-year period, who underwent an epidural drug trial before intrathecal analgesia. The goal was to develop a way of predicting the initial intrathecal dose based on the patient's last oral or injected ("systemic") drug dosage.
Based on this and other factors—including the patient's age, type of pain, type of cancer, and pain severity score—the researchers were able to develop relatively simple equations for predicting the initial intrathecal opioid dose needed to control the patients' pain. The equations provided at least a guideline for estimating the initial spinal analgesia dose, while avoiding the need for an epidural trial.
In the 46 patients studied, time spent in the hospital for placement of the spinal catheter and epidural trial was between 9 and 17 days. Dr Malhotra and coauthors estimated that using the study equations—and avoiding the need for an epidural trial—could reduce hospital days by about half.
"This reduces time in the hospital for those with an already limited life expectancy and minimizes medical cost and potential complications," Dr Malhotra and coauthors write. For the patients studied, median life expectancy after leaving the hospital was less than three months.
The researchers note that their equations had a wide statistical range, indicating that they are best used for patients expected to survive only a short time. But for these patients, the study equation will provide a useful starting point, allowing patients to spend more of their final days at home rather than in the hospital. Dr Mahtola and colleagues plan further research—including data on side effects and quality of life—to refine their equations and better evaluate the benefits of intrathecal analgesia for intractable cancer pain.
Read the article in Anesthesia & Analgesia
About the IARS
The International Anesthesia Research Society is a nonpolitical, not-for-profit medical society founded in 1922 to advance and support scientific research and education related to anesthesia, and to improve patient care through basic research. The IARS contributes nearly $1 million annually to fund anesthesia research; provides a forum for anesthesiology leaders to share information and ideas; maintains a worldwide membership of more than 15,000 physicians, physician residents, and others with doctoral degrees, as well as health professionals in anesthesia related practice; sponsors the SmartTots initiative in partnership with the FDA; and publishes the monthly journal Anesthesia & Analgesia in print and online.
About Anesthesia & Analgesia
Anesthesia & Analgesia was founded in 1922 and was issued bi-monthly until 1980, when it became a monthly publication. A&A is the leading journal for anesthesia clinicians and researchers and includes more than 500 articles annually in all areas related to anesthesia and analgesia, such as cardiovascular anesthesiology, patient safety, anesthetic pharmacology, and pain management. The journal is published on behalf of the IARS by Lippincott Williams & Wilkins (LWW), a division of Wolters Kluwer Health.
Alle Nachrichten aus der Kategorie: Health and Medicine
This subject area encompasses research and studies in the field of human medicine.
Among the wide-ranging list of topics covered here are anesthesiology, anatomy, surgery, human genetics, hygiene and environmental medicine, internal medicine, neurology, pharmacology, physiology, urology and dental medicine.
Zurück zur Startseite
Neueste Beiträge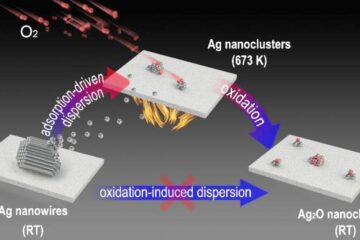 Metallic state of Ag nanoclusters in oxidative dispersion identified in situ
Oxidative dispersion has been widely used in the regeneration of sintered metal catalysts as well as the fabrication of single-atom catalysts. The consensus on the oxidative dispersion process includes the…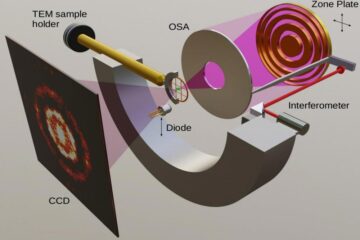 A COSMIC approach to nanoscale science
Instrument at Berkeley Lab's Advanced Light Source achieves world-leading resolution of nanomaterials. COSMIC, a multipurpose X-ray instrument at Lawrence Berkeley National Laboratory's (Berkeley Lab's) Advanced Light Source (ALS), has made…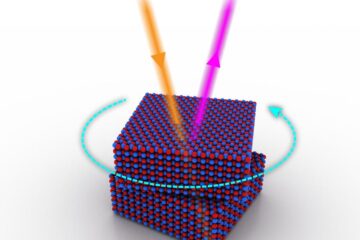 Twistoptics – A new way to control optical nonlinearity
Columbia researchers engineer first technique to exploit the tunable symmetry of 2D materials for nonlinear optical applications, including laser, optical spectroscopy, imaging, and metrology systems, as well as next-generation optical…