A bad alliance: Rare immune cells promote food-induced allergic inflammation in the esophagus
Food is an integral part of life; but, for some, it can be harmful. Allergic inflammation caused by inappropriate immune responses to some types of food has become a major public health issue. Over the past ten years, the prevalence of food allergies has increased by nearly 20 percent, affecting an estimated six million people in the U.S.
Eosinophilic esophagitis (EoE) is a food allergy-associated disease that affects children and adults and is caused by inflammation in response to such trigger foods as eggs, nuts, milk, wheat, and soy. Inflammation of the esophagus, as seen in EoE patients, can eventually lead to debilitating esophageal dysfunction, causing difficulty in swallowing, esophageal fibrosis, and food impaction. However, current treatment options for EoE, including adherence to strict diets, are non-specific and disruptive to patients' lifestyle.
Until recently, the mechanisms underlying the development of EoE were unclear, but a new study from the Perelman School of Medicine at the University of Pennsylvania and The Children's Hospital of Philadelphia (CHOP) shows that a type of rare immune cell and specific reactions to allergenic foods team up – in a bad way – to cause EoE. However, this association does point to new ways to possibly treat inflammation associated with EoE.
The presence of large populations of immune cells in the esophagus of human patients with EoE suggests that the immune system might contribute to the pathogenesis of this disease. In earlier work, researchers from CHOP, along with collaborators at Cincinnati Children's Hospital, found that genetic mutations in the gene that encodes for thymic stromal lymphopoietin (TSLP), a protein that is produced by epithelial cells that line the esophagus and directs the activities of various types of immune cells, are highly associated with EoE in children. These results suggested that TSLP played an important role in the development of this disease, but how this factor contributed to esophageal inflammation in response to food was unknown.
Now, David Artis, PhD, associate professor of Microbiology at Penn, two postdoctoral researchers in the Artis lab, Mario Noti, PhD and Elia Tait Wojno, PhD, and colleagues, have identified one mechanism by which TSLP might contribute to the development of EoE. They describe their work this week online ahead of print in Nature Medicine.
Using a mouse model of EoE, Artis's group found that sensitization to egg and peanut protein, in association with increased levels of TSLP, led to the mobilization of a rare type of immune cell called basophils. In healthy people, these cells comprise less than 1 percent of the total immune cells in the body. In EoE, however, these rare cells pack a punch – when mice with EoE were treated with therapeutic reagents that limited TSLP and basophil responses to food allergens, esophageal inflammation in these animals improved dramatically.
"The use of this new mouse model has revealed that TSLP production, and the resulting basophil responses, may be critical in promoting EoE in response to exposure to allergy-triggering foods," says Noti.
Supporting experiments in mouse models, the research team also found exaggerated TSLP and basophil responses in the esophageal biopsy tissues of pediatric and adult patients with EoE. What's more, pediatric EoE patients with a genetic mutation in the TSLP gene were more likely to have increased basophil responses in their blood compared to EoE patients that lacked this mutation.
"The identification of TSLP and basophil responses in the esophagus and peripheral blood of human patients with EoE supports our mouse model studies and indicates that these factors may play a key role in EoE in patients," says Tait Wojno.
The findings from both mouse and human studies suggest that TSLP and basophils may promote the development of inflammation in the esophagus in response to foods that trigger an allergic response in some individuals, or that TSLP and basophils could contribute to the persistence of inflammation. These factors could potentially be targeted using novel therapeutics to treat EoE in patients, say the researchers.
"Although more research is required, these studies suggest that we may be able to target TSLP and basophils to treat esophageal inflammation associated with EoE," adds Artis.
The research was funded by the National Institute Allergy and Infectious Disease (AI061570, AI087990, AI074878, AI095776, AI102942, AI095466, AI095608, AI097333, T32-AI060516, F32-AI098365, T32-AR007465, KL2-RR024132, F32-AI085828, AI091759, K08-AI089982, and R00EB010071), the Swiss National Science Foundation Prospective and Advanced Research Fellowships (PBBEP3_130438 and PA00P3_136468), the Australian National Health and Medical Research Council (613718), the State of Pennsylvania (SAP 4100042728), the Burroughs Wellcome Fund, the National Institute of Diabetes and Digestive and Kidney Diseases P30 Center for Molecular Studies in Digestive and Liver Diseases (P30-DK050306), the Joint Penn-CHOP Center in Digestive, Liver and Pancreatic Medicine, the National Institute of Allergy and Infectious Diseases Mucosal Immunology Studies Team consortium (U01-AI095608), the CHOP Institutional Development Fund, the Department of Defense (A-16809.2), Abbot Nutrition (ANUS1013), the Lehigh University start-up fund, and the Institute for Translational Medicine and Therapeutics Transdisciplinary Program in Translational Medicine and Therapeutics (UL1-RR024134 from the National Center For Research Resources).
Co-authors in addition to Artis, Noti, and Tait Wojno are Brian S. Kim, Mark C. Siracusa, Paul R. Giacomin, Meera G. Nair, Alain J. Benitez, Kathryn R. Ruymann, Amanda B. Muir, David A. Hill, Kudakwashe R. Chikwava, Paul Menard-Katcher, Terri Brown-Whitehorn, Patrick M. Sleiman, Hakon Hakonarson, Antonella Cianferoni, Gary Falk, Mei-Lun Wang, and Jonathan M. Spergel, all from Penn and CHOP; Amin E. Moghaddam and Quentin J. Sattentau from The University of Oxford; Aneesh Alex and Chao Zhou from Lehigh University; Jennifer H. Yearley and Rene de Waal Malefyt from Merck Research Laboratories; Masato Kubo from the RIKEN Yokohama Institute and the Tokyo University of Science; Kazushige Obata-Ninomiya and Hajime Karasuyama from the Tokyo Medical and Dental University Graduate School; and Michael R. Comeau from Amgen.
Penn Medicine is one of the world's leading academic medical centers, dedicated to the related missions of medical education, biomedical research, and excellence in patient care. Penn Medicine consists of the Raymond and Ruth Perelman School of Medicine at the University of Pennsylvania (founded in 1765 as the nation's first medical school) and the University of Pennsylvania Health System, which together form a $4.3 billion enterprise.
The Perelman School of Medicine has been ranked among the top five medical schools in the United States for the past 16 years, according to U.S. News & World Report's survey of research-oriented medical schools. The School is consistently among the nation's top recipients of funding from the National Institutes of Health, with $398 million awarded in the 2012 fiscal year.
The University of Pennsylvania Health System's patient care facilities include: The Hospital of the University of Pennsylvania — recognized as one of the nation's top "Honor Roll" hospitals by U.S. News & World Report; Penn Presbyterian Medical Center; and Pennsylvania Hospital — the nation's first hospital, founded in 1751. Penn Medicine also includes additional patient care facilities and services throughout the Philadelphia region.
Penn Medicine is committed to improving lives and health through a variety of community-based programs and activities. In fiscal year 2012, Penn Medicine provided $827 million to benefit our community.
Media Contact
Karen Kreeger
EurekAlert!
All latest news from the category: Health and Medicine
This subject area encompasses research and studies in the field of human medicine.
Among the wide-ranging list of topics covered here are anesthesiology, anatomy, surgery, human genetics, hygiene and environmental medicine, internal medicine, neurology, pharmacology, physiology, urology and dental medicine.
Back to home
Newest articles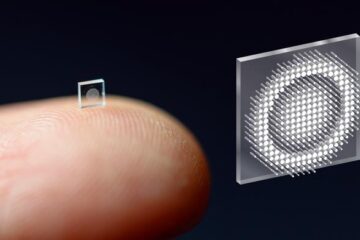 Researchers shrink camera to the size of a salt grain
Micro-sized cameras have great potential to spot problems in the human body and enable sensing for super-small robots, but past approaches captured fuzzy, distorted images with limited fields of view….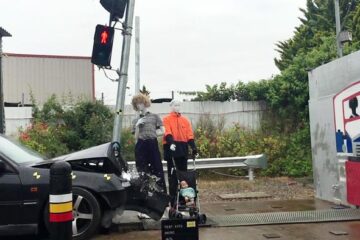 World-first product will be a lifesaving traffic stopper
Game-changing technology to design traffic lights that absorb kinetic energy, stopping them from crumpling when hit by a vehicle, will prevent thousands of fatalities and injuries each year and make…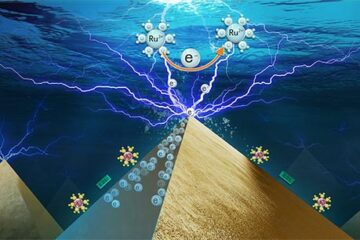 Scientists capture electron transfer image in electrocatalysis process
The involvement between electron transfer (ET) and catalytic reaction at electrocatalyst surface makes electrochemical process challenging to understand and control. How to experimentally determine ET process occurring at nanoscale is…