Changing the global dietary environment
Leading international experts from health, agriculture, food, education, finance, management, environmental protection, politics and economics will meet at the McGill University Health Challenge Think Tank on November 7-9 2007 to tackle one of the most serious threats to our children's health and well-being: the global childhood obesity pandemic.
Since 2003, Professor Laurette Dubé, James McGill Chair in Consumer and Lifestyle Psychology and Marketing, has convened an annual Health Challenge Think Tank based on the firm conviction that addressing global health issues in a comprehensive, effective way demands a massive mobilization across borders, sectors and areas of expertise. To that end, this year's event will draw a Who's Who of key international scientists, stakeholders and decision-makers, including representatives from the Food and Health Organization of the United Nations, the World Health Organization, the Culinary Institute of America, the American Beverage Association, the Clinton Foundation/American Heart Association's Alliance for a Healthier Generation and the Robert Wood Johnson Foundation, as well as from Unilever, PepsiCo, Kellogg, Sodexho, Discovery Kids, SAM Sustainable Asset Management and many other actors from the private sector and civil society.
As individuals, organizations, institutions and governments have been successfully mobilized to implement significant "environmentally friendly" actions, the 2007 Think Tank calls with the same urgency for "health-friendly" actions. "If we are to have a fighting chance at stopping the progression of the childhood obesity pandemic," says Dubé, "we need nothing less than a reconsideration of the basic ways in which our society operates to place health on everyone's agenda. This means looking at health within the broader economic and cultural context that critically shapes such an agenda."
Think Tank participants will examine the most strategic points along local and global food chains to shift the drivers of food supply and demand in a "health-friendly" direction. A special module in the program is devoted to the empowerment of schools and communities in the fight against obesity.
The McGill Health Challenge Think Tank is open to the media and will be webcast live. The Think Tank will be followed by two related events, a one-day Research Workshop to foster a novel, multi-sector approach to obesity prevention anchored in geo-spatial analyses and complex systems theories and methods (November 10) and a two-day WHO Forum on Trade and Healthy Food and Diets, aimed at informing national and international policy in matters at the convergence of trade, nutrition, health and diet (November 12-13).
Presenters at these two events may be available for interviews and web-recording will be posted upon closure.
This conference is organized by McGill University, in collaboration with partner and contributor organizations that include the Global Alliance for the Prevention of Obesity and Related Chronic Disease (IASO, WHF, IDF, IUNS and IPA), the Fondation André et Lucie Chagnon, the Ministère de la santé et des services sociaux du Québec, the Public Health Agency of Canada, the Agence de la santé et des services sociaux de Montréal, the Canadian Institutes for Health Research, Health Canada, the National Institutes of Health (USA), the Centers for Disease Control and Prevention (USA), the American Heart Association, the Ministère de l'agriculture, des pêcheries et de l'alimentation du Québec and the Canadian Agri-Food Policy Institute.
All news from this category: Event News
Back to the Homepage
Latest posts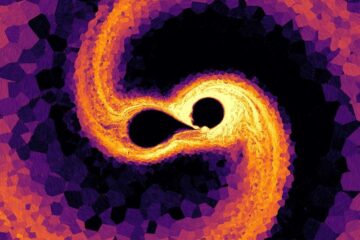 Exploring the evolution of stars
Fabian Schneider leads the new research group "Stellar Evolution Theory" (SET) at the Heidelberg Institute for Theoretical Studies (HITS). The astrophysicist explores the turbulent life of massive binary stars and…
Sustainable insulating material for shipping temperature-sensitive products
Researchers at the Institute of Natural Products Engineering at TU Dresden have developed an insulating material made from recycled paper for shipping temperature-sensitive foods and medicines. As part of a…
Helium nuclei at the surface of heavy nuclei discovered
Research team confirms a new nuclear property predicted by theory Scientists are able to selectively knockout nucleons and preformed nuclear clusters from atomic nuclei using high-energy proton beams. In an…