International Conference on Coatings on Glass and Plastics ICCG8 organized by Fraunhofer IST
Following the first seven successful ICCG meetings, the 8th International Conference on Coatings on Glass and Plastics ICCG will be organized by the Fraunhofer Institute for Surface Enginering and Thin Films IST in Braunschweig, Germany.
Taking place from June 13-17, 2010, this leading conference in the field of coatings on glass and plastics provides an excellent platform to discuss the latest trends and their implementation in new technologies or products in the field of large-area coatings of glass and plastics. More than 400 participants and more than 30 international exhibitors at the accompanying technical exhibition know: Each of the five conference days offers a wide-ranging variety of interesting presentations on significant topics. Qualified and valuable contacts to decision makers, technicians, suppliers and high potentials are assured.
Each of these topics will be discussed in detail from different points of view and by lecturers with broad professional backgrounds. Prof. Dr. Günter Bräuer, Chairman of the ICCG8 and director of the Fraunhofer Institute for Surface Engineering and Thin Films states: "The application of coatings is an area which has become extremely important for large-area or high-volume glass products. Besides glass, plastics are becoming more and more important as substrates for optical and electronic applications. For this reason the conference focuses on the development and application of advanced coatings on both, glass and plastics, using a broad and multidisciplinary approach".
The 8th ICCG provides information on the different technologies at a general level for new product designers, but also examines technical aspects, safety measures, and environmental and economic factors.
All details on the ICCG8 are available on www.iccg.eu
Preview: Advanced information on selected presentation topics at the ICCG8
CIS or CdTe – which semiconductor material will be superior in the market? Deposition methods to manufacture CIS based PV modules
The PV market has grown substantially with rates of more than 40 percent per year in the past decade. Crystalline silicon is still the dominating material, but thin films are taking over bigger shares. In 2008 already 15 percent of the shipments of PV modules worldwide have been thin films due to their cost advantages at high production volumes. The main materials for thin film PV modules are based on amorphous silicon, combinations thereof and the compound semiconductors CdTe and CIS. But which material and deposition method will finally be superior in cost and quality? At the ICCG8 an overview of the various deposition techniques and their potential regarding cost and quality will be given by Bernhard Dimmler, Director of Research and Development at Würth Solar GmbH & Co KG.
For further scientific information please contact:
Würth Elektronik Research GmbH, Schwäbisch Hall
Bernhard Dimmler, Managing Director
Phone +49 791 946 00 301
Fax: +49 7940 946 555 109
bernhard.dimmler@we-online.de
www.wuerth-solar.de
Patterned metallization and adhesive free bonding of polymer foils and glass for a cost-efficient production
Cost efficient technologies for patterned surface functionalizations or coating are of great interest within the glass and plastic industry. Scientists at the Fraunhofer Institute for Surface Engineering and Thin Films IST successfully demonstrated a roll-to-roll atmospheric pressure plasma process with area-selective surface modification of polymer film surfaces. Surfaces functionalized with this process are suitable for subsequent patterned electroless metallization and galvanic reinforcement for biosensors, solar cells, RFID tags or flexible printed circuits. Due to the additive technology a resource and cost efficient production process is possible. The potential for different application fields will be presented by Dr. Michael Thomas, Head of Atmospheric Pressure Plasma Processes at Fraunhofer IST.
For further scientific details please contact:
Fraunhofer Institute for Surface Engineering and Thin Films IST
Dr. Michael Thomas
Bienroder Weg 54 E
38108 Braunschweig
Phone +49 531 2155 525
Fax +49 531 2155 900
michael.thomas@ist.fraunhofer.de
How can photocatalytic activity be analysed quantitatively?
Photocatalytic coatings are of considerable industrial interest for different applications such as self-cleaning, anti-fouling, anti-fogging and anti-microbial surfaces. Crystalline titanium dioxide is a well known material showing photocatalytic activity under irradiation of UV light or even of visible light. TiO2 can be deposited with several deposition processes, e. g magnetron sputtering, thermal evaporation, sol-gel process, lacquer coating, thermal spray coating, CVD. All those technologies are examined by the Fraunhofer Photocatalysis Alliance Photocatalysis. Up to now, only a few methods have been established to measure the photonic efficiency of light-activated semiconductors. In order to compare the performance of the different production technologies and the photocatalytical activity of the coating the Fraunhofer Alliance Photocatalysis develops new methods for a quantitative determination of the photocatalytic activity. The results will be presented by Dr. Michael Vergöhl, Head of the Fraunhofer Photocatalysis Alliance and Head of Optics, Information and Communication at Fraunhofer IST.
For further scientific details please contact:
Fraunhofer Institute for Surface Engineering and Thin Films IST
Dr. Michael Vergöhl
Bienroder Weg 54 E
38108 Braunschweig
Phone +49 531 2155 640
Fax +49 531 2155 900
michael.vergoehl@ist.fraunhofer.de
www.ist.fraunhofer.de
Contact for the Press
Fraunhofer Institute for
Surface Engineering and Thin Films IST
Dr. Simone Kondruweit
Phone: + 49 531 2155-535
Fax: + 49 531 2155-900
simone.kondruweit@ist.fraunhofer.de
Elena Droege
Phone: + 49 531 2155-536
Fax: + 49 531 2155-900
elena.droege@ist.fraunhofer.de
Bienroder Weg 54 E
38108 Braunschweig
Germany
Media Contact
Dr. Simone Kondruweit
Fraunhofer Gesellschaft
All latest news from the category: Event News
Back to home
Newest articles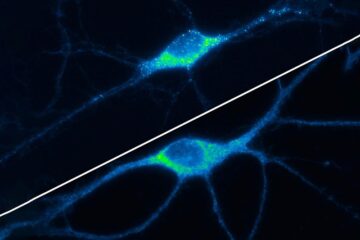 Neurons: How RNA granules grow and shrink
LMU scientists have shown that small aggregates function as temporary RNA repositories, which are regulated by neural activity. Cells constantly have to adapt the level of activity of certain genes…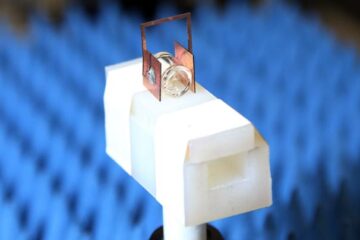 Custom 'headphones' boost atomic radio reception 100-fold
Researchers at the National Institute of Standards and Technology (NIST) have boosted the sensitivity of their atomic radio receiver a hundredfold by enclosing the small glass cylinder of cesium atoms…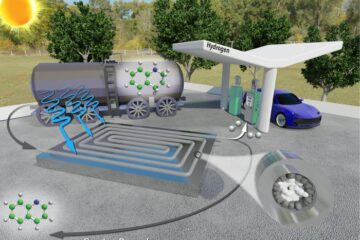 New tech aims to drive down costs of hydrogen fuel
Researchers from North Carolina State University have developed a new technique for extracting hydrogen gas from liquid carriers which is faster, less expensive and more energy efficient than previous approaches….