Where the Sage-grouse Roam
Symposium 5: Fighting the Odds: The Challenge to Save the Sagebrush Biome will be held in Oregon Ballroom 203 on Tuesday, August 3, 8:00 AM to 11:30 AM at the Oregon Convention Center

The sagebrush biome covers forty million hectares of the American West. Shaped by climate, fire, floods and volcanic eruptions since the Pleistocene era, the sagebrush biome now faces the impacts of increased cultivation, urbanization, exotic plant species, and altered fire patterns. In a session to be presented at the ESA 89th Annual Meeting entitled "Fighting the Odds: The Challenge to Save the Sagebrush Biome," researchers will discuss the history of the area and current projects underway to understand and restore this ecosystem. Rick Miller (Oregon State University) will introduce the session.
Michael Schroeder (Washington Department of Wildlife) will examine the impact of ecosystem changes on the distribution of the greater sage-grouse and the Gunnison sage-grouse in his presentation, "Changes in the distribution of sage-grouse in North America." Allen Rasmussen (Texas A&M University) will follow with a discussion on the suppression of fire in settled areas and the increases of fire fueled by cheatgrass in his presentation "Invasive species and fire cycles in sagebrush steppe ecosystems."
Exploring the effects of sheep and cattle, Kris Havstad (USDA Agriculture Research Service) and Marty Vavra (Starkey Experimental Forest) will present their talk, "Impacts of livestock grazing in sagebrush ecosystems. Focusing on the basic foraging behavior of livestock, they will review and characterize the direct and indirect impacts of managed grazing on sagebrush steppe rangelands.
The lands also play a role in oil and gas production. A majority of leases for gas and oil development are on federal lands in regions such as the Wyoming Basin and eastern Great Basin. Discussing a recent analysis under the Energy Policy and Conservation Act, Sean Finn, along with coauthors Steven Knick (USGS) and Thomas Rinkes (Bureau of Land Management), will discuss impacts of oil and gas development on sagebrush ecosystems in their talk "Impact of energy development on sagebrush ecosystems."
Ronald Nielson (USFS) will discuss the possibility of the sagebrush biome being squeezed by desert-like plants from the south and trees moving downslope from mountains in the talk, "Climate change implications for sagebrush ecosystems." Nielson will discuss the research he and colleagues James Lenihan (USFS) and Dominique Bachelet (Oregon State University) completed on frost patterns and the possible impacts of climate change on the Great Basin Ecosystems.
Steven Knick will describe how he and his USGS colleagues, Matthias Leu and Thomas Loveland, combined satellite imagery of habitats and surveys of sage sparrows, Brewers sparrows, and other bird species living within 250-meter buffers along roadsides in their paper, "Effect of multiscale habitat change in populations of birds breeding in sagebrush habitats."
After exploring the changes to the sagebrush biome the session will shift to restoration and land management. David Pyke (USGS) will describe the results of a four-state study of Bureau of Land Management wildfire rehabilitation projects in his presentation, "Restoration and rehabilitation – Bridges to build and impediments to success." Pyke's talk will be followed by a study on the close association between sage-grouse population success and sagebrush habitats completed by John Connelly (Idaho Department of Fish and Game), Kerry Reese (University of Idaho,) and Michael Schroeder (Washington Department of Wildlife). In "Restoration and recovery of sagebrush landscapes: a sage-grouse viewpoint," Connelly will discuss sage-grouse preferences in relation to landscape restoration.
"Economic and social ramifications of alternate management priorities in sagebrush ecosystems" will be presented by John Tanaka (Oregon State University, Union). The project is a collaborative effort between Tanaka, L. Torrel (New Mexico State University), Neil Rimbey (University of Idaho, Caldwell), Larry Van Tassell (University of Idaho, Caldwell), Tim Darden (New Mexico Department of State), and Aaron Harp, a consultant in Ann Arbor, Michigan. Using examples from Oregon, Nevada, and Idaho, Tanaka will explain how various restoration options could affect cattle ranches and rural communities.
John Freemuth's (Boise State University and Cecil Andrus Center for Public Policy) talk, "The policy landscape of the sagebrush ecosystem," will take a closer look at the politics behind management and recovery issues surrounding the sagebrush ecosystem.
Closing the session, Joel Brown, Brandon Bestelmeyer, and Jeffrey Herrick (Jornada Experimental Range) will argue that institutional guidelines for management are inadequate without a more localized set of scenarios. Brown will describe the group's suggestion for solving this problem in his presentation, "A manager's dilemma: Making logical decisions at the local scale."
Alle Nachrichten aus der Kategorie: Ecology, The Environment and Conservation
This complex theme deals primarily with interactions between organisms and the environmental factors that impact them, but to a greater extent between individual inanimate environmental factors.
innovations-report offers informative reports and articles on topics such as climate protection, landscape conservation, ecological systems, wildlife and nature parks and ecosystem efficiency and balance.
Zurück zur Startseite
Neueste Beiträge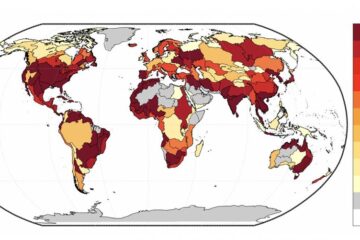 Humans drive most of the ups and downs in freshwater storage at Earth's surface
Water levels in the world's ponds, lakes and human-managed reservoirs rise and fall from season to season. But until now, it has been difficult to parse out exactly how much…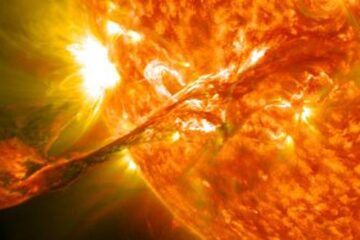 Source of hazardous high-energy particles located in the Sun
The source of potentially hazardous solar particles, released from the Sun at high speed during storms in its outer atmosphere, has been located for the first time by researchers at…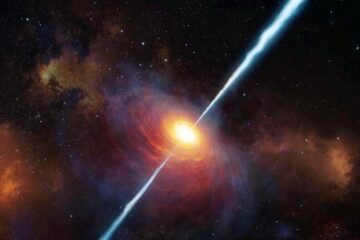 Most distant quasar with powerful radio jets discovered
With the help of the European Southern Observatory's Very Large Telescope (ESO's VLT), astronomers have discovered and studied in detail the most distant source of radio emission known to date….