Envisat fishes up facts behind Chilean giant squid invasion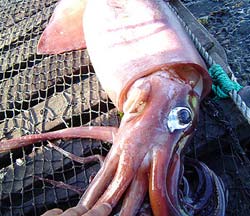 Masses of large ocean-going squid have inundated the shores of Southern Chile, alarming local fishermen who fear these carnivorous invaders could threaten fish stocks. Envisat has helped account for their otherwise mysterious arrival.
These jumbo flying squid – Dosidicus gigas is their Latin name – are some of the largest known squids on the planet: the ones here measure between 70 to 150 centimetres in length, although specimens have been known to reach more than three metres. Making their home in the open ocean, they rise to the surface at night to aggressively feed on small fish using barbed suckers.
In the final days of February more than 200 of the squid were washed up on the beaches around Ancud, on the northern coast of the island of Chiloé in southern Chile. Further incursions have since taken place towards Calbuco, on the inner side of the Chacao channel and towards the southern part of the island along the coast, up to Castro in the middle of the big island of 'Los Lagos' region of the country. Strandings have also been reported in more northerly areas such as Chile's VIII region.
Wondering why these deepwater animals unexpectedly made it to coastal waters is a matter of more than just scientific interest. Thousands of Chileans earn their livelihood from fishing in this part of the country, and these voracious cephalopods are known to prey on commercial fish including hake, sardines and anchovies. The squid themselves are a delicacy in some parts of the world but there is no local tradition of catching or consuming them.
But an explanation for the incursions was available – from 800 km away in space. Envisat's Advanced Along Track Scanning Radiometer (AATSR) instrument works like a space-based thermometer, taking the temperature of land and sea as it orbits the Earth. It can measure sea surface temperature (SST) to an accuracy of 0.3 degrees centigrade at a spatial resolution of one square km.
A Chilean team is currently working with AATSR SST results in combination with ocean colour data from another Envisat instrument, the Medium Resolution Imaging Spectrometer (MERIS). Chile's national fish farming association Salmon Chile has co-founded a pilot scheme with oceanography firm Mariscope Chilena, investigating the feasibility of a satellite-based early warning system for harmful phytoplankton blooms – explosive growths of sometimes toxic marine algae.
"The AATSR results show the appearance of the squid was connected with changes in the water mass conditions off the coast of Southern Chile in recent weeks," says Dr Cristina Rodríguez-Benito of Mariscope Chilena.
This part of the Chilean coast, like most western continental coasts, is subject to upwellings – cold, nutrient-rich waters rise from the oceans depths as prevailing winds blow warmer surface waters away. The phenomenon supports rich fisheries. But the AATSR data reveal that a coastal upwelling that typically influencing the waters between Chiloé and the mainland was not seen in the last week of February.
"This caused an influx of warmer water, between 0.5 and 1.5 degrees, and also squid, which are attracted to steep temperature and salinity gradients in the sea where they find their food," adds Rodríguez-Benito. "The squid ended up in a lens of cold water between warmer masses, and this carried them into the inner Gulf of Ancud area.
"The resulting decrease in water temperature can also have a direct effect on aquaculture, because the metabolic systems of fish species are very sensitive to such changes. Envisat's AATSR data registered a decrease of up to 3ºC.
"Even more important than temperature is the indication of the entrance of a water mass poor in oxygen that could be the reason for the losses already registered in some aquaculture sites.
"We are interested in such events as part of our main project because temperature gradients are often where new phytoplankton blooms occur. But the possibility of being able to predict these phenomena would be very useful also to the fishing industry."
The team plans to present their experiences of using Envisat data in this way to a conference this month of the Chilean Civil Protection Organisation.
Alle Nachrichten aus der Kategorie: Ecology, The Environment and Conservation
This complex theme deals primarily with interactions between organisms and the environmental factors that impact them, but to a greater extent between individual inanimate environmental factors.
innovations-report offers informative reports and articles on topics such as climate protection, landscape conservation, ecological systems, wildlife and nature parks and ecosystem efficiency and balance.
Zurück zur Startseite
Neueste Beiträge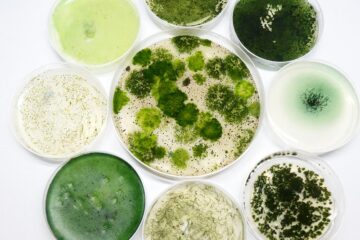 Cyanobacteria: Small Candidates …
… as Great Hopes for Medicine and Biotechnology In the coming years, scientists at the Chair of Technical Biochemistry at TU Dresden will work on the genomic investigation of previously…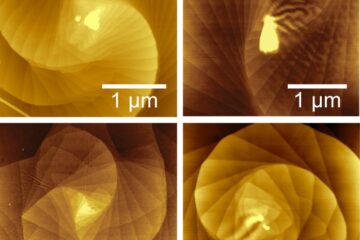 Do the twist: Making two-dimensional quantum materials using curved surfaces
Scientists at the University of Wisconsin-Madison have discovered a way to control the growth of twisting, microscopic spirals of materials just one atom thick. The continuously twisting stacks of two-dimensional…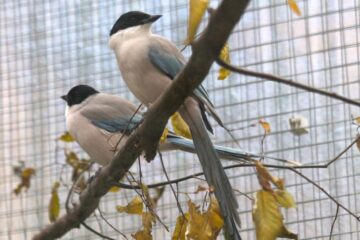 Big-hearted corvids
Social life as a driving factor of birds' generosity. Ravens, crows, magpies and their relatives are known for their exceptional intelligence, which allows them to solve complex problems, use tools…