Mt Gambier – Australian focus of international water supply study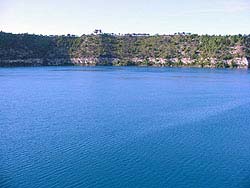 Mt Gambier's Blue Lake will be the Australian focus of an international study to ensure future drinking water for towns and cities dependent on ground water. As well as Mt Gambier, the study will include Doncaster in England, Rastatt in Germany, and Ljubljana in Slovenia.
In Australia, the AISUWRS (Assessing and Improving the Sustainability of Urban Water Resources and Systems) project is expected to have immediate benefits for other towns and cities such as Perth, Newcastle and Wagga Wagga.
Increasing uncertainty in supply and urban expansion are placing greater pressure on Australia's water resources and infrastructure. Water authorities are therefore looking at assessing their water resources and seeking alternative strategies for water management, such as water use reduction and potential usage of ground water.
Mr Stewart Burn of CSIRO Urban Water, who heads the CSIRO team responsible for the Australian effort, says, "The aim of the study is to develop a decision support system (DSS) for cities that rely on underground water".
"Right now we cannot reliably predict the water quality in urban aquifers and can't ensure the future health of people dependent on them.
"For example, while we know that the water quality from Blue Lake is of a high standard we know very little about the hydrogeology, geology or the effect of human activity on the long-term viability of the supply.
"We are very interested in looking at ground water pollution from industry, traffic, leaking sewers and stormwater pipes and agriculture.
"This will involve significant research to obtain the information needed to develop tools to allow us to predict the sustainability of drinking water and to make recommendations for the safeguarding and protection of urban water resources such as the Blue Lake", says Burn.
Part of the suite of tools includes the already developed Urban Volumes and Quality model, which has successfully been used in Australia and Germany to estimate water flows, and the contaminants they carry, from their source to the discharge point.
"The model has been improved to be used across all four case study cities and can now be used to explore alternative water supply reticulation, wastewater collection and stormwater drainage systems", Burn says.
The other AISUWRS tools will be four prediction tools to identify:
Pipeline leakage
Water transported to an aquifer
Transport of contaminants to an aquifer
Transport within an aquifer
And:
A DSS to compare the costs of infrastructure rehabilitation with the costs of aquifer contamination
The international case studies based on the cities in Australia, England, Germany and Slovenia will be used to ensure the reliability of the models and the computer tools developed as a result of the program, which is to be competed by October 2005.
Mr Burn says, "The tools developed are expected to be useful for urban regions throughout the world".
"The study comes at a time when the serious drought in Australia in particular has reinforced the knowledge that cities will have to either significantly reduce their demand for water or find new drinking water supplies."
The $2.48m budget for the Australian case study at Mt Gambier's Blue Lake is funded by CSIRO (Commonwealth Scientific & Industrial Research Organisation) and by the Innovation Access Programme – International Science and Technology, an initiative of the Australian Government's innovation statement, Backing Australia's Ability.
AISUWRS is a European Union initiative involving six partners:
Universität Karlsruhe (TH), Germany.
Robens Centre for Public & Environmental Health, Surrey, UK.
British Geological Survey, UK.
Institute for Mining, Geotechnology and Environment, Slovenia.
GKW Consult, Germany.
CSIRO Urban Water
More Information:
Stewart Burn, CSIRO Urban Water, +61 3 9252 6032, Email: Stewart.Burn@csiro.au
Ken Anderson, Manager Marketing Communication, 0414 457 214, Email: Ken.Anderson@csiro.au
www.urbanwater.de, or www.cmit.csiro.au
Alle Nachrichten aus der Kategorie: Ecology, The Environment and Conservation
This complex theme deals primarily with interactions between organisms and the environmental factors that impact them, but to a greater extent between individual inanimate environmental factors.
innovations-report offers informative reports and articles on topics such as climate protection, landscape conservation, ecological systems, wildlife and nature parks and ecosystem efficiency and balance.
Zurück zur Startseite
Neueste Beiträge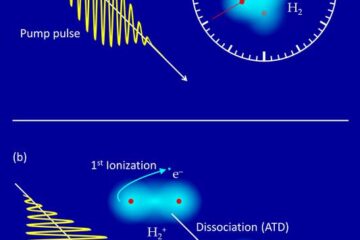 Rotation of a molecule as an "internal clock"
Using a new method, physicists at the Heidelberg Max Planck Institute for Nuclear Physics have investigated the ultrafast fragmentation of hydrogen molecules in intense laser fields in detail. They used…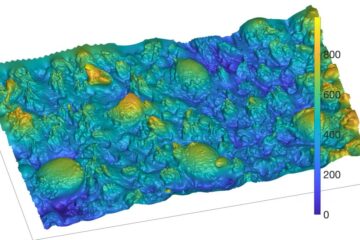 3D printing the first ever biomimetic tongue surface
Scientists have created synthetic soft surfaces with tongue-like textures for the first time using 3D printing, opening new possibilities for testing oral processing properties of food, nutritional technologies, pharmaceutics and…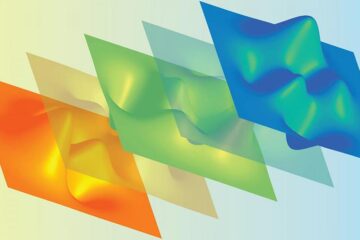 How to figure out what you don't know
Increasingly, biologists are turning to computational modeling to make sense of complex systems. In neuroscience, researchers are adapting the kinds of algorithms used to forecast the weather or filter spam…