Biodegradable reinforced plastics could replace landfills with compost heaps, Cornell fiber scientist believes
Instead of landfills clogged with computer and car parts, packaging and a myriad of other plastic parts, a Cornell University fiber scientist has a better idea. In coming years, he says, many of these discarded items will be composted.
The key to this "green" solution, says researcher Anil Netravali, is fully biodegradable composites made from soybean protein and other biodegradable plastics and plant-based fibers, developed at Cornell and elsewhere.
"These new fully biodegradable, environment-friendly green composites have good properties and could replace plastic parts in the interiors of cars and trains, in computers and in packaging materials and other consumer products," says Netravali, a professor of fiber science in the College of Human Ecology at Cornell. "They also provide excellent insulation against heat and noise for use in applications such as cars. Although the plant-based fibers may not be as strong as graphite and Kevlar®, for example, they are low in cost, biodegradable and replenishable on a yearly basis," he says.
Netravali's findings are published in the September issue of the Journal of Materials Science .
He presented his research on green composites made from ramie fibers (which have a feel similar to silk) at the International Conference on Composites Engineering in Denver two years ago and in San Diego this summer. Ramie fibers are obtained from the stem of an Asian perennial shrub and the resin made from a soy protein isolate-polymer. He did this work in collaboration with Preeti Lodha, a graduate student who received her master's degree from Cornell in 2000, and Sunghyun Nam, who completed her master's in fiber science earlier this year.
Instead of nondegradable plastics based on petroleum products, green composites (also known as reinforced plastics) use natural fibers that, for strength, are embedded in a matrix made of a plant-based or other resin. Netravali points out that composites technology is not new — he cites primitive bricks and walls made of straw mixed with mud as examples.
Netravali notes that most nondegradable plastic composites, made from petroleum-based or synthetic polyurethane, polyethylene and polypropylene, end up in landfills. Not much can be reused or recycled. Plant-based green composites, however, could, he says, become inexpensive alternatives for many mass-produced items. "They will be made from yearly renewable agricultural sources and would be environmentally friendly because they would naturally biodegrade once they were thrown on a compost pile."
Netravali's research group is working with a number of fibers, including those obtained from kenaf stems, pineapple and henequen leaves and banana stems. The resin materials he is researching include commercial resins, such as polyvinyl alcohol and polylactones, and those derived from microorganisms. He currently is manipulating the composites to improve their mechanical properties, such as stiffness and strength, and to decrease their water absorption, which could start premature degradation.
The new composites could also substitute for wood in such applications as crates or building studs. "Trees take 25 years to grow; fibers we use, however, come from plants that grow to maturity in a year," Netravali points out.
Netravali agrees that green composites are likely to be more expensive than nonbiodegradable plastics, but as they gain acceptance and the volume increases, they will become less expensive, he says. For example, graphite fibers, commonly used as a reinforcement in space applications, cost over $180 a pound when first developed. Today they are less than $10 a pound.
Media Contact
Susan S. Lang
EurekAlert!
All latest news from the category: Ecology, The Environment and Conservation
This complex theme deals primarily with interactions between organisms and the environmental factors that impact them, but to a greater extent between individual inanimate environmental factors.
innovations-report offers informative reports and articles on topics such as climate protection, landscape conservation, ecological systems, wildlife and nature parks and ecosystem efficiency and balance.
Back to home
Newest articles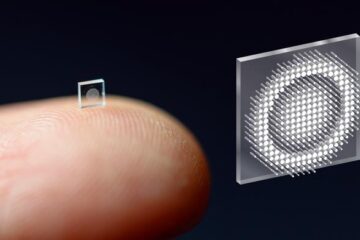 Researchers shrink camera to the size of a salt grain
Micro-sized cameras have great potential to spot problems in the human body and enable sensing for super-small robots, but past approaches captured fuzzy, distorted images with limited fields of view….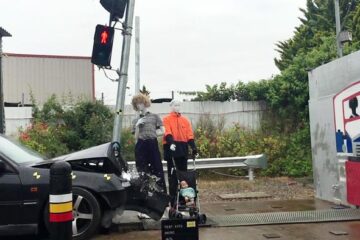 World-first product will be a lifesaving traffic stopper
Game-changing technology to design traffic lights that absorb kinetic energy, stopping them from crumpling when hit by a vehicle, will prevent thousands of fatalities and injuries each year and make…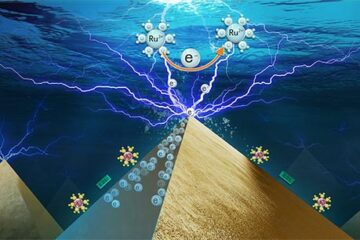 Scientists capture electron transfer image in electrocatalysis process
The involvement between electron transfer (ET) and catalytic reaction at electrocatalyst surface makes electrochemical process challenging to understand and control. How to experimentally determine ET process occurring at nanoscale is…