URI Biological Oceanographers Study Potentially Toxic Microalgae on the Northeast Coast
The scientific community concurs that the occurrence of harmful algal blooms (HABs) is increasing worldwide. The annual loss from HABs worldwide is probably more than $1 billion, including both mortality and unmarketable products. The annual human cost has been estimated at 2,000 cases of poisoning with 15% mortality. Because there is no international record of economic loss and human intoxication incidents by HABs, these numbers are almost certainly underestimates.
In a recent issue of Northeastern Naturalist, University of Rhode Island biological oceanographers Paul E. Hargraves and Lucie Maranda described the occurrence of 46 phytoplankton species that are potentially toxic to humans, or harmful to marine life, or both. The area from which they compiled their information includes the southeast coast of Nova Scotia to the Hudson River estuary in New York and out to the edge of the continental shelf. The research was supported by the National Science Foundation and the National Oceanic and Atmospheric Administration.
Hargraves and Maranda included in their list species considered potentially toxic to humans if one or more strains of the species is known to produce toxins affecting humans, the species in strongly implicated or proven to cause human illness or fatality, or the species has produced a positive reaction in mammalian toxicity tests. They also included species harmful to marine life if one or more strains are known to produce substances harmful to normal life processes, or the species is strongly implicated or proved to cause mortality under laboratory or natural conditions.
The comprehensive list contained in the article describes each species, its characteristics, location, the level of toxicity, and some of the problems the species has caused to marine plants, animals, and humans.
"We must emphasize that the presence of a species known to be toxic or harmful in other coastal locations does not mean that it is so in our area," said Hargraves. "A number of the species we have included are not known to be harmful in the northeast. Others have caused human or marine harm only in localized areas. And still others are probably recent invasive species.
"The economic cost of harmful algae is significant," added Hargraves. "During the period 1987-1992, for example, the average annual economic cost in the U.S. was $49 million per year, in year 2000 dollars, but singular catastrophic events may individually exceed this average."
Hargraves described a particular bloom of the ordinarily nonharmful dinoflagellateCeratium tripos that occurred in 1976 off the New York-New Jersey coast. When the bloom decayed, it caused anoxia (lack of oxygen) over a wide area, resulting in losses estimated at $1 billion (in year 2000 dollars). While these events may not be predictable, the potential impact of such events can be minimized by rigorous, although costly, monitoring programs.
"On a global scale, eutrophication, aquaculture practices, sediment transport, and the many subtle changes that may accompany global climate modification, can create conditions which are conducive, either directly or indirectly, to bloom development and toxin enhancement in normally benign species," said Hargraves. "The global upward trend in harmful bloom events, the spread of the species involved, and the rise in economic impacts are not encouraging."
The URI Graduate School of Oceanography is one of the country's largest marine science education programs, and one of the world's foremost marine research institutions. Founded in 1961 in Narragansett, RI, GSO serves a community of scientists who are researching the causes of and solutions to such problems as acid rain, global warming, air and water pollution, oil spills, overfishing, and coastal erosion. GSO is home to the Coastal Institute, the Coastal Resources Center, Rhode Island Sea Grant, the Ocean Technology Center, and the National Sea Grant Library.
Contact: Lisa Cugini, (401) 874-6642, lcugini@gso.uri.edu
All latest news from the category: Ecology, The Environment and Conservation
This complex theme deals primarily with interactions between organisms and the environmental factors that impact them, but to a greater extent between individual inanimate environmental factors.
innovations-report offers informative reports and articles on topics such as climate protection, landscape conservation, ecological systems, wildlife and nature parks and ecosystem efficiency and balance.
Back to home
Newest articles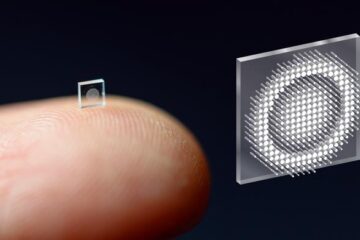 Researchers shrink camera to the size of a salt grain
Micro-sized cameras have great potential to spot problems in the human body and enable sensing for super-small robots, but past approaches captured fuzzy, distorted images with limited fields of view….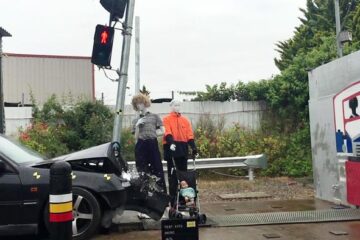 World-first product will be a lifesaving traffic stopper
Game-changing technology to design traffic lights that absorb kinetic energy, stopping them from crumpling when hit by a vehicle, will prevent thousands of fatalities and injuries each year and make…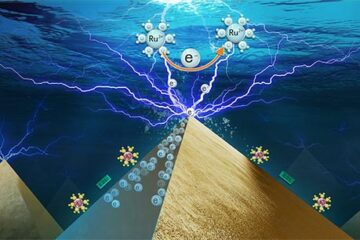 Scientists capture electron transfer image in electrocatalysis process
The involvement between electron transfer (ET) and catalytic reaction at electrocatalyst surface makes electrochemical process challenging to understand and control. How to experimentally determine ET process occurring at nanoscale is…