Reusable materials from metallurgical plant dumps reduces imports of raw material
The reason: comprehensive data regarding the exact reusable material potential of these dumps is missing. To close this gap, Fraunhofer UMSICHT is coordinating the "REStrateGIS" project. The objective is to develop a multi-scalar resource register for metallurgical plant dumps.
Germany is, to a high degree, dependent on imports of raw materials, in particular for high-tech products. There are still a lot of not yet utilized anthropogenic deposits for metals and minerals. This includes metallurgical plant dumps for residues such as dusts, sludges, non-utilised slags and other metallurgical debris. These are all too rarely utilised because for one, the basic data regarding their specifically contained reusable material potential are missing.
For another, new concepts for recovery of the reusable materials are necessary. Here is where the collaborative project "REStrateGIS", sponsored by the German Federal Ministry of Education and Research (BMBF – Bundesministerium für Bildung und Forschung) program"r³: Innovative Technologies for Resource Efficiency – Strategic Metals and Minerals", comes into play. Over the course of three years, the work will be performed in an interdisciplinary and transdisciplinary approach by four partners (Halle-Wittenberg University, EFTAS GmbH, FEhS-Institute e.V. and UMSICHT) and supported by a Project Advisory Board (PAB) – consisting of representatives from industry, politics, science and associations.
Detecting dumps via remote sensing data
To close the data gaps regarding reusable material potentials in dumps via the multi-scalar register, the team is prototypically reviewing archive data and applying methods of remote sensing as well as innovative laboratory methods.
The multi-scalar register provides mapping at three spatial dimensions. The spatial and content resolution as well as depth of detail increases from level to level. The top level is comprised of the concept design and development of a Germany-wide overview register that is made available online. In the register, data from various sources regarding existing dumps in Germany is presented in an overview style. The register contains a spatial component – the dumps are presented as objects within an interactive map application.
In addition to the research at government agency archives, remote sensing is also a tool of choice. Here, a methodology is being developed – applied in two test regions / to detect dumps by means of remote sensing data. On the second level, the resolution is increased. In a region with a high density of dumps, information regarding location, size and areas of origin of the deposited materials is modeled in a geographical information system (GIS).
The third level, with the highest spatial resolution, describes a dump body in detail. For this, a 3D image of the dump is created with a GIS.
New processes for reusable material recovery
Furthermore, concepts for the recovery of reusable materials are developed based on chemical and pyro-metallurgical laboratory tests which then, in combination with an obstacle analysis are incorporated into the utilisation strategies.
In addition, the researchers test the dump's deposited material. These tests also include methods of terrestrial reflection spectrometry, in addition to laboratory analyses. The tests are rounded out by an airborne hyper-spectral flyover. The results of the tests and the flyover are combined with the 3D model of the dump in the GIS. The recorded data and the derived information constitute the foundation for the development of methods for the recovery of reusable materials.
Media Contact
Iris Kumpmann
Fraunhofer-Institut
All latest news from the category: Earth Sciences
Earth Sciences (also referred to as Geosciences), which deals with basic issues surrounding our planet, plays a vital role in the area of energy and raw materials supply.
Earth Sciences comprises subjects such as geology, geography, geological informatics, paleontology, mineralogy, petrography, crystallography, geophysics, geodesy, glaciology, cartography, photogrammetry, meteorology and seismology, early-warning systems, earthquake research and polar research.
Back to home
Newest articles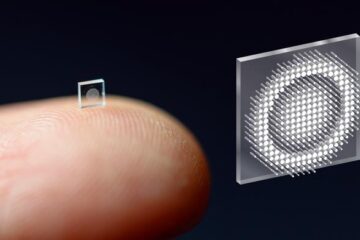 Researchers shrink camera to the size of a salt grain
Micro-sized cameras have great potential to spot problems in the human body and enable sensing for super-small robots, but past approaches captured fuzzy, distorted images with limited fields of view….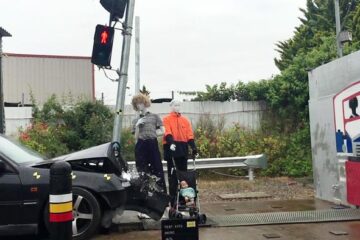 World-first product will be a lifesaving traffic stopper
Game-changing technology to design traffic lights that absorb kinetic energy, stopping them from crumpling when hit by a vehicle, will prevent thousands of fatalities and injuries each year and make…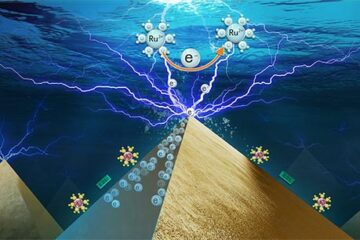 Scientists capture electron transfer image in electrocatalysis process
The involvement between electron transfer (ET) and catalytic reaction at electrocatalyst surface makes electrochemical process challenging to understand and control. How to experimentally determine ET process occurring at nanoscale is…