NASA ozone satellite improves snowstorm forecasts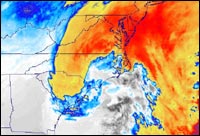 Scientists in sunny, hot Florida are thinking cold thoughts since they added ozone measurements from a NASA satellite into computer weather forecast models and improved several factors in a forecast of a major winter snowstorm that hit the United States in 2000.
When scientists added ozone measurements, predictions of snowstorm intensity, snowfall amounts and the storm track all improved for a storm that hit Washington, D.C. As such, they may be able to do the same for future storms, according to a study published in a recent issue of the American Meteorological Society's Journal of Applied Meteorology.
Kun-Il Jang and Xiaolei Zou, research scientists from Florida State University, used data from NASA's Earth Probe/Total Ozone Mapping Spectrometer (TOMS) satellite to create a more accurate prediction of a January 2000 snowstorm in the Washington metropolitan area. Other researchers included Mel Shapiro of the National Oceanic and Atmospheric Administration's (NOAA) Environmental Technology Laboratory (ETL), Manuel Pondeca of NOAA's National Center for Environmental Prediction (NCEP), C. Davis of the National Center for Atmospheric Research (NCAR), Boulder, Colo., and A. Krueger of the University of Maryland, Baltimore County.
The TOMS satellite monitors daily changes in the amounts of ozone in Earth's atmosphere stretching from the Earth's surface into the stratosphere, as high as 30 miles up. In this study, the scientists decided to add ozone data to an historic forecast and improved it.
The scientists added air motions in the upper atmosphere inferred from TOMS measurements of ozone into the computer model, along with lower troposphere readings taken during the event of temperature, humidity, wind, and dewpoint from balloon-borne sensors called radiosondes. Together, the two data sources created an accurate picture of the total atmosphere where the weather occurs. Current forecast models just use the radiosonde data of precipitation and temperature.
"The 36-hour forecasts using the radiosonde data were more accurate than those just using the computer forecast model," Jang said. "The addition of ozone data into the forecast model moved the storm prediction closer to the East coast, which is what really happened." When the ozone data was added into the mix, it reduced errors on predicted storm tracks, especially in the 12- to 24-hours period. The findings were verified with multi-sensor hourly precipitation totals from NOAA/NCEP.
By better knowing when and where the heaviest snow will fall during a storm, public works departments can direct their snow moving equipment and can estimate where problem areas may occur. Other potential uses of this forecast model include 36-hour advanced predictions of different forms of air movement.
Previous research links atmospheric movements, such as wind, heat and moisture to ozone measurements. These movements occur horizontally across the Earth's surface, as well as vertically from the surface up, and sometimes stretch over several hundred miles or more.
One of the most noticeable areas of motion is in the vicinity of the jet stream, and the movement of ozone helps identify its location. The jet stream is a river of fast moving air in the upper atmosphere that steers storms around the world. Knowing the exact location of the jet stream would give forecasters a better idea of where storms may move. In the northern hemisphere, it moves from west to east and divides colder air from warmer air.
More case studies are being conducted to fully assess the usefulness of assimilating TOMS ozone data for more accurate weather prediction.
NASA's Earth Science Enterprise office partially funded this research. The Enterprise is dedicated to understanding the Earth as an integrated system and applying Earth System Science to improve predication of climate, weather, and natural hazards using the unique vantage point of space
Alle Nachrichten aus der Kategorie: Earth Sciences
Earth Sciences (also referred to as Geosciences), which deals with basic issues surrounding our planet, plays a vital role in the area of energy and raw materials supply.
Earth Sciences comprises subjects such as geology, geography, geological informatics, paleontology, mineralogy, petrography, crystallography, geophysics, geodesy, glaciology, cartography, photogrammetry, meteorology and seismology, early-warning systems, earthquake research and polar research.
Zurück zur Startseite
Neueste Beiträge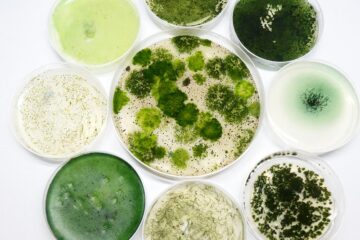 Cyanobacteria: Small Candidates …
… as Great Hopes for Medicine and Biotechnology In the coming years, scientists at the Chair of Technical Biochemistry at TU Dresden will work on the genomic investigation of previously…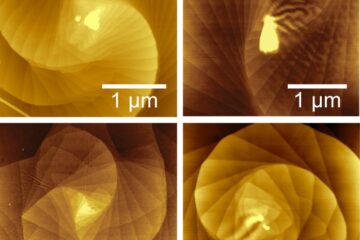 Do the twist: Making two-dimensional quantum materials using curved surfaces
Scientists at the University of Wisconsin-Madison have discovered a way to control the growth of twisting, microscopic spirals of materials just one atom thick. The continuously twisting stacks of two-dimensional…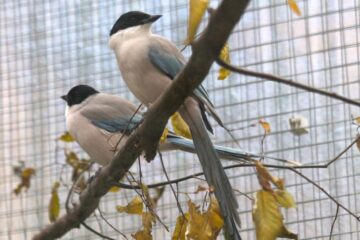 Big-hearted corvids
Social life as a driving factor of birds' generosity. Ravens, crows, magpies and their relatives are known for their exceptional intelligence, which allows them to solve complex problems, use tools…