NASA Eyes Typhoon Prapiroon Intensifying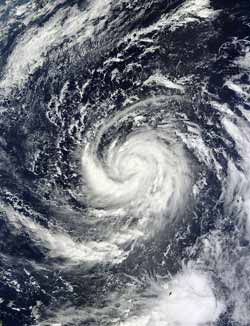 Tropical Depression 22W was born on Oct. 7. On Monday, Oct. 8, the twenty-second tropical cyclone had organized and strengthened into Tropical storm Prapiroon. At that time it was located about 600 miles southeast of Kadena Air Base, Okinawa, Japan. The storm had maximum sustained winds near 55 knots (63.2 mph/102 kph) on Oct. 8.
The Moderate Resolution Imaging Spectroradiometer (MODIS) instrument aboard NASA's Terra satellite captured a visible image of Tropical Storm Prapiroon in the Philippine Sea on Oct. 8 at 0140 UTC. It revealed a large band of strong thunderstorms wrapping into the center from the west and south.
The next day, Oct. 9, Prapiroon had become a typhoon with maximum sustained winds near 65 knots (75 mph/120.4 kph). It is expected to continue intensifying over the next several days. Prapiroon was located near 18.0 North and 131.8 East longitude, about 555 nautical miles (639 miles/1,028 km) south-southeast of Kadena Air Base, Okinawa, Japan. It is moving to the west-northwest at 4 knots (4.6 mph/7.4 kph). Because the storm slowed down, it has intensified. NASA's Tropical Rainfall Measuring Mission satellite spotted an eye feature using microwave imagery.
Prapiroon is expected to continue moving west and then make a U-turn toward the northeast over the next day or two, while remaining over open ocean.
Text credit: Rob Gutro
NASA's Goddard Space Flight Center, Greenbelt, Md.
All latest news from the category: Earth Sciences
Earth Sciences (also referred to as Geosciences), which deals with basic issues surrounding our planet, plays a vital role in the area of energy and raw materials supply.
Earth Sciences comprises subjects such as geology, geography, geological informatics, paleontology, mineralogy, petrography, crystallography, geophysics, geodesy, glaciology, cartography, photogrammetry, meteorology and seismology, early-warning systems, earthquake research and polar research.
Back to home
Newest articles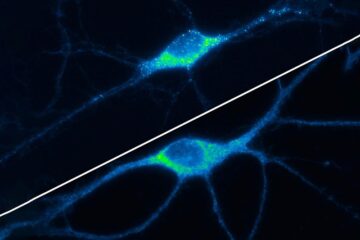 Neurons: How RNA granules grow and shrink
LMU scientists have shown that small aggregates function as temporary RNA repositories, which are regulated by neural activity. Cells constantly have to adapt the level of activity of certain genes…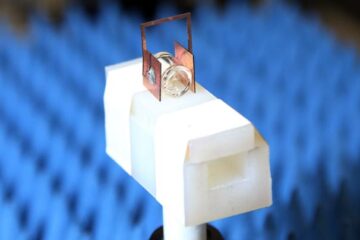 Custom 'headphones' boost atomic radio reception 100-fold
Researchers at the National Institute of Standards and Technology (NIST) have boosted the sensitivity of their atomic radio receiver a hundredfold by enclosing the small glass cylinder of cesium atoms…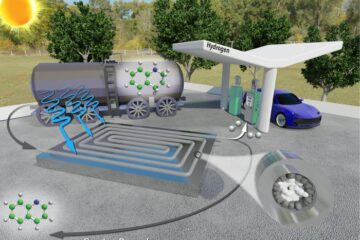 New tech aims to drive down costs of hydrogen fuel
Researchers from North Carolina State University have developed a new technique for extracting hydrogen gas from liquid carriers which is faster, less expensive and more energy efficient than previous approaches….