NASA's Aqua Satellite Sees Birth of Two Tropical Cyclones in Eastern Pacific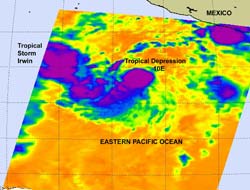 The eleventh tropical depression quickly grew into Tropical Storm Irwin this morning, as strong convection surged around its center of circulation. That convection (rising air that creates the thunderstorms that power a tropical cyclone) was seen in infrared imagery taken early this morning, Oct. 6, from the Atmospheric Infrared Sounder (AIRS) instrument aboard NASA's Aqua satellite. The cold cloud tops from those strong thunderstorms were colder than -63 Fahrenheit (-52 Celsius) and represented the strength in the core of Irwin.
At 11 a.m. today, Oct. 6, Tropical Storm Irwin's maximum sustained winds had grown to 40 mph, after forming as a depression just 5 hours before. Irwin was located about 855 miles (1,375 km) south-southwest of the southern tip of Baja California, Mexico near 12.4 North and 116.8 West. It was moving away from land to the west-northwest near 6 mph (9 kmh). The National Hurricane Center expects Irwin to turn to the north and then north-northeast tomorrow. Irwin is expected to strengthen slowly in the next 48 hours. Minimum central pressure was 1005 millibars.
Closer to land, NASA's Aqua satellite saw a smaller Tropical Depression 10E. Tropical Depression 10E (TD10E) appears pretty close to Tropical Storm Irwin on the AIRS infrared imagery. It is located to the east-southeast of Tropical Storm Irwin, and it appears to be a smaller, more compact, rounded area of strong convection. Specifically, TD10E is located near 10.3 North and 105.8 West, about 610 miles south of Manzanillo, Mexico. It has maximum sustained winds near 35 mph (55 kmh) and is moving to the west-northwest near 8 mph (13 kmh). The AIRS infrared data shows strong convection around the southwestern edge of the center of circulation, indicating that TD10E could also become a tropical storm shortly.
The National Hurricane Center noted that "The tropical cyclone is forecast to remain over warm waters and in a low (wind) shear environment during the next several days" and predicts it could become a hurricane in two or three days. By mid-day on Saturday, Oct. 8, the National Hurricane Center forecast projects TD10E to change course and "recurve ahead of a large trough (elongated area of low pressure) diving southeastward across the southwest United States and the Baja Peninsula."
Text credit: Rob Gutro
NASA/Goddard Space Flight Center, Greenbelt, Md.
All news from this category: Earth Sciences
Earth Sciences (also referred to as Geosciences), which deals with basic issues surrounding our planet, plays a vital role in the area of energy and raw materials supply.
Earth Sciences comprises subjects such as geology, geography, geological informatics, paleontology, mineralogy, petrography, crystallography, geophysics, geodesy, glaciology, cartography, photogrammetry, meteorology and seismology, early-warning systems, earthquake research and polar research.
Back to the Homepage
Latest posts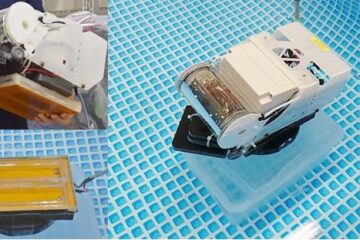 Seawater as an electrical cable !?
Wireless power transfers in the ocean For drones that can be stationed underwater for the adoption of ICT in mariculture. Associate professor Masaya Tamura, Kousuke Murai (who has completed the…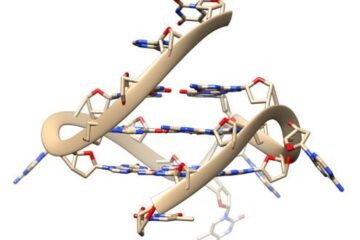 Rare quadruple-helix DNA found in living human cells with glowing probes
New probes allow scientists to see four-stranded DNA interacting with molecules inside living human cells, unravelling its role in cellular processes. DNA usually forms the classic double helix shape of…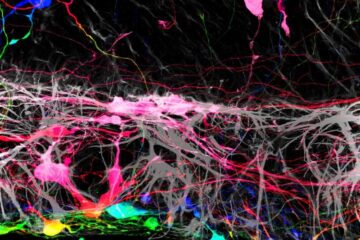 A rift in the retina may help repair the optic nerve
In experiments in mouse tissues and human cells, Johns Hopkins Medicine researchers say they have found that removing a membrane that lines the back of the eye may improve the…