How to Manage Nature's Runaway Freight Trains
These runaway freight trains made of rock, mud, and water can barrel down mountain channels with little or no warning and take out roads, homes, and anything else in their path.
Denuded, flame-dried soils of recently burned landscapes are especially prone to more runoff and greater danger of these destructive events.
The good news is that as the frequency of fires and subsequent debris flows and flash floods has increased, progress has also been made in figuring out how these sudden events are created and what can be done to safeguard life and property.
Understanding how a burned landscape responds to rainfall after a wildfire is a big step forward.
"There has been a great deal of improvement in our understanding of debris flows, erosion and flash flooding coming-out of burned areas," says Jerry DeGraff, a 36-year veteran of the U.S. Forest Service in California. "This is even more important considering the number of large fires that are occurring and recurring in the U.S. and other parts of the world."
DeGraff is one of the organizers of a session on flash floods and debris flows at the meeting of the Geological Society of America in Denver, Colorado. The session, Geomorphology and Hydrology Impacts from Wildfires: Advances in Our Understanding over the Last 50 Years, features a range of talks covering flash floods and debris flows in a variety of landscapes — from forests to scrubby chaparral that cover just about every kind of flammable landscape in the Western U.S.
"Structures — meaning homes and other buildings — have become a growing concern over the years as more people move into undeveloped areas whether nearer chaparral in Southern California or forests in the Intermountain West,:" says DeGraff. "The talks in the session reflect natural responses to wildfires and runoff that create hazards that may not even occur to the folks moving there."
One of the big science advances has been in the U.S. Geological Survey's debris flow models. These models have helped explain, for instance, where these potentially deadly flows are most likely to happen and how large they might be.
"We've learned that debris flows are likely from burned area for the first two years after a wildfire." says DeGraff. "But the chance of flash floods lasts a little longer." This kind of information helps determine what kinds of treatments might be done to mitigate damage.
"The more we can do to eliminate immediate hazards and longer-term impacts the better it is for emergency responders, residents, and government agencies." DeGraff says. "It's important to understand all the relative aspects: not only for immediate floods but also for the long term. It makes a difference to things like downstream municipal water supplies and road networks."
The session of brief talks makes up only half of the presentations. The talks focused on specific processes and what we have learned, and some also look at ecosystem effects. The other half of the presentations will take place at a poster session, where ongoing research will be presented.
WHEN & WHERE:
Session No. 13
Sunday, 27 October, 8 a.m. to noon
Colorado Convention Center Room 402
T81. Geomorphology and Hydrology Impacts from Wildfires: Advances in Our Understanding over the Last 50 Years
URL: https://gsa.confex.com/gsa/2013AM/webprogram/Session33206.html
Session No. 51
Sunday, 27 Oct. 9 a.m. to 6:30 p.m.
Colorado Convention Center Hall D
T81. Geomorphology and Hydrology Impacts from Wildfires: Advances in Our Understanding over the Last 50 Years (Posters)
URL: https://gsa.confex.com/gsa/2013AM/webprogram/Session34227.html
CONTACT:
Jerry DeGraff, jdegraff@fs.fed.us
ON-SITE NEWSROOM
Contact: Kea Giles
Colorado Convention Center, Room 608
+1-303-228-8431
The Geological Society of America, founded in 1888, is a scientific society with more than 25,000 members from academia, government, and industry in more than 100 countries. Through its meetings, publications, and programs, GSA enhances the professional growth of its members and promotes the geosciences in the service of humankind. Headquartered in Boulder, Colorado, USA, GSA encourages cooperative research among earth, life, planetary, and social scientists, fosters public dialogue on geoscience issues, and supports all levels of earth science education.
All latest news from the category: Earth Sciences
Earth Sciences (also referred to as Geosciences), which deals with basic issues surrounding our planet, plays a vital role in the area of energy and raw materials supply.
Earth Sciences comprises subjects such as geology, geography, geological informatics, paleontology, mineralogy, petrography, crystallography, geophysics, geodesy, glaciology, cartography, photogrammetry, meteorology and seismology, early-warning systems, earthquake research and polar research.
Back to home
Newest articles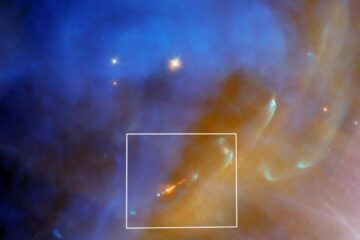 Hubble Spots a Swift Stellar Jet in Running Man Nebula
A jet from a newly formed star flares into the shining depths of reflection nebula NGC 1977 in this Hubble image. The jet (the orange object at the bottom center…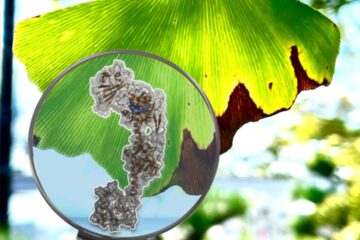 Hope rising for understanding and protecting against black rot disease
The mechanisms governing the light-sensitive activities of phytochrome, a bacterial protein, have been clarified at atomic scale resolution, opening the door to understanding black rot disease, as well as to…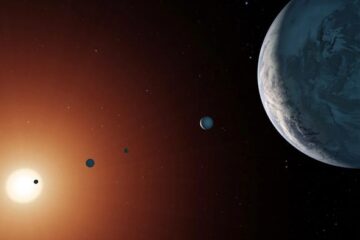 Orbital harmony limits late arrival of water on TRAPPIST-1 planets
Fragile orbits of seven exoplanets could survive only limited early bombardment. Seven Earth-sized planets orbit the star TRAPPIST-1 in near-perfect harmony, and U.S. and European researchers have used that harmony…