Greening at high latitudes may inhibit the expansion of midlatitude deserts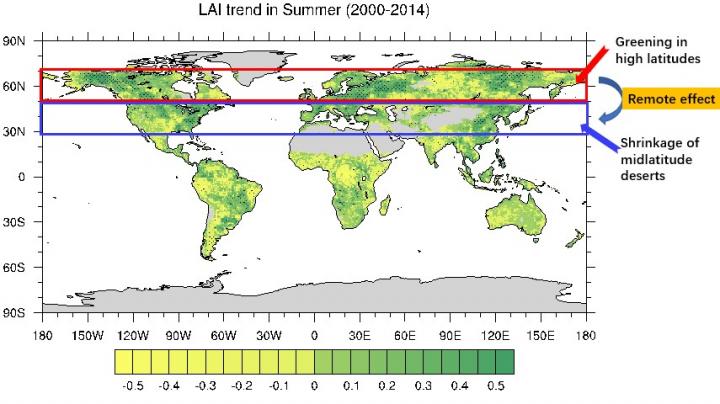 Interestingly, besides inducing a stronger greenhouse effect, increasing carbon dioxide is also leading to global vegetation greening, especially in high latitudes, by the fertilization effect.
However, it is still unknown whether greening in high latitudes could affect midlatitude deserts.
In a paper recently published in Atmospheric and Oceanic Science Letters, Dr. Yongli He from the department of Atmospheric Science, Lanzhou University, and his coauthors, try to address this question based on their work on the remote effect of greening in high latitudes.
"We investigated the remote effects of greening at high latitudes by using a two-dimensional energy balance model. We decreased the albedo in high latitudes to represent the greening phenomenon, and then investigated the changes in the boundaries of midlatitude deserts.
We found that the midlatitude deserts retreated significantly at the southern boundary, while the polar ice belts and low-latitude vegetation belts expanded," says Dr. He.
According to this study, high-latitude vegetation greening may inhibit the expansion of midlatitude deserts.
"However, due to the simplification of the two-dimensional energy balance model, the impact of high-latitude vegetation greening on the climate of midlatitude desert regions still needs further study," adds Dr. He.
Alle Nachrichten aus der Kategorie: Earth Sciences
Earth Sciences (also referred to as Geosciences), which deals with basic issues surrounding our planet, plays a vital role in the area of energy and raw materials supply.
Earth Sciences comprises subjects such as geology, geography, geological informatics, paleontology, mineralogy, petrography, crystallography, geophysics, geodesy, glaciology, cartography, photogrammetry, meteorology and seismology, early-warning systems, earthquake research and polar research.
Zurück zur Startseite
Neueste Beiträge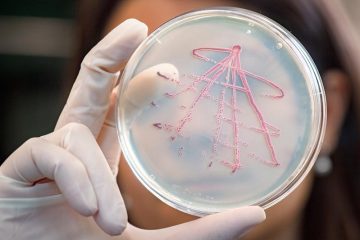 Grow faster, die sooner: How growth rates influence the fitness of bacteria
"The fitness of bacteria is more complex than expected," explains Ulrich Gerland, professor for the theory of complex biosystems at the Technical University of…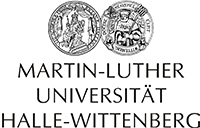 Spintronics: Researchers show how to make non-magnetic materials magnetic
In solid-state physics, oxide layers only a few nanometres thick are known to form a so-called two-dimensional electron gas. These thin layers, separated from…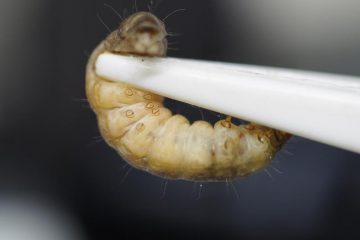 Caterpillars of the wax moth love eating plastic: Fraunhofer LBF investigates degradation process
Within the Framework of a research project on the chemical imaging analysis of plastic digestion in caterpillars (RauPE), a team from Fraunhofer LBF used…