Extra-Tropical Storm Lekima Weakens in Northern Pacific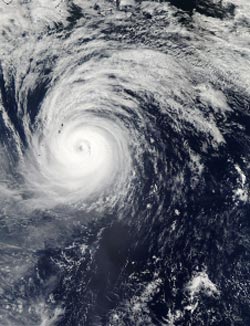 On Oct. 25 at 03:20 UTC, the Moderate Resolution Imaging Spectroradiometer or MODIS instrument aboard NASA's Aqua satellite captured a visible image of Typhoon Lekima in the northwestern Pacific Ocean.
It was the second to last day that Lekima held onto typhoon status before weakening to an extra-tropical storm. The image showed that Lekima still maintained an eye, although it was filling in with clouds. At the time of the MODIS image, bands of thunderstorms still wrapped tightly around the center of circulation.
On Saturday, Oct. 26 the Joint Typhoon Warning Center issued its final warning on Typhoon Lekima as it headed northeast into the cooler waters of the northern Pacific Ocean.
At 0900 UTC/5 a.m. EDT on Oct. 26, Lekima was still a typhoon with maximum sustained winds near 70 knots/80.5 mph/129.6 kph, but the winds were quickly waning. Lekima was located near 36.9 north latitude and 152.4 east longitude, about 565 nautical miles/650.2 miles/ 1.046 km east-southeast of Misawa, Japan. Lekima was transitioning into an extra-tropical, cold core low pressure area and speeding northeast at 39 knots/44.8 mph/72.2 kph.
As Lekima continued weakening the storm expanded. On Oct. 26 at 0900 UTC, tropical storm-force winds extended 210 nautical miles/241.7 miles/388.7 km from the center, making the storm as wide as 420 nautical miles/483.3 miles/777.7 km in diameter. Lekima was a weakening cold-core low pressure area on Oct. 28.
Text credit: Rob Gutro
NASA's Goddard Space Flight Center
All latest news from the category: Earth Sciences
Earth Sciences (also referred to as Geosciences), which deals with basic issues surrounding our planet, plays a vital role in the area of energy and raw materials supply.
Earth Sciences comprises subjects such as geology, geography, geological informatics, paleontology, mineralogy, petrography, crystallography, geophysics, geodesy, glaciology, cartography, photogrammetry, meteorology and seismology, early-warning systems, earthquake research and polar research.
Back to home
Newest articles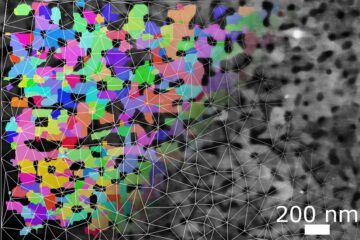 Thermal insulation for quantum technologies
Thermal insulation is not only important for buildings, but also in quantum technologies. While insulation panels around a house keep the heat inside, quantum devices require insulation against heat from…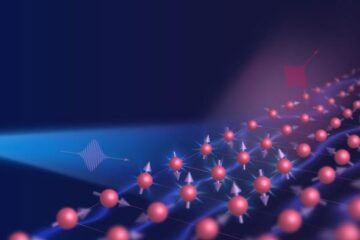 Spin keeps electrons in line in iron-based superconductor
Electronic nematicity, thought to be an ingredient in high temperature superconductivity, is primarily spin driven in FeSe finds a study in Nature Physics. Researchers from PSI's Spectroscopy of Quantum Materials…
Scientists devise method to prevent deadly hospital infections without antibiotics
Novel surface treatment developed at UCLA stops microbes from adhering to medical devices like catheters and stents. A hospital or medical clinic might be the last place you'd expect to…