Ancient ice melt unearthed in Antarctic mud
Global warming five million years ago may have caused parts of Antarctica's large ice sheets to melt and sea levels to rise by approximately 20 metres, scientists report today in the journal Nature Geoscience.
The researchers, from Imperial College London, and their academic partners studied mud samples to learn about ancient melting of the East Antarctic ice sheet. They discovered that melting took place repeatedly between five and three million years ago, during a geological period called Pliocene Epoch, which may have caused sea levels to rise approximately ten metres.
Scientists have previously known that the ice sheets of West Antarctica and Greenland partially melted around the same time. The team say that this may have caused sea levels to rise by a total of 20 metres.
The academics say understanding this glacial melting during the Pliocene Epoch may give us insights into how sea levels could rise as a consequence of current global warming. This is because the Pliocene Epoch had carbon dioxide concentrations similar to now and global temperatures comparable to those predicted for the end of this century.
Dr Tina Van De Flierdt, co-author from the Department of Earth Science and Engineering at Imperial College London, says: "The Pliocene Epoch had temperatures that were two or three degrees higher than today and similar atmospheric carbon dioxide levels to today. Our study underlines that these conditions have led to a large loss of ice and significant rises in global sea level in the past. Scientists predict that global temperatures of a similar level may be reached by the end of this century, so it is very important for us to understand what the possible consequences might be."
The East Antarctic ice sheet is the largest ice mass on Earth, roughly the size of Australia. The ice sheet has fluctuated in size since its formation 34 million years ago, but scientists have previously assumed that it had stabilised around 14 million years ago.
The team in today's study were able to determine that the ice sheet had partially melted during this "stable" period by analysing the chemical content of mud in sediments. These were drilled from depths of more than three kilometres below sea level off the coast of Antarctica.
Analysing the mud revealed a chemical fingerprint that enabled the team to trace where it came from on the continent. They discovered that the mud originated from rocks that are currently hidden under the ice sheet. The only way that significant amounts of this mud could have been deposited as sediment in the sea would be if the ice sheet had retreated inland and eroded these rocks, say the team.
The academics suggest that the melting of the ice sheet may have been caused in part by the fact that some of it rests in basins below sea level. This puts the ice in direct contact with seawater and when the ocean warms, as it did during the Pliocene, the ice sheet becomes vulnerable to melting.
Carys Cook, co-author and research postgraduate from the Grantham Institute for Climate Change at Imperial, adds: "Scientists previously considered the East Antarctic ice sheet to be more stable than the much smaller ice sheets in West Antarctica and Greenland, even though very few studies of East Antarctic ice sheet have been carried out. Our work now shows that the East Antarctic ice sheet has been much more sensitive to climate change in the past than previously realised. This finding is important for our understanding of what may happen to the Earth if we do not tackle the effects of climate change."
The next step will see the team analysing sediment samples to determine how quickly the East Antarctic ice sheet melted during the Pliocene. This information could be useful in the future for predicting how quickly the ice sheet could melt as a result of global warming.
For more information contact:
Colin Smith
Senior Research Media Officer – Faculty of Engineering
Tel: +44 (0)20 7594 6712
Email: cd.smith@imperial.ac.uk
Notes to editors
1. 1. 'Dynamic behaviour of the East Antarctic ice sheet during Pliocene warmth', Nature Geoscience journal, published 21 July 2013
Carys P. Cook1,2, Tina van de Flierdt2, Trevor Williams3, Sidney R. Hemming3,4, Masao Iwai5, Munemasa Kobayashi5, Francisco J. Jimenez-Espejo6,7, Carlota Escutia7, Jhon Jairo González7, Boo-Keun Khim8, Robert M. McKay9, Sandra Passchier10, Steven M. Bohaty11, Christina R. Riesselman12,13, Lisa Tauxe14, Saiko Sugisaki14,15, Alberto Lopez Galindo7, Molly O. Patterson9, Francesca Sangiorgi16, Elizabeth L. Pierce17, Henk Brinkhuis16 and IODP Expedition 318 Scientists
1 The Grantham Institute for Climate Change, Imperial College London, South Kensington Campus, Prince Consort Road, London SW7 2AZ, UK
2 Department of Earth Science and Engineering, Imperial College London, South Kensington Campus, Prince Consort Road, London SW7 2AZ, UK
3 Lamont Doherty Earth Observatory of Columbia University, PO Box 1000, 61 Route 9W, Palisades, New York 10964, USA
4 Department of Earth and Environmental Sciences, Columbia University, New York 10027, USA
5 Department of Natural Science, Kochi University, 2-5-1 Akebono-cho, Kochi 780-8520, Japan
6 Department of Earth and Planetary Sciences, Graduate School of Environmental Studies, Nagoya University, D2-2 (510), Furo-cho, Chikusa-ku, Nagoya464-8601, Japan
7 Instituto Andaluz de Ciencias de la Tierra, CSIC-UGR, 18100 Armilla, Spain
8 Department of Oceanography, Pusan National University,Busan 609-735, Republic of Korea
9 Antarctic Research Centre, Victoria University of Wellington, PO Box 600,Wellington 6140, New Zealand
10 Earth and Environmental Studies, Montclair State University, 252 Mallory Hall, 1 Normal Avenue, Montclair, New Jersey 07043, USA
11 Ocean and Earth Science,National Oceanography Centre Southampton, University of Southampton, European Way, SO14 3ZH, Southampton, UK
12 Department of Geology,University of Otago, PO Box 56, Dunedin 9054, New Zealand
13 Department of Marine Science, University of Otago, PO Box 56, Dunedin 9054, New Zealand
14 Scripps Institution of Oceanography, University of California, San Diego, La Jolla, California 92093-0220, USA
15 Department of Earth and Planetary Sciences, University of Tokyo, 7-3-1 Hongo, Bunkyo-ku, Tokyo 113-0033, Japan
16 Department of Earth Sciences, Faculty of Geosciences, Utrecht University, Laboratory of Palaeobotany and Palynology, Budapestlaan 4, 3584CD, Utrecht, The Netherlands
17 Department of Geosciences,Wellesley College, 106 Central Street,Wellesley, Massachusetts 02481, USA
2. About Imperial College London
Consistently rated amongst the world's best universities, Imperial College London is a science-based institution with a reputation for excellence in teaching and research that attracts 14,000 students and 6,000 staff of the highest international quality. Innovative research at the College explores the interface between science, medicine, engineering and business, delivering practical solutions that improve quality of life and the environment – underpinned by a dynamic enterprise culture.
Since its foundation in 1907, Imperial's contributions to society have included the discovery of penicillin, the development of holography and the foundations of fibre optics. This commitment to the application of research for the benefit of all continues today, with current focuses including interdisciplinary collaborations to improve global health, tackle climate change, develop sustainable sources of energy and address security challenges.
In 2007, Imperial College London and Imperial College Healthcare NHS Trust formed the UK's first Academic Health Science Centre. This unique partnership aims to improve the quality of life of patients and populations by taking new discoveries and translating them into new therapies as quickly as possible.
All latest news from the category: Earth Sciences
Earth Sciences (also referred to as Geosciences), which deals with basic issues surrounding our planet, plays a vital role in the area of energy and raw materials supply.
Earth Sciences comprises subjects such as geology, geography, geological informatics, paleontology, mineralogy, petrography, crystallography, geophysics, geodesy, glaciology, cartography, photogrammetry, meteorology and seismology, early-warning systems, earthquake research and polar research.
Back to home
Newest articles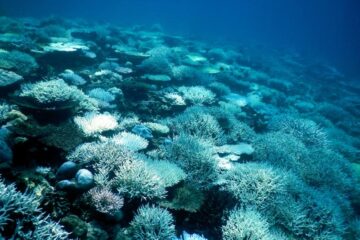 Young Corals Provide Insight into Recovery from Coral Bleaching
The number of young corals can reveal how reefs are recovering from coral bleaching. A new study from the University of Bremen, which was recently published in "PLOS ONE" journal,…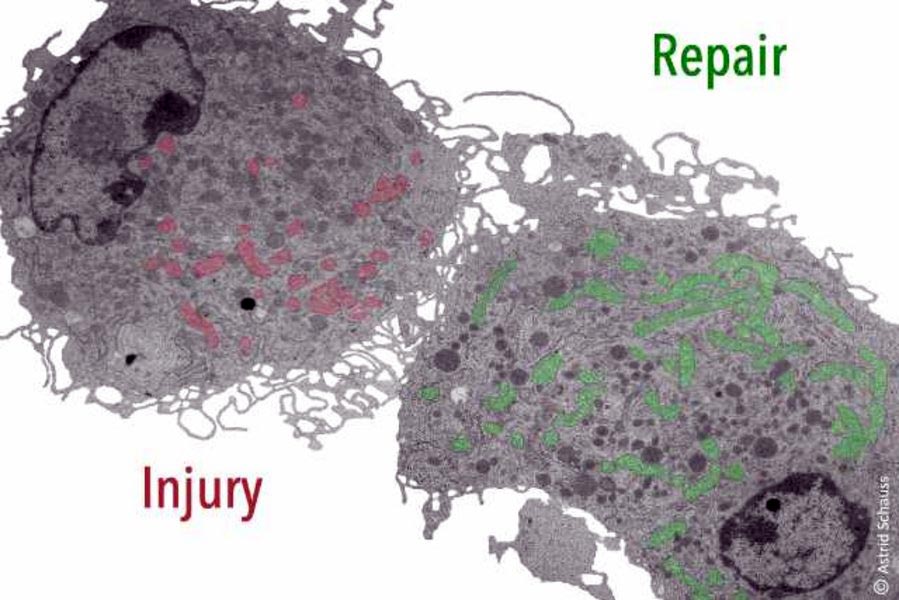 Defense or repair: How immune cells are controlled during wound healing
For the first time, scientists show a causal link between tissue repair, mitochondrial metabolism, and the activation and function of macrophages (scavenger cells) / Publication in 'Cell Metabolism'. A Cologne-based…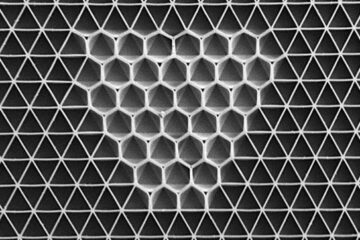 Transforming material topology with a drop of liquid
Liquid acts across multiple scales to reorganize connectivity in networks of artificial microscopic cells. The Science Networks of cells in nature have inspired researchers to develop their own materials made…