New ways to recycle rice and sugarcane residues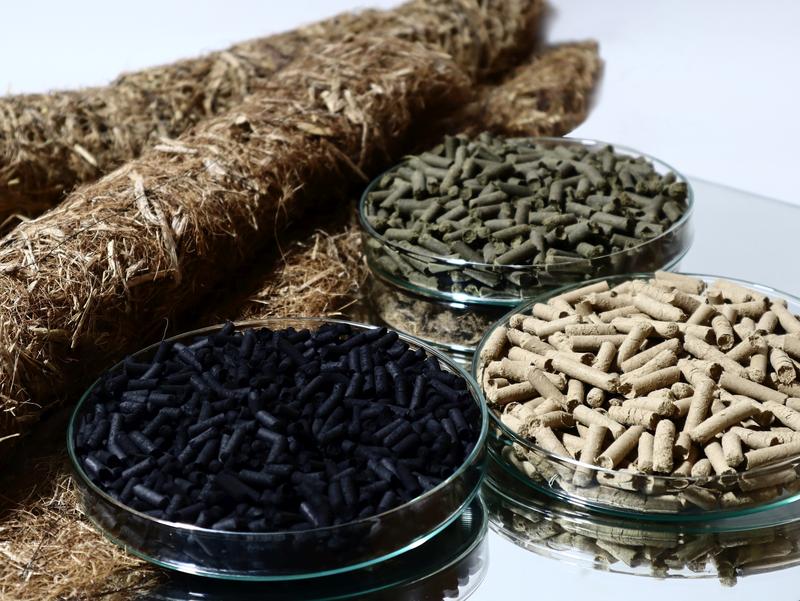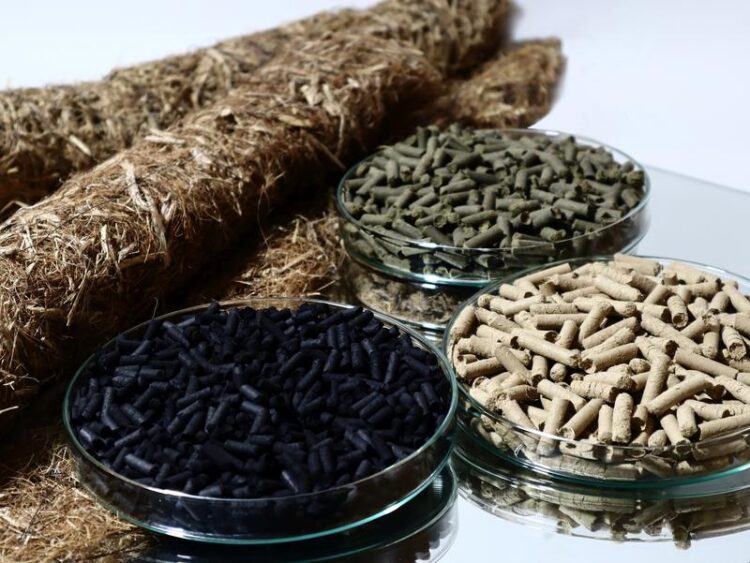 TU Freiberg develops erosion control blankets, soil additiv
Recycling strategies for residues from agricultural production were developed by scientists from TU Bergakademie Freiberg, together with project partners in Vietnam and Germany. The use of rice straw and sugar cane bagasse in erosion control blankets is particularly promising. Moreover, the residues could be used to enrich nutrients in soils or in the form of activated carbons.
The team led by Dr Volker Herdegen and doctoral student Katja Schaldach from the Institute of Thermal-, Environmental- and Resources' Process Engineering (ITUN) has already tested the blankets made of rice straw and sugar cane residues extensively in an outdoor experiment on a freshly constructed embankment in the Saxon city of Freiberg. Currently, the mats using the alternative materials are also being applied to areas in the Vietnamese province of Thanh Hoa. If, for example, grass seeds are sown on or under the mats, the plant roots form a network that stabilises the soil in the long term after the desired decomposition of the mats. "The newly developed erosion control mats made from the fibres of rice and sugar cane plants are very suitable for preventing surface erosion by rain and wind," summarizes Dr Volker Herdegen.
Agricultural residues instead of coconut fibres
"For use in the blankets the residual materials could completely replace the coconut fibres used up to now," adds Katja Schaldach. The environmentally friendly mats made of the regionally produced agricultural residues decompose after only 1 to 1.5 years, whereas a mat made of coconut fibres takes up to 3 years. For rice and sugar cane producers in developing and emerging countries, the new findings open up potential for the utilisation of previously unused biomass. In everyday practice, the residues are now mostly burnt or stored in landfills. Because rice and sugar cane cultivation account for a large share of agricultural production in Asia, the potential is huge. In Vietnam alone, up to 75 million tonnes of organic residues from the production of food, such as rice and sugar, but also coffee, are produced every year (source: "Zielmarktanalyse Vietnam", Federal Ministry of Economics and Energy of Germany).
Further applications for bio-based industries
"In the research project BioMatUse, we have also shown that soil improvers can be produced from rice straw and sugar cane bagasse," explains Dr Volker Herdegen. To form these, the process engineers defibred the biomass and pressed it into pellets. Those pellets not only have the ability to store water, but they can also release the nutrients contained in or additionally added to the residues to the soil over a longer period of time, thus acting as a depot fertiliser.
"When we further process the defibred biomass in the form of pellets and heat it under exclusion of oxygen (pyrolysis), we can also produce shaped activated carbons," explains Katja Schaldach, who is intensively researches the designing of the new process for her doctoral thesis. "In our laboratory, we have already proved that these so-called adsorbents can remove pollutants from water and air," says the young scientist. According to the team's assessment, renewable resources could in future be an alternative to fossil raw materials used up to now, not only for water purification in emerging countries, but also for the bio-economy in industrialised countries.
Further optimising the processes
While the erosion control blankets are already being produced in cooperation with industrial partners and are currently being tested in use under the climatic conditions in Vietnam, the Freiberg process engineers are still conducting research on a laboratory scale to develop applications for fertilising and cleaning. Currently, the scientists are investigating the new process sequence, which offers the possibility of saving on additives and energy-intensive steps during the follow-up treatment. "For instance, we are testing how the biomasses can be directly pelletised after the defibrering. Moreover, we want to know in which way the pellets can then be pyrolysed and what effects this has on the properties of these shaped activated carbons," reports Katja Schaldach.
"With regard to all three recycling paths, we will continue to be in contact with the researchers of our Vietnamese project partners even after the official conclusion of the research project and want to optimise the process concept together," says Dr Volker Herdegen.
The researchers have now published their findings on the new recycling processes in the November issue of the journal "Chemie Ingenieur Technik".
Background: BioMatUse research project
The research project was funded from 2015 to 2019 by the German Federal Ministry of Education and Research as part of the "Bioeconomy International" funding programme and the Vietnamese Ministry of Science and Technology (funding for ITUN around 590,000 euros). The project partners of TU Bergakademie Freiberg were the Vietnamese research institutions Vietnam Academy of Agricultural Sciences, Hanoi University of Science and Technology and the sugar manufacturer Lam Son Sugar Joint Stock Corporation (LASUCO) from the Thanh Hoa region. German partners were Internationale Geotextil GmbH in Schmallenberg and Twistringen and Gebrüder Jehmlich GmbH in Nossen.
Wissenschaftliche Ansprechpartner:
Dr Volker Herdegen, Phone: +49 3731 39-2751, E-Mail: volker.herdegen@tun.tu-freiberg.de
Originalpublikation:
Katja Schaldach, Hans-Werner Schröder, Volker Herdegen, Vinh Nang Do: "A Concept for an Integrated Process Scheme for By‐Products from Rice and Sugarcane Processing". https://onlinelibrary.wiley.com/doi/full/10.1002/cite.202000088?af=R
Media Contact
Philomena Konstantinidis Pressestelle
Technische Universität Bergakademie Freiberg
Alle Nachrichten aus der Kategorie: Business and Finance
This area provides up-to-date and interesting developments from the world of business, economics and finance.
A wealth of information is available on topics ranging from stock markets, consumer climate, labor market policies, bond markets, foreign trade and interest rate trends to stock exchange news and economic forecasts.
Zurück zur Startseite
Neueste Beiträge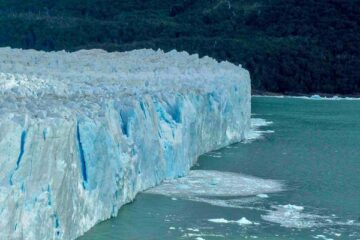 How Stable is the Antarctic Ice Sheet?
Scientists from Heidelberg University investigate which factors determine the stability of ice masses in East Antarctica. As temperatures rise due to climate change, the melting of polar ice sheets is…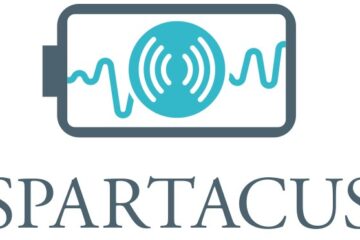 Smart sensors for future fast charging batteries
European project "Spartacus" launched Faster charging, longer stability of performance not only for electric vehicles but also for smartphones and other battery powered products. What still sounds like science fiction…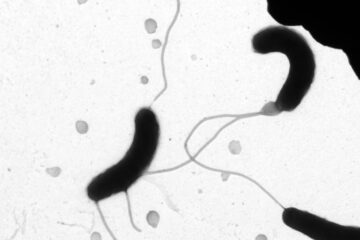 Small molecules control bacterial resistance to antibiotics
Antibiotics have revolutionized medicine by providing effective treatments for infectious diseases such as cholera. But the pathogens that cause disease are increasingly developing resistance to the antibiotics that are most…