Low abrasion DuPont™ Vespel® thrust washers for maintenance-free SUV transfer case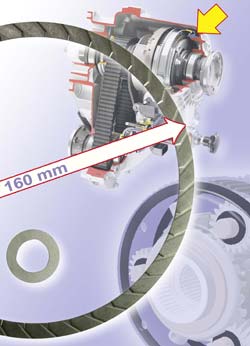 Used in premium SUVs from Land Rover and Daimler, these ITC's are located upstream of the differential to ensure optimum torque transfer between the front and rear axles. In addition they provide the choice between two gear ratios for on-road and off-road driving, whereby selection can be made while driving.
Two designs of Vespel® thrust washers are used in the planetary gear set for the off-road drive position. In the first design, six small thrust washers. with an outside diameter of 25 mm, absorb axial forces, generated by the helical gearing, from the three planet wheels. In the second, two much larger thrust washers, with an outside diameter of 160 mm, support the ring gear on both sides against the grey cast iron planet carrier. Without the use of the Vespel® thrust washers, the hardened steel planet wheels and ring gear would rotate directly against the comparably soft grey cast iron housing, causing the housing to wear very quickly.
Potential alternatives to Vespel® thrust washers, such as axial needle bearings, would incur relatively high additional costs. Moreover, such bearings require a larger installation space and are significantly heavier. In the quest to find a lightweight, space-saving alternative that was also cost-efficient, the manufacturer followed the advice of Austrian distributor Biesterfeld Interowa, and tested prototype parts made of Vespel®. The results were impressive, as Ernst Riegler, department manager at Magna Powertrain, confirms: "We know of no other material that combines similarly outstanding tribological properties over a wide temperature range with such low space requirement and light weight."
The complex interaction of mechanical, chemical and thermal stresses in this application makes very high demands on the material. The low-friction Vespel® components can withstand these stresses long-term. As Riegler continues: "We design the Vespel® thrust washers used in our ITCs to last a lifetime operating with PV values of over 7 MPaxm/s. In other words: the reduction in thickness that the thrust washers sustain due to wear is so low that they never need to be changed throughout the entire vehicle service life. The axial positioning of the gear wheels remains within close tolerances and the formation of an optimum lubricating film is guaranteed."
DuPont produces the thrust washers in-house from polyimide using a direct-forming method similar to metal powder sintering. Directly integrated oil grooves, with geometry flow-optimized by Magna, ensure a permanent thin film of lubricating oil on the thrust washers. The sintered parts require no post-finishing and are ready for immediate installation. At the same time, they meet the very close tolerances specified.
The application advantages of Vespel® SP-21 are not confined simply to low wear. The polymer has a specific gravity of only 1.42 g/cm³ for light weight parts, excellent chemical resistance for stability in a broad range of automotive lubricants and extremely high heat resistance, permitting continuous service temperatures of up to 300 °C.
Vespel® S is a family of highly-durable polyimide parts and shapes that deliver exceptional wear resistance, insulation, and a low coefficient of friction: Vespel® SP-1 combines excellent mechanical and insulation properties at high temperatures; Vespel® SP-21 is enhanced with graphite for very high abrasion resistance; Vespel® SP-211 is enhanced with DuPont™ Teflon® PTFE for a very low co-efficient of friction; Vespel® SP-22 combines low friction and high abrasion resistance with excellent dimensional stability. Further information on these grades and other Vespel® families can be found at www.vespel.com.
The DuPont Engineering Polymers business manufactures and sells Crastin® PBT and Rynite® PET thermoplastic polyester resins, Delrin® acetal resins, Hytrel® thermoplastic polyester elastomers, DuPont™ ETPV engineering thermoplastic vulcanizates, Minlon® mineral-reinforced nylon resins, Thermx® PCT polycyclohexylene dimethylterephthalates, Tynex® nylon filaments, Vespel® parts and shapes, Zenite® liquid crystal polymers and Zytel® nylon resins and Zytel® HTN high-performance polyamides. These products serve global markets in the aerospace, appliance, automotive, consumer, electrical, electronic, healthcare, industrial, sporting goods and many other diversified industries.
DuPont is a science-based products and services company. Founded in 1802, DuPont puts science to work by creating sustainable solutions essential to a better, safer, healthier life for people everywhere. Operating in more than 70 countries, DuPont offers a wide range of innovative products and services for markets including agriculture and food; building and construction; communications; and transportation.
The DuPont Oval, DuPont™, The miracles of science™, and Vespel® are registered trademarks or trademarks of E.I. du Pont de Nemours and Company or its affiliates.
This press release is based upon information provided by:
Magna Powertrain AG & Co. KG; Industriestr. 35, A-8502 Lannach, Austria
Contact: Dipl.-Ing Ernst Riegler
Telephone: +43 (0) 5 04 44 67 11
Email: ernst.riegler@magnapowertrain.com
Media Contact
Horst Ulrich Reimer
Du Pont
All latest news from the category: Automotive Engineering
Automotive Engineering highlights issues related to automobile manufacturing – including vehicle parts and accessories – and the environmental impact and safety of automotive products, production facilities and manufacturing processes.
innovations-report offers stimulating reports and articles on a variety of topics ranging from automobile fuel cells, hybrid technologies, energy saving vehicles and carbon particle filters to engine and brake technologies, driving safety and assistance systems.
Back to home
Newest articles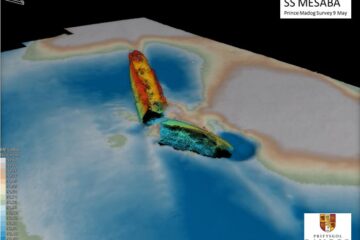 Finding the ship that sent out a warning to The Titanic
New powerful technology reveals lost seabed structures. The ship which sent an iceberg warning to the RMS Titanic, before the ocean-liner sank, has been identified lying in the Irish Sea….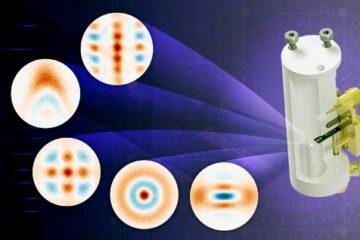 Quantum technology reaches unprecedented control over captured light
Researchers in quantum technology at Chalmers University of Technology have succeeded in developing a technique to control quantum states of light in a three-dimensional cavity. In addition to creating previously…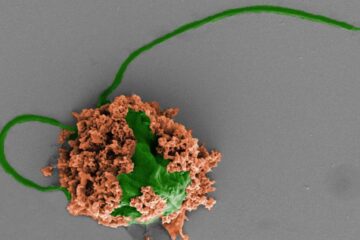 Tiny swimming robots treat deadly pneumonia in mice
Nanoengineers at the University of California San Diego have developed microscopic robots, called microrobots, that can swim around in the lungs, deliver medication and be used to clear up life-threatening…